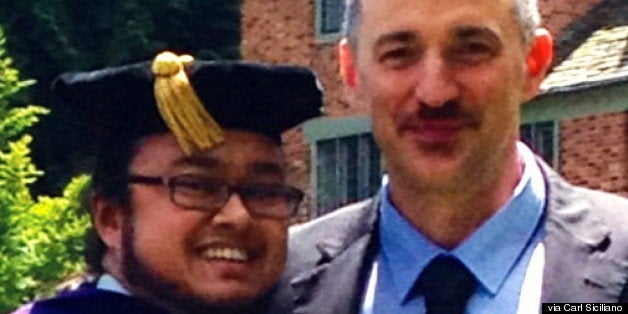 Last weekend I found myself in a gym in Portland, Oregon with tears streaming down my face. I was at Lewis & Clark Law School, at the graduation ceremony of Ksen Pallegedara, one of the first young people ever to stay at the Ali Forney Center. As I saw Ksen walk by in his cap and gown with the other law school graduates, I reflected on the obstacles he had overcome and could not help but get choked up and feel a swell of great pride and hope.
And I remembered the first time I saw Ksen. It was October, 2002, just after we'd opened our shelter, the first for homeless LGBT youth in NYC. Ksen had just moved in. He calmly told me in a soft voice that he had spent weeks sleeping in the streets of New York City, after his mother had attacked him for being queer. He said she had become so enraged at learning he was not straight that she violently ripped out a piece of his scalp, and that he had fled from his home fearing for his life.
I was struck by Ksen's intelligence and seriousness and also by the matter of fact way he told me such a terrible story. But looking into his eyes, and seeing the pain and shock in them, I sensed how deeply traumatized he was. I was horrified by what he had endured and it was painful to wonder what anguish he must have felt to be attacked by his own mother just for being true to himself. I could barely imagine how terrified he must have been trying to make it through those nights alone in the streets.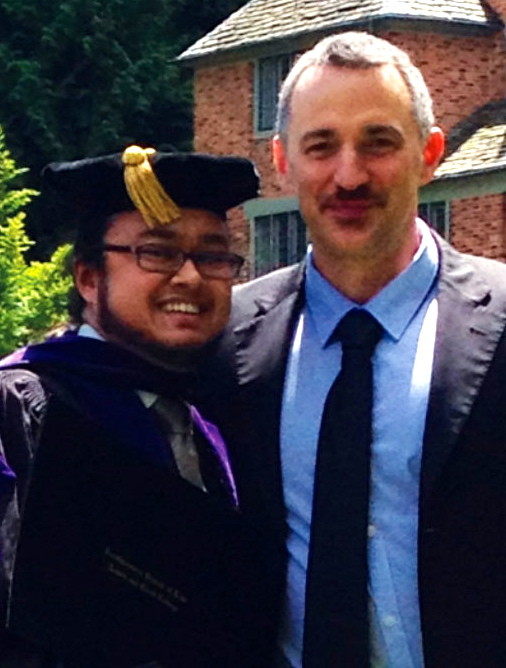 Ksen was with us for our first Thanksgiving. My husband Raymond cooked the holiday meal for the six kids who stayed with us, as well as for our few staff and volunteers. Ksen sat next to me and said how thankful he was to be with people who accepted him for who he was. I was thankful as well, that we were able to give him and the other kids some kind of home, and some kind of love. Thanksgiving is a rotten day to be alone on the streets.
Ksen was with us for a few months, and then he moved into a foster care grouphome for LGBT youths. We kept in touch, and I followed his progress with admiration and delight. He co-authored the LGBT policies for the New York City foster care system. He went to college, and upon graduating got a job helping other youths prepare for their GED exam. He even tought GED workshops to the homeless kids at the Ali Forney Center. And then a few years ago he was accepted into Law School and moved to Portland.
In 2010 we began having fundraising dinners where we would honor people who had worked to help LGBT youths. Each year we would also honor a graduate of the Ali Forney Center who had gone on to serve the community. I had no question that Ksen would be our first honoree. We flew him in from Portland, and that evening he told the crowd about that day when his mother had attacked him. He said that as he was running from her down the stairs of their apartment building, blood pouring from his wounded scalp, that she shouted at him "You'll be back, the faggots will never take care of you". He told us that the Ali Forney Center had proved her wrong.
And now he has graduated from Law School. And as I watched him receive his degree I marveled at his resilience and fortitude.

Afterwards I joined Ksen and his partner Rodger, and Ksen's father and Rodger's family and several friends for a celebratory meal. As I listened to Ksen share law school war stories and talk with nervous anticipation about preparing for the bar exam in July, I reflected on how far he had come from that Thanksgiving dinner in 2002.

Ksen, like hundreds of thousands of other LGBT youths, was forced to endure the cruelest and most destructive form of homophobia in our time; that of homelessness caused by family rejection. Forced out of the only life he knew, forced out of the loving embrace of his family, forced into utter destitution. That he was able to overcome such cruelty and rebuild his life is a triumph. It is a testimony to his strength and resilience.

Unfortunately, far too few homeless LGBT youths receive the support that Ksen did. There are only a handful of supportive housing programs for LGBT youth in the country. There are fewer than 400 beds in the country for a population that the Center for American Progress estimates to be between 320,000 and 400,000. Far too many young people struggle to survive in horrific conditions in the streets without shelter. Far too many are attacked in the streets, and gaybashed in mainstream shelters, far too many become infected with HIV through prostitution, far too many attempt suicide.

The fact that hundreds of thousands of LGBT youths are suffering on the streets of our nation without shelter is shameful for our community. We need to do a much better job of bringing resources to youths who are made destitute by homophobia. And we need to do a much better job of advocating that our tax dollars are used to help create a safety net for our most vulnerable youths. Surely protecting our youths must be elevated to the top of the priorities of the LGBT movement.

In the coming months the Ali Forney Center will begin a new effort to assist groups in other cities who seek to create supportive housing for homeless LGBT youths. We want to share with them our experience in raising funds, doing local advocacy work and developing excellent programs. And we want to raise funds to assist groups looking to begin such efforts in other cities. We want to help foster organizations that can house homeless LGBT youths and give them a refuge from the homophobia and rejection that has devastated their lives.

After the meal it was time for me to return to the airport. As we said our goodbyes, Ksen gave me a big hug. He thanked me, and said he couldn't have accomplished what he has without the help of the Ali Forney Center. I protested that he gave us too much credit, saying 99.9 percent of his accomplishments were certainly due to his own efforts. He gave me that same serious look I first saw in the church basement and said that he couldn't have accomplished anything if he had died in the streets, and that we kept him alive. Thinking about Ali Forney, one of many young people I knew who were murdered in the streets of NYC before there was any shelter for LGBT youths, I could not argue with him.

So let us celebrate what Ksen has accomplished, and see that accomplishment as a triumph over the cruelest homophobia. And let us commit ourselves to becoming a community fierce in it's resolve to protect the hundreds of thousands of homeless LGBT youths who so desperately need our help.
Calling all HuffPost superfans!
Sign up for membership to become a founding member and help shape HuffPost's next chapter