On Saturday, July 11, New York street artists FLOrE and Westgard share the spotlight in a two-person exhibition titled "CALIFORNIA Dreaming." The event takes place at Essentia Showroom in Santa Monica, an organic mattress store making a name for itself as a hip art venue.
"I met John Westbay "Westgard" and Christopher "Flore" Florentino at our gallery's first opening night party over a year ago. At that time the gallery was featuring paintings by Gino Perez and my own assemblage artworks," said Lou D'Elia, curator of Essentia and an artist himself.
D'Elia has been actively participating in the art world for the past twenty years. In addition to showing his own work as an artist, he has guest curated museum exhibitions. He has organized exhibits at Palm Springs Museum of Art and most recently curated "Lights! Camera! Glamour! The Photography of George Hurrell," at the Walt Disney Family Museum in San Francisco.
D'Elia continued, "They were in town visiting from the east coast and were cruising down Main Street in their rented convertible when they spotted the crowd inside the gallery at Essentia and decided to pull over and check it out."
The two artists made quite an impression on D'Elia...showing him photos of their work on their iphones. D'Elia set up a meeting for the next day. Knowing that they had a following in New York but were relatively unknown on the west coast, he decided to given them a joint exhibit. D'Elia added, "They both shared a passion for art, had street art backgrounds and experience, and decided together to re-invent themselves as serious artists."
FLOrE and Westgard said they were equally impressed with the venue and D'Elia and were excited to work with him. "Lou is an awesome person," said Westgard. "He has accomplished so much in his life. Still his basic desire to connect people and ideas through art is what drives him. It's what he is doing at Essentia, and it's special."
Both artists agree that their paintings work well together. They have collaborated in the past, but this exhibit will feature solo works...ten from each artist. "There is a consistency and a contrast," said Westgard. "Our work is of the same time, made up of the same fibers but from two different minds, and constructed so differently.
Growing up in Marine Park, Brooklyn, FLOrE cites his Aunt Weezy as the person who opened his eyes to art. It was soon after she took him to the Museum of Modern Art (MoMA) that he decided he would become a painter. FLOrE explained that he is passionate about dismantling the constraints that he feels our society places on us.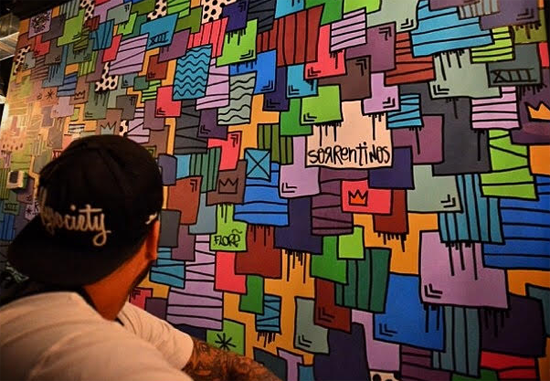 Photo courtesy of artist; FLOrE ,Acrylic on wall, Painted 2013 for TV show The Sorrentinos Size 13ft X 91/2ft

FLOrE used to do window dressing for Urban Outfitters. He said he loved the opportunity to use his artistic talents, but the corporate rules and rigid hours soon disillusioned him. He realized that he could combine his art with fashion and created the "All Gold" fashion line.
FLOrE paints daily and said he was looking forward to exhibiting his new work. "I'm so proud of it...I can't wait to see how people react." The artist has frequented LA. "I love LA. I'm always out in LA painting." His work has been exhibited at Studio Bancs, Gallery 38, Stone Malone, NWO Gallery, and Lab Art. In New York he has shown his work at Gallery 69, Arlington Grocery, Manhattan Proper.
FLOrE has been influenced by the likes of Pablo Picasso, Keith Haring, Jean-Michel Basquiat, KAWS, George Condo, Roy Lichtenstein, and Andy Warhol. He added that Knowledge Bennett was another influence. "His shows are very inspiring and well put together."
At just twenty-five, Westgard has been actively pursuing his art. He owned a successful barbershop in Brooklyn for five years. "I started painting two and a half years ago, sold my business, quit my job and never looked back." He has made a name for himself on the streets of New York with his LOVE themed art. "I paint almost every day. I work with acrylic and spray paint...canvases and murals. I also design clothes for my brand."
The artist was recently inspired by American Pharaoh's win of the Triple Crown. "I have never watched horse races, but I watched this one and got the chills...I decided to paint a horse right then! When it was done, I just felt like his name was Ralph. I guess that's the fashion junky in me," laughed Westgard
Westgard also has an affinity for paying homage to iconic works of art....such as Girl with the Pearl Earring by Johan Vermeer and The Song of Love by Giorgio de Chirico, which are in the upcoming exhibition. He has also paid tribute to Leonardo Da Vinci's The Last Supper and other popular works by Keith Haring and Vincent Van Gogh. He continued, "Love is always what inspires me directly or indirectly...whether it's my love for a Vermeer painting or a moment I shared love with another person."
Although he has a long list of artists that have inspired him, currently his favorite artists are George Condo and KAWS. "They are certainly my biggest inspirations. It shows in my work." Westgard has shown his work in Los Angeles at Gallery 38 and NWO Gallery. In New York, he has exhibited at Manhattan Proper, Refinery Rooftop, Salon de Lafayette and more.
"I love LA. I'm here several times a year," added Westgard. "I love the street art scene. Somewhere along the line, they seem to have taken the spotlight from NY." Westgard commented that painting on canvas (using acrylic) is by far his favorite medium. He described his process. "After finding inspiration in something (which could be anything), I begin with a pencil drawing...taking away and adding until I'm happy. Then I pick a palette and begin filling in color." He continues to apply his positive pop art to fashion.
"CALIFORNIA Dreaming" opens this Saturday, July 11, from 6-11pm with an artist reception at Essentia Showroom located at 2430 Main Street, SM; 310-450-7819; http://www.myessentia.com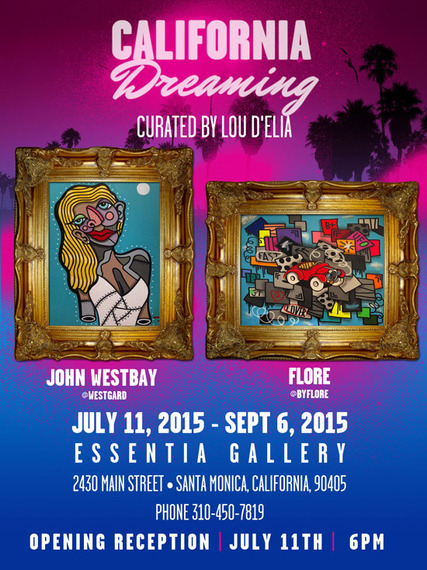 Related
Popular in the Community