Michael "Mikey" Cole's story is an inspiring one: he went from prison, to business school, to where he stands today -- selling healthy ice cream as part of his latest venture.
I met Mikey a few weeks ago when he came to the NFTE offices with his mentor from DEFY (I wrote about this amazing program here).
He entered the room with a wide grin and an extended arm, holding a pint of his freshly mixed organic ice cream and looking sharp in his pinstriped suit. My assistant dove in head first, pausing briefly to explain what I'm missing. She loved it.
Mikey smiled, pleased. Another successful product, another satisfied customer of his business, an organic ice cream company inspired by his deceased aunt's special recipes. This is his third venture, after a shoe store, and before that: almost two decades of business outside the law.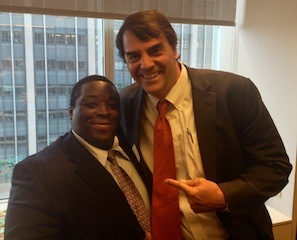 Mikey learned his entrepreneurial skills on the street. But after serving time, he got a degree in Economics and Business Management.
He couldn't have done it without the assistance of development programs like the Boys Club, which helped him get to college; and Breathing Space, an educational incubator for ex-cons, which gave him the resources, and entrepreneurial and mentorship support to bring Mikey Likes It Ice Cream to fruition.
Not only is Mikey growing his own career, he's bringing opportunity back to the community.
"And that's what the business is about now. You know, with the ice cream business, it's not just about creating ice cream," he states. "It's spreading the word -- it's about giving back to the community, to help the next generation so they don't make the same choices that I've made."
With the profits from his company, Mikey caters youth events, free of charge, and provides scholarships for local students. He's starting off small, but he's starting; "About three weeks ago, we donated 250 servings of ice cream to a school and paid $1,200 for a girl to go to summer camp. We're a business that doesn't have money yet like that... but you know, to give back is the most important thing for us."
What's so special about Mikey's story? Nothing and everything -- just look at the facts:
1/3 African American males will spend time in prison; and,
72 percent of the 2.3 million prisoners in this country are minorities.
What makes Mr. Cole different is his opportunity to escape the cycle of poverty and crime where many others in his Lower East Side neighborhood found themselves trapped. Mikey was given the resources to gain an education, and apply his advanced business skills to an industry where he could succeed indefinitely.
Organizations like Breathing Space and NFTE are fighting to keep people away from the plagues that come with poverty. If you are poor, you can't afford an education. Without an education, you can't get a well-paying job. That is why poverty and crime are frequently found sabotaging the same communities. People cannot afford an education, and turn to other means -- frequently, illegal means -- to supplement their low wages.
And then they are stuck. It is almost impossible for an ex-con to get hired. Those who are white only get hired half the time; and blacks only get hired 30 percent of the time. Once at the job, they can expect 40-percent lower salary than their peers who haven't served time.
Entrepreneurship has become a means of rehabilitation; organizations like Breathing Space, Defy Ventures and NFTE liberate at-risk youth and adults devoid of opportunity by teaching them business concepts, and facilitating their paths to success. NFTE has helped over 500,000 youths, and many more have become successful entrepreneurs, then the average for the national population.
Mikey won first place in Defy's plenary competition and successfully started his own venture without any funding. The program connected Mikey to opportunity, where he pitched Mikey Likes It to entrepreneurs and venture capitalists including Timothy C. Draper, founder of the global venture Draper Fisher Jervetson.
Breathing Space, located on 32.5 acres in the Catskills of New York, is a newcomer to the entrepreneurial circuit. The organization was founded by formerly incarcerated men who have created the Hudson Link College program in New York State prisons, Housing Works' Healthy Re-entry Program, and part of the off Broadway show "The Castle." They currently host Mikey Likes It Ice Cream's production facility, including three greenhouses for organic hydroponic food production.
We rarely hear about the mom-and-pops that make up American small business. For instance, 13 percent of adults in the U.S. are involved in startups, and about 400 million in the world. But now, entrepreneurship is now seen as a means of rehabilitation; for those who do not have access to advancement resources -- who cannot finance their own higher education, or acquire a career in profitable industry, the startup world is a viable alternate path. It provides an opportunity to attain financial independence. It provides a voice for voiceless people and means to possible financial liberation.
Mikey transformed his life and is working to change others. What would have happened if he had not been granted this opportunity? Would his path still have led to great change? One thing is certain, without Mikey Likes It Ice Cream, the world would not be as sweet a place.
To learn more about Mikey Likes it Ice Cream: www.mikeylikesiticecream.com
Very special thanks to Maya Horgan, who provided research assistance on this article.
Related