Leo Lionni wrote the story of Frederick, the field mouse, who seemed to be daydreaming while all others were busy gathering food for the winter. "I gather sun rays for the cold dark winter days." So it is with this story, told to you in this season of root vegetables and frozen fields. It is a story from the summer of 2013 -- when a group of fabulous (and famous) chefs gathered at Katchkie Farm to celebrate the exquisite gift of bounty, camaraderie and the importance of inspiring the next generation.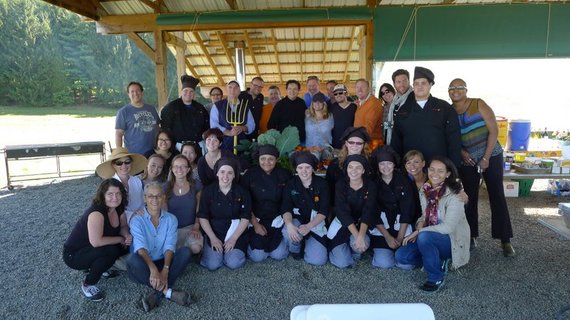 John Unwin is a dear and long time friend who left NYC and me in 2004, making his way back west, stopping in Las Vegas to run Caesar's Palace for 5 years before becoming CEO of Cosmopolitan. You've seen the ads -- "The Right Amount of Wrong." But I think John's true secret weapon has been the right amount of great -- that is, great food. John curated an artful and extraordinary collection of restaurateurs and chefs. After several years of Fedex-ing our New York State tomatoes to Vegas, John decided it was time to bring the party to the farm.
Friday, September 20th -- a perfect late summer day at the farm. John arrived to drive the tractor, harvest in the fields and cook in the ultimate arena -- the field kitchen of Katchkie Farm/Sylvia Center. And he brought his friends: Jose Andres, Scott Conant, David Myers, Eric and Bruce Bromberg, Costas Spiliadis, David Bernahl and Robert Weakley for a day of team building and cooking with Sylvia Center students from Hudson's Questar culinary arts program.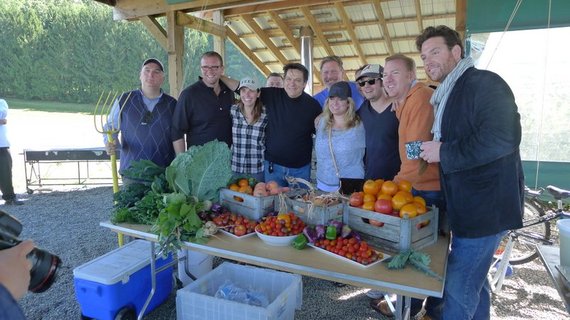 It was remarkable to witness their wonderment, especially from a group with access to the finest ingredients daily. New farmer John Unwin and Katchkie Farm Manager Bob Walker (both west coast natives, standing at about 6'3) climbed onto the John Deere for Tractor Driving 1.0.
The teen culinary students arrived in their Nehru chef coats with their knife rolls in hand and met up in the garden with the chefs to prepare lunch. This is when the magic started. The 8 students had been to Katchkie earlier in the season but had no idea that they would be cooking with world-famous chefs. In a simple open-air field house (sans electricity or running water), with a propane grill and burner, four-season pizza oven, cutting boards and fresh water pumped from a giant blue barrel, an ad hoc collection of extreme culinary talent and the budding passion of youths confronted an array of ingredients.
Sensing the shyness of the students, Jose Andres took the lead and created a functioning outdoor kitchen, dividing the students and chefs into small teams. Each chef had a student apprentice plus a Sylvia Center instructor for each station of this rugged outdoor kitchen. (Did we plant the seeds of a future reality show?!)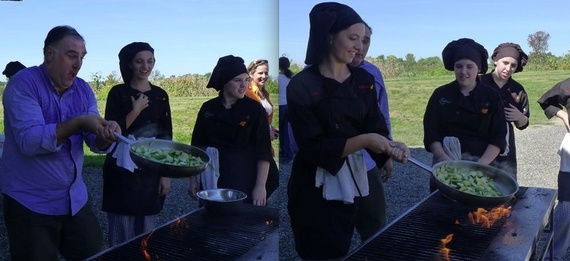 Jose Andres demonstrated egg-cracking techniques, sauté skills and presentation. Costas worked quietly and skillfully with his charges, crafting the loveliest of platters embellished with cheeses and seasoning. His graceful movements were artful yet deliberate. Scott Conant took charge of the grill with the most infectious grin on his face, making sure the students kept the meat turning, and demonstrating an Asian sauce with herbs from the garden. The Bromberg brothers' team commandeered the Kinderhook Farm chicken, oven-roasted over a bed of turnip greens, leaving their mark on roasted poultry -- the likes of which Columbia County has never seen before. David Myers and helpers transformed our farm kale.
Watching these chefs give gentle guidance to an intrepid collection of young people was quite something. The kids loosened up, the chefs relaxed, and a mutual language emerged -- teaching by doing, by showing, and by sharing infectious enthusiasm.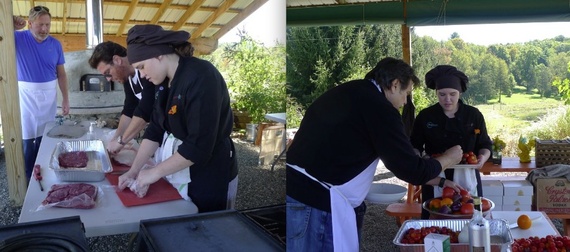 It was the best day of the year. Everything that we believe our Sylvia Center program can accomplish was demonstrated. Make connections between fresh food and simple ingredients to empower children and young adults to cook is easy given the proper circumstances. With these skills and confidence, they can independently make good food choices and lead healthier lives. (These skills are also a gateway to employment opportunities in a thriving industry.)
As powerful an experience for the Questar students, it was equally meaningful to the chefs who never before cooked as a group at a farm, in an open-air kitchen with completely impromptu ingredients. It was the ultimate culinary showdown and everyone won!
Equally important is the experience of what happens in sharing a meal together. It fosters conversation and respect. In an era when we spend more time looking at screens than each other or eat on the run, it is a powerful step in a positive direction. The aura of these magnificent and talented chefs cast a spell on all of us. It is easy to understand why they are so celebrated. It is easy to understand why people savor their creations. It is infused with tender love; you can taste it in every bite. We were unbelievably lucky to share the beautiful day together.

In the dead of winter, the memories of our meal together warm and sustain us.


MENU

Kale, Broccoli, Cauliflower, Chard, Tomatoes
Pecorino & Dijon

Greek Salad: Tomatoes, Onions, Peppers & Columbia County Sheep's Milk Cheese

Zucchini, Onions & Katchkie Eggs with Herbs

Roasted Tomatoes, Fennel & Onions with Herbs

Korean-Spiced Flank Steak from Kinderhook Farm

Grilled Corn & Herb Butter

Kinderhook Farm Roasted Chicken
Turnip Greens, Homemade Broth & Katchkie Soft Egg
PHOTO GALLERY
From The Strip to the Field
REAL LIFE. REAL NEWS. REAL VOICES.
Help us tell more of the stories that matter from voices that too often remain unheard.