Like many children legally classified as orphans, Hana was not left completely destitute after her father died and her mother disappeared. Her uncle Kassaye, a widower, tried his best to care for the girl with help from his own young daughter, Haimanot, but eventually the challenges of poverty made an adoption plan seem like the best choice. A fresh start in America would provide Hana with opportunity, security, and love, or at least that was the hope.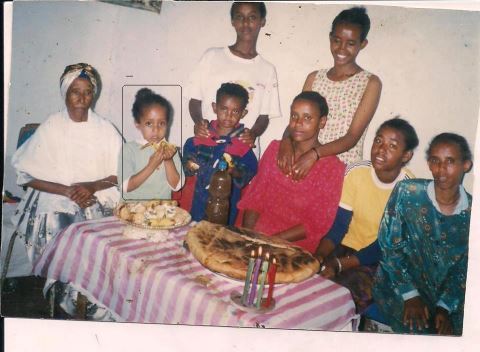 An Ethiopian family: Hana Alemu is shown second from the left, seated. Her cousin Haimanot can be seen standing in the rear left. Poverty drove the family to send Hana to the US for adoption. Less than three years later, she was dead, murdered by her adoptive parents.

This fall, some Washington residents began a new initiative in Hana's memory: a crowd funding campaign to provide critical medical treatment and a shot at a college education for her beloved cousin, Haimanot. The 23-year-old, described as Hana's closest friend, has already braved two complicated neurosurgeries to address a tumor of the pituitary gland, but she will need follow up procedures every 5 to 20 years for the rest of her life, or the benign growth positioned near her optic nerve will recur, causing blindness, and ultimately, death.
That Haimanot's medical condition was ever diagnosed, let alone treated, is a something of a miracle entwined with Hana's sad fate. Writer David Guterson, best known for his novel Snow Falling on Cedars, is a Washington resident, and the adoptive father of an Ethiopian girl. Hana's death affected him deeply, and he began working on a book about her case. While in Ethiopia doing research last March, Guterson met Hana's cousin, Haimanot. She told him that she had been struggling with health problems, including headaches and blurred vision. Guterson took her to see Dr. Richard Solazzi, of Seattle's Swedish Medical Center, who happened to be in Addis Ababa at the time, working with other medical volunteers from Seattle Alliance Outreach to establish Ethiopia' s first public dialysis center.
An exam and an MRI revealed Haimanot's tumor, which doctors agreed could not be successfully treated in Ethiopia. Dr. Solazzi offered Haimanot free surgical care through Swedish Medical Center's charitable program, if Guterson could manage to get her to Seattle. The office of US Representative Derek Kilmer quickly arranged an emergency 6-month medical visa, and Guterson bought Haimanot an airline ticket.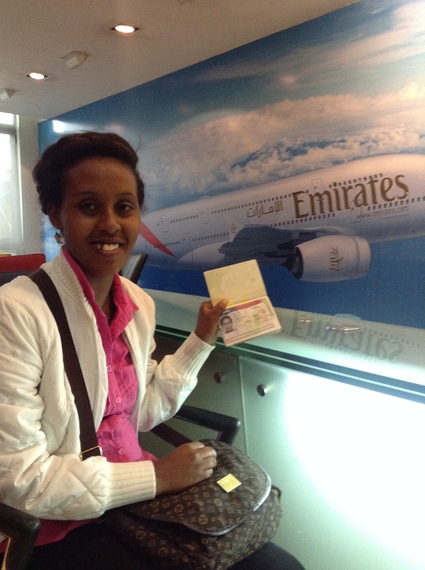 Haimanot prepares to fly to Seattle for neurosurgery on an emergency medical visa obtained with the help of US Rep. Derek Kilmer.
Haimanot spent the spring and summer of 2014 in Seattle receiving treatment. Guterson and his family closely followed her progress, and members of the Ethiopian Community Center provided emotional and practical support during her stay. Given the disaster that had befallen her cousin Hana in the United States, Haimanot was frankly touched and astonished by the kindness and compassion shown her by the staff at Swedish Medical Center, and also by the outpouring of good wishes she received from Seattleites after her story ran in local media. She quickly felt at home here, and told David Guterson that her time in the US has inspired her to strive to be a more generous person.
For now, Haimanot is back in Ethiopia, enjoying renewed health and time with family, but according to her surgeon, Dr. Johnny Delashaw, this current relief is only a reprieve. Haimanot needs to move to the United States permanently for medical monitoring and follow up care, or the fatal tumor will recur. Her friends have begun a fundraising campaign to help her attend the Seattle Central Community College Institute of English, as well as its College Bridge Program. A community college degree will be a vital first step toward eventual employment, personal and financial independence, and access to medical insurance.
The cost of the two-year program, which encompasses tuition, books, fees, room, board, supplies, transportation, and medical insurance, is just over $36,000, but Haimanot's supporters have set a goal of raising $43,000 to cover travel from Ethiopia and other expenses. Her dream is to become an elementary school teacher who makes a difference in the lives of children, a worthy dream that is certainly attainable. After enduring much grief and overcoming countless obstacles, Haimanot stands ready to confront the challenges ahead in loving memory of her cousin Hana, and in gratitude to all the benefactors who have gotten her this far.
Calling all HuffPost superfans!
Sign up for membership to become a founding member and help shape HuffPost's next chapter