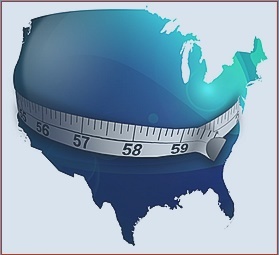 Study after study confirms it: America is facing a serious adult obesity epidemic. The latest report from JAMA Internal Medicine found that 75 percent of men and 67 percent of women are now overweight or obese -- a sharp increase from 20 years ago when 63 percent of men and 55 percent of women fell into those categories.
(A person is overweight if they have a Body Mass Index (BMI) of 25 to 29.9. Those with a BMI of 30 or higher are considered obese.)
Women were more likely to be obese than overweight, with 37 percent of women in the former category and 30 percent in the latter. Altogether, two out of every three women in the U.S. were above a normal weight.
The nation pays a high price: The estimated annual health care costs of obesity-related illness are a staggering $190.2 billion, or nearly 21 percent of annual medical spending in the United States.
Healthcare professionals and their patients are grappling with these issues every day, and no one has found any easy answers. But a number of groups are working to increase awareness and knowledge. One such group is the STOP Obesity Alliance, a multi-disciplinary alliance housed at the George Washington University Department of Health Policy; OWL is an associate member. They have a new set of tools to help health care professionals initiate effective conversations about weight and health with their patients.