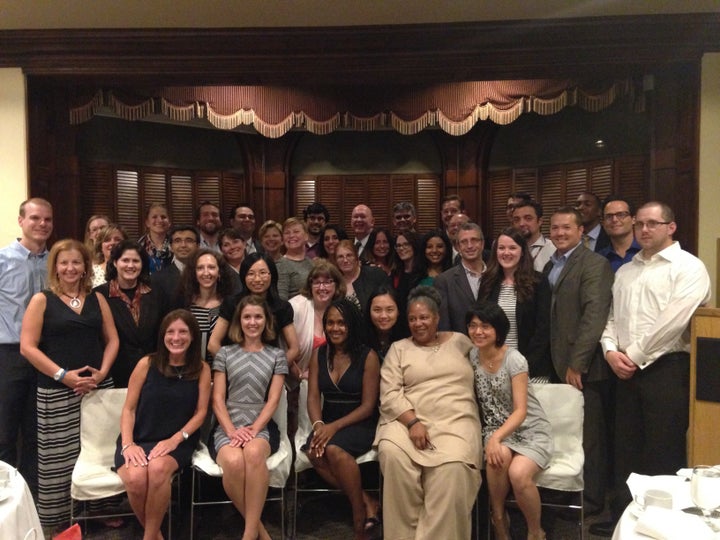 It's hard to write an article so much focused on the support and help that I received in life, and the results of that help and support, and at the same time focus us all towards how to help people with Traumatic Brain Injuries (TBI) more. To start off with, I've had two Traumatic Brain Injuries: one at age 6 and one at age 18, and both with life-altering results. But at the same time, and somehow, people never stopped fighting for me. And now it's my turn to return the favor.
My reason for writing this article is that young people with TBI and older adults with TBI really have hope. The brain heals in ways that are remarkable over time, and things are restored even if in ways different than entirely expected. But I want to emphasize here that it is so important not to ever give up. This is true for folks who have had Traumatic Brain Injuries, for the supportive people around them, and even for all the institutions that are involved going forward. I stand here today saying to all these people - you should never give up hope.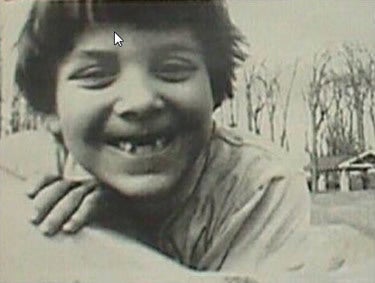 Once again, this article is focused on positive strides that are possible and attainable. Also, I want to use the pain and even damage that I've endured to hopefully bring healing and hope to many.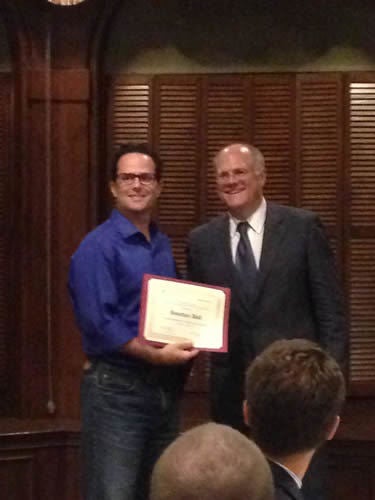 In 2015, I finished a two-year fellowship with the Strategic Data Project of the Center for Education Policy Research at Harvard University's Graduate School of Education. It was an amazing two years and taught me a great deal. This fellowship also provided the opportunity for me to study ways that historically low performing schools could make large advances and/or what strengths they might have as well as barriers they might have faced and how to surmount them. After all, overcoming barriers and scaling achievement gaps has been something I've been doing my whole life.
But I think my road to completing a Harvard fellowship is a bit more interesting to focus on right now than the opportunity contained therein. This is especially true for a person who had a couple of traumatic brain injuries, as you will soon see.
At age 6, I was riding my bicycle on the sidewalk in my hometown and turned into the side of my street to make a U-turn. A driver coming at the same time, who was a celebrating high school senior returning from a day of parties, hit me. Of course, it was never ruled out as to whether she had been drinking that day. But the damage was already done.
I spent the next week in a coma. It actually was quite likely that I wouldn't survive except for the life-saving brain surgery that day by a renowned neurosurgeon, Dr. Harvey Roy Silvers, who was visiting Mercy Hospital that day in Buffalo, New York. He arrived at the hospital in his shorts after a pre July-4th party.
But as for me, back at age 6 when I did wake up after the coma, things were slower in a lot of ways. I gradually recovered, left the hospital, and then went with my mother and brother on a vacation down South. The goal was to give me some time alone with them that could be considered quiet and calm.
We all learned on that vacation that I was deaf in one ear, something I carry onward in life.
In school after that time, I did my best. To be honest, no matter what the audiologist tests would say, I generally heard about 70% of what was spoken to me on the daily basis. The remaining 30% involved things that I just simply never understood, even if I asked two or three times for these to be repeated. I never asked a fourth time because I knew that I would be admitting I was dumb if I did that. It was sad that I missed out on 30% of the world around me.
Kids did make fun of my crew cut from the surgery and there were many times that I did not know what they said about me. At the same time, I tried to cloister myself in classrooms over the coming years and not have any added attention drawn to me.
In fourth grade my learning deficits were catching up with me. I wasn't really paying attention in class like other kids or even getting as much done as they seemed to be. I remember being confused at times and often asking for individualized instructions. And again, my learning style and habits were creating an uncomfortable environment among peers at times.
I'm so thankful for my mother and my fourth grade teacher, Mr. Mair, back at Union Pleasant Elementary School in Hamburg, New York. The two met and Mr. Mair suggested something that was outside the box: he said that at the school they were starting a Gifted and Talented program for the remainder of the school year and that even though I might not be of the intellectual caliber (in his opinion, yet), it might help me.
So for three hours each school day over the next 2 ½ years, I was in the Gifted and Talented program. Every day, I loved this exciting opportunity, and I thrived. It involved personal attention, amazingly creative activities, and a place where talented kids didn't look down on me. These three things were the keys to success that I needed for my brain to heal. They could also be helpful for other people recovering from Traumatic Brain Injuries.
I never thought back on the power of the gifted and talented program until I began my PhD at Texas A&M University. But that is getting ahead of the story.
I did above average in math during junior and senior high school and took calculus. I didn't ace the AP test, but this pre-teaching really helped me later on.
My undergraduate education was at Syracuse University. There, I quickly decided that I loved math and chose to major in it. Later, I added a dual major in education and studied to become a math teacher. What a joy I would find in the area of my major.
It was also during these years that I had my second Traumatic Brain Injury. After a difficult meeting with dormitory administrators (over my bad adolescent behavior at the time), I was trying to make someone laugh while telling a joke. Thus, I made my face flush red by holding my breath a little. But with previous brain scarring from the injury at age 6, I passed out.
At the time I was in a journalism building that had marble floors. There, I fell backwards and landed on the back of my head. That night, I had two grand mal seizures. I woke up the next day in the hospital with my concerned mother pacing around the room, arms folded and brow furrowed in profound concern.
From this second injury, I lost my sense of smell, something I carry onward in life. But I didn't lose my love for math, thank God. There can be blessings with a lost sense of smell! Any kind of bathroom cleanup is easier. But for me, it was a hard knock that I won't soon forget. It also was what paved the way for me to change my life and start living right.
I withdrew from two classes that semester because I couldn't cognitively handle the tasks at hand. As a result, I only carried my other two classes in my transcript but did get 3.0's in them.
The second Traumatic Brain Injury (TBI) was more difficult than the first for a few reasons. First, my speech was slightly slurred. It took me months to relearn how to speak correctly. Second, my processing power was reduced. As a result, I learned that I had to break one-week assignments into seven daily pieces even if that meant reading 3 ½ pages per night in a class so I could get through a chapter in a week's time.
Last, I was still a teenager and it was hard actually being an adult and acting like one. My neurologist put me on anti-seizure medication for three years, and it actually took me six months until I could be honest with him and say that I was taking it (and have that be true). But the hardships put hair on my chest, so to speak, and I decided like the story of the book, Bounce, the only direction was up.
College also had other difficulties, as well, and growing up was not just like turning a light switch. Instead, it was gradual and required persistence on every front.
I am so thankful for a friend at the time, Denise, a grown-up nontraditional math student with a family who became a study mate along with a small group of other dedicated math students. One time, during my lowest of lows in my undergraduate degree, she commented to me about how noncommittal I was being with all of my pursuits in life.
Her honesty amazed me. It was something I wished I could be to myself at the time. Her words then really helped buoy me and get me to straighten up my life and press forward.
During the two semesters after that conversation, there were a couple things going on in my life. One thing was that I was confident I would fail out of school because I wasn't doing well enough in my math classes. The other was that during both of those semesters I made the Dean's list. Thus, the hard work and fear along with it pushed me to succeed.
LESSON #2 - LISTEN TO HONEST PEOPLE AND ALWAYS PUT YOUR BEST FOOT FORWARD IN EVERYTHING.
Something I also learned during my undergraduate degree had to do with my own limitations. I learned that if I took 18 credits (six classes), I failed one of them. I also learned that if I took 15 credits in a semester (five classes), it was so hard for me that I felt like I wasn't able to give my best in all of them. So the biggest lesson I learned was to take 12 credits (four classes), and then do my best in each one.
After I graduated with my undergraduate degree, I taught junior and senior high school for three years. One time it was at a school overseas in the South Pacific, and the other time it was in rural Arctic Alaska. I guess I liked to push the envelope to the absolute edge, to see how I'd do if I tried my hardest where things might actually be the hardest.
During these times, I was surrounded by many talented people who gave valuable life lessons to me at times when these lessons were needed most. In Alaska, I also got a master's degree and the reassurance that a PhD was well within my reach. What an encouragement!
Later, during my PhD program, I still needed to make sure not to get overwhelmed by my classes. I worked on things in small chunks. I always tried to separate my work into bits that I could accomplish each day.
Years stretched on after I started my PhD and I did wonder how long I was going to continue paying for each research semester until I finished. Finally, though, after six years, I was ready to defend my dissertation. But here was an adaptation that I want to share with you.
Long before my defense, I had contacted the department of rehabilitative services at Texas A&M University and sought their counsel. They told me that I needed to make sure I notified my committee of my condition and explain to them that I was deaf in one ear and that I might not always do a great job of listening or responding to every question, especially during my dissertation defense. That wouldn't mean that I was going to avoid listening to people - by no means!. Instead, it meant that I might have displayed more difficulty in the moment than other students who had gone through the doctoral program.
Do you remember what I said about pushing the envelope? I spent the last four years of my PhD research working in the Middle East as a teacher and administrator. And now my wife and I are returning there to continue our life's passion. I guess I still like to push the envelope as far as it can be pushed.
But thinking back on when it came time to defend my dissertation in 2010, I flew to the nearby city of Doha, Qatar and walked into the international branch of Texas A&M University – Qatar (TAMU-Q). It was at that university branch at about 6 PM local time, or about 9 AM Texas time, that I defended my dissertation over videoconference. The envelope was officially pushed as far as it could be pushed.
I listened to every question, I responded to them as thoughtfully as I could, and that day I became Dr. Jonathan Doll.
In 2012, I returned stateside for work and had a tremendous opportunity through my employer. I was appointed to a two-year fellowship to study educational improvements at a targeted group of schools. The fellowship was with Harvard University.
At the time, I also approached the original insurance company from the car accident I was in at age 6. I am so thankful that they, Utica National Insurance Group, paid for a hearing aid. With adaptive technology that really doesn't even look noticeable to 99% of people, I can now hear about 95% of what goes on around me. It is awesome and it has also afforded me the opportunity to be an advocate for other people who have hearing loss.
LESSON #3 - SEEK OUT AND ACCEPT WHATEVER SUPPORTS YOU NEED AND DON'T LET YOURSELF THINK IT IS A BAD IDEA, NO MATTER WHAT!
In the middle of my story, I also found the love of my life. And you know something, finding the person who loves you unconditionally is as big a part of finding success in life as any of the previous supports and help that others could provide. Of course, it is an even bigger part! And being able to love them unconditionally is also a gift that keeps on giving.
Thinking back on the summer of 2015, it was when I graduated from my two-year fellowship – degree #4. It was with tears of joy and also sorrow that I finished – because I love the other fellows/data-strategists like brothers and sisters. It was also when I published a book on Ending School Shootings and traveled to Columbine High School in Colorado. Who would ever guess that I would have the opportunity to counsel a survivor of Columbine and encourage another alumni of that same school? I did!
Here is a final lesson. We often don't have the answers to many of life's questions the first time we hear the questions asked. In fact, we might even fight internally with such questions or the need for them.
But if I could say one thing to every person that's ever had a Traumatic Brain Injury, or to every loving adult around them, it would be to remember that the strengths that are inside you are what will lead you to victory and triumph in your life.
LESSON #4 FIND YOUR STRENGTHS BECAUSE IN THESE YOU MIGHT FIND THE MOST AMAZING LIFETIME TRUTHS.
Dr. Jonathan Doll writes on issues of educational impact, wellness, and the benefits of being positive. His Mom is a great inspiration and is recently featured in the true story Dr. Doll wrote for the 2017 Chicken Soup for the Soul Series, BEST MOMS EVER!. He is a 2015 alumnus of the Strategic Data Project of the Graduate School of Education at Harvard University, and wrote the book Ending School Shootings. His opinions are his own.
Related
Popular in the Community