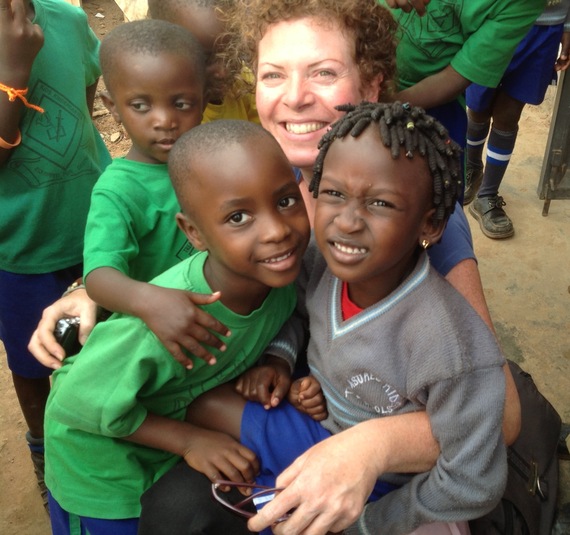 Imagine for a moment a world where every day is a struggle. You have little or no access to clean safe drinking water or employment. One where your children face a life of uncertainty, possibly without the opportunity to go to school to learn how to read and write, with poor healthcare and a low life expectancy... the last thing that you would probably imagine to find in this world is love, laughter and compassion. Yet this is what awaits you upon arrival in post conflict East Africa.
For me charity starts from the heart, a cause that reaches out to you and makes you want to take action. No matter how small that action is... it's about believing that you can effect change for the better somewhere in the world. For Fields of Life the impact for the communities that we work with is life changing. And for our donors the impact on their businesses is equally empowering.
Adopting a Corporate Social Responsibility (CSR) strategy is so much more than just reducing energy and print costs. It's about building a team of individuals who feel passionate and proud in their work. A survey from Net Impact found that 53% of workers said that 'a job where I can make an impact' was important to their happiness. Interestingly, 35% would take a pay cut to work for a company committed to CSR. The success of Unilever in their approach to CSR is well documented. But the best news is that even the smallest of organisations benefit when putting CSR at the heart of their business.
First and foremost, we all agree that business exists to make profit, and this isn't meant to change as a result of finding your cause. The reality is that CSR can help you to achieve that goal. It's about managing the relationships with employees, customers, suppliers and stakeholders to produce an overall positive impact on society, whilst making money. To quote the MD of Amelix, Louis Hurst, 'A business that just makes money is not a good business'.
This sentiment is felt by so many businesses, and if you are taking the time to read my rambles then I know it's a sentiment that you share. It doesn't matter how small or large your business is, what does matter is that you believe that your giving is making a difference to our fragile world.
Family Business Place, an SME with a large reach and heart decided that they could make a difference through Fields of Life when they set up the Well Good Campaign. Their vision is to bring clean drinking water to remote communities in East Africa. I was recently fortunate enough to accompany MD Anita Brightley-Hodges and her husband Steve on an emotional trip to Uganda to visit their own well. Watching a well being struck is a momentous occasion, and it's hard to find the words to describe.
For many of the community this will be the first time they have tasted clean water, having spent their lifetime gathering water from a source shared by cattle. For Anita and Steve, meeting the villagers for the first time and hearing first-hand how the well has changed their lives is an experience I am sure they'll never forget. I know that I certainly won't!
For their business, the positive impact has been equally phenomenal, from increased staff moral through to their customers. To quote Anita, 'It's incredible to think that a small family run business can effect such change, just imagine how the impactful this could become if we all implement a similar CSR strategy'.
I feel humbled by the level of support and thank everyone that is playing a part in this life transformational work. I would like to take this opportunity to invite you to join with us and become part of this story of hope, regeneration and renewal in East Africa. Maybe you would like to join us for a long weekend and experience our projects in post conflict East Africa first hand.
Pioneers for Change is a seed-bed for innovative thought. An activator of personal potential. A catalyst for collective energy. A community to drive social change.
Our annual, international Fellowship is open to anyone aged 28 - 108 years old. We gather change-makers -- a business person, a community person, an investor, a thinker or doer -- who are willing to harness their talents, energy and resources as a force for good. Pioneers for Change is an initiative of Adessy Associates.
Adessy Associates believes a better world is possible, and inspires and equips organisations and individuals to make positive change happen and contribute to a sustainable future, for the benefit of people, planet and profit. Our bespoke services harness sustainability, innovation, consciousness and purpose. We are B Corp certified.
About Debbie Cameron
I head up development and fundraising in GB for Fields of Life. We are an International development charity. Our vision is simply to help bring about positive change through the provision of quality education, clean water, health promotion and other community based projects to the lives of people living in post conflict East Africa. Our work started 20 years ago in the Killing Fields of Uganda and reaches across Burundi, Rwanda, Democratic Republic of Congo and South Sudan. To date we have built over 115 schools, providing a quality education to 50,000 children pa. We've drilled over 450 wells, providing 500,000 villagers with clean drinking water and supported 3,200 families with income generating projects. More than 4,000 children are being sponsored through school and they will in turn help lift their families out of the poverty cycle. Helping people to help themselves is at the heart of everything we do.
Calling all HuffPost superfans!
Sign up for membership to become a founding member and help shape HuffPost's next chapter