Washington slouches toward Inauguration Day like the poet's rough beast - and yes, I have found myself in the nation's capital once again.
I've mercifully not been covering preparations for the (gilded?) Trump Presidency, but I did complete a journalistic exercise that has its own relevance for our new age.
I'm glad that, unusually, this piece of work is appearing not just in my familiar slot within PBS's broadcast Religion and Ethics Newsweekly at various times over the weekend, but also on PBS Newshour Weekend on Sunday (January 8).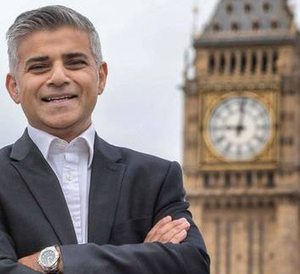 It's a media assessment of a man who serves as a beacon of contradiction to today's world of nativism, so-called populism, xenophobia and religious intolerance. He's Sadiq Khan (left), the still-new Mayor of London. And more to the point - given the anti-immigrant and anti-Muslim tenor of Britain's ... several European countries' ... and America's own recent election campaigns - he is the first-ever Muslim to govern any capital city in the western world.
Khan, a lawyer and adept Labour Party operator, offers reporters and political analysts a countervailing demonstration of pluralistic, inclusive progressiveness.
The contest for his position back in May last year was another of those deeply nasty political face-offs that we have simply had to get accustomed to.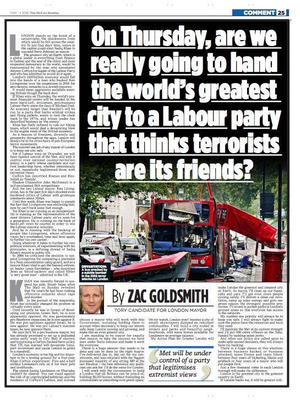 Britain's ever-reliably right-wing Mail on Sunday had no compunction in carrying an unbridled critique of Khan by his Conservative Party opponent Zac Goldsmith that played on Khan's Islamic faith and accused him of extremist sympathies.
The newspaper added an image of bloody wreckage from the July 2005 London bombings, along with the ranting headline "Are we really going to hand the world's greatest city to a Labour party that thinks terrorists are its friends".
It's salutary to report that Goldsmith, the son of a billionaire, lost big and resoundingly. In fact his (and the Mail's) grubby tactics handed Khan comfortably what the Daily Mirror reported as "the biggest personal mandate in British political history".
Watch the full TV report here (below) - or at PBS.
In the course of our profile, the incisive Financial Times editor Gillian Tett points out:
Whether any of [Khan's] messages about religious inclusion and tolerance translate into tangible policies, we just don't know yet. But simply the very fact that he was elected to the position, is very striking. And in many ways, it's very cheering. It makes me feel quite proud to be a Londoner.

We analyze in the report just what progress Khan is making in his plans to unite Londoners and attract into the city both more people and more investment, using a provocative slogan (at least to the ears of Trumpian types and 'Little Englanders' alike). Amid the ubiquitous clamor for 'Closed Borders!' Khan has proclaimed in every media outlet he can get to that ... "London Is Open!"
Read more of David Tereshchuk's media industry insights at his online column, "The Media Beat", with accompanying video and audio. Listen also to "The Media Beat" Podcasts on demand from Connecticut's NPR station WHDD - and at iTunes.
Calling all HuffPost superfans!
Sign up for membership to become a founding member and help shape HuffPost's next chapter