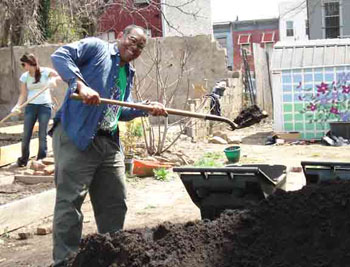 Ah, politicians and dirt, that delightful duo. I'm talking horticulture, not whores. Forget about the soiled legacy of Eliot Spitzer; consider, rather, the contrasting agricultural approaches of Prince Charles and President Bush.
Prince Charles has been an organic farmer for decades; his Highgrove Estate farm provides some of the ingredients for Duchy Originals, the line of food products he founded in 1992. On Duchy's 10th anniversary, Charles explained why he'd decided to get into the sustainable snack trade:
"I wanted to demonstrate that it was possible to produce food of the highest quality, working in harmony with the environment and nature, using the best ingredients and adding value through expert production. I also wanted to engender increasing funds for my Charitable Foundation, which receives all the profits through which I can then support an increasing number of worthwhile projects."
President Bush's 1600-acre Crawford ranch, bought in 1999,
produces bumper crops of something called "brush,"
which has no known culinary use in any culture's cuisine. Bush has reportedly said that "the property is only good for grazing, and it's pretty thin at that."
Tell that to the permaculture advocates who've established productive food gardens on poor soils in arid regions from Arizona to Africa. Where others see vacant lots and barren land, gardeners visualize an oasis of food and flowers. These pied pipers of produce can lure neighbors of all ages and aptitudes to pitch in and turn desolate, junk-filled urban lots and asphalt rooftops into edible edens of homegrown fruits and vegetables.
In communities where crappy convenience foods are the norm and grocers won't carry produce 'cause it hasn't got a shelf life of forever, community gardeners are working the soil, and working miracles. While famous foodies like Alice Waters, Jamie Oliver, and Michael Pollan lead the War on Terrible Food, there's an army of unsung heroes who make up the muckboots on the ground, if you will.
You won't find them writing influential op-eds or popping up on Oprah (although that would be nice.) But once in a while, they get to share their stories, as a group of NY's ground-breaking community leaders did on Tuesday night at a forum on community-grown solutions, "Taking Health Into Our Own Hands," held at the CUNY Graduate Center. The forum, sponsored by World Hunger Year (WHY), a non-profit dedicated to fighting hunger and poverty, featured a multi-cultural and generational panel that was a treat to hear from.
Soft-spoken Jason Thomas started out as a teen intern at East New York Farms! and is now its Market Manager. Thomas, still in his teens, expressed gratitude for the positive self-image East New York Farms! gave him in a neighborhood where negative stereotypes about young people abound.
East New York Farms! offers "a safe environment and a chance to create change and be productive," Thomas said. In a community where rampant arson left gaping holes on many blocks, Thomas and his peers have turned those blackened lots into green, open spaces that yield fresh, affordable produce for the East New York Farms! weekly farmers' market.
Flor de Maria Eilets, Community Life Program Director for the Little Sisters of the Assumption Family Health Service in East Harlem, talked about the health problems that plague so many immigrants who move here and adopt our bad habits, trading home-cooked meals for high calorie, low-nutrient convenience foods. There's a naïve faith, she said, that the supermarkets "wouldn't sell something if it wasn't good for you."
This misplaced trust in our not-so-supermarkets contributes to East Harlem's disproportionately high rate of diabetes and obesity, a statistic that Eilets and her colleagues are striving to reverse by encouraging the immigrant women she works with to grow and sell fresh produce, and to revive their own culinary traditions.
Reverend Robert Jackson, president of the Brooklyn Rescue Mission and the Bed-Stuy Farm, acknowledged that his foray into urban agriculture initially baffled folks who were more accustomed to seeing him collect old clothes than break new ground. Jackson's Bed-Stuy Farm provides free organic produce for his Brooklyn Rescue Mission Food Pantry Program.
Jackson, seeing the need all around him, asked, "Why wait for food? Why not grow our own food?" He collared everyone he could, from seniors to substance abusers, to help convert empty lots to thriving food gardens. Call it a soil revival, or a soul revival; either way, Reverend Jackson's giving folks the means to wean themselves off of junk food and other junk, too.
"We're trying to save America!" Taqwa Community Farm founder Abu Talib declared, and asked "how the hell did we get so off track?" Talib talked about the toll that hunger takes. "When you're hungry, you can't think," he noted, adding that when you raise food, you raise people. An extraordinarily energetic 73-year-old, Talib is living proof that working in a garden is a great way to achieve longevity and good health.
Springing out of his seat, he mimicked a stiff, arthritic shuffle and said, "that ain't living, that's existing." Talib attributes his vitality to the herbal remedies he's an expert in, but his lifelong passion for sharing his gardening know-how and building community clearly energize Talib, too.
My own creaky knees could use a dose of his tonic, whatever it may be, but the faith of Talib and his fellow panelists in the power of community gardens to heal and nourish our neighborhoods bolstered my conviction that if you're looking for a leader with vision, you've gotta go with the folks who know how to nurture things, not the doofus whose idea of fun is to hack away at stuff with a chain saw.
Originally posted on TakePart.com.
REAL LIFE. REAL NEWS. REAL VOICES.
Help us tell more of the stories that matter from voices that too often remain unheard.