This article first appeared in Bookmark, a publication for supporters of The New York Public Library. To receive other exclusive articles and additional benefits, become a member!
by Heidi Singer, The New York Public Library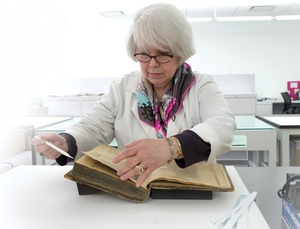 Myriam de Arteni peers into a high-powered microscope at a breathtakingly beautiful Islamic prayer book with a broken spine. This fall, the 16th- to 17th-century volume, The Anthology of Prayers, will be displayed at the Library in the exhibition Three Faiths: Judaism, Christianity, Islam. But first it needs a tune-up. Ms. de Arteni, the Library's senior conservator for exhibitions in the Barbara Goldsmith Conservation Laboratory, has been treating numerous items for the exhibition, which explores the major texts of the Abrahamic religions.
In addition to the Library's ongoing preservation and conservation work, staff in the Conservation Lab devote a portion of their time to treating materials for exhibition.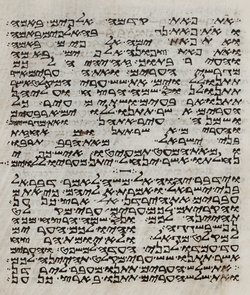 Thanks to their efforts, many of the oldest and most precious items will be shown; they come from NYPL's Spencer Collection (illustrated manuscripts and books), Dorot Jewish Division, Rare Book Division, Manuscripts and Archives Division, the Wallach Division Print Collection, and the Schomburg Center for Research in Black Culture.
Looking back at the lacquered leather-bound Anthology of Prayers, Ms. de Arteni says, "We've never shown it before and it's just incredible."
Library staff noted the book's split spine while combing through about 200 rare NYPL religious texts dating back 1,500 years. Amid the treasure trove of embossed-wood covers, gold-tooled leathers, and fine linen papers are pages damaged in centuries past by insects, animals, food, fire, and water, as well as broken bindings and cracked glues.
Ms. de Arteni uses a stereomicroscope and even ultraviolet light to determine the types of ink or varnish used.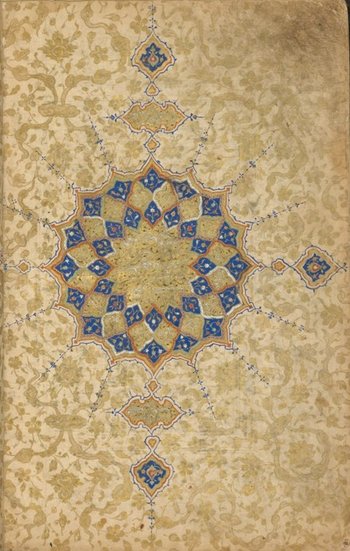 A close-up view of a medallion from Anthology of prayers-- one of the Spencer Collection's treasures-- displays Islamic art's characteristic symmetrical decoration in brilliant hues.
The fix is often traditional and time-tested. To clean an unidentified spot of dirt from a page of a Samaritan Pentateuch (the first five books of the Hebrew Bible), Ms. de Arteni used a very soft vinyl eraser, a medium that won't abrade the vellum (animal skin) of the rare 13th-century volume.
For other works, conservation treatments include reducing stains with a mixture of distilled water and ethyl alcohol; removing glue with a cotton swab dipped in de-ionized water; humidifying and flattening pages; and resewing bindings by hand.
"I have a feeling more conservation was necessary with this exhibition because the material has been read to death and loved," says one of the exhibition's lead curators, H. George Fletcher. "Often, religious materials were done as cheaply as possible for the widest distribution and then used. They carry the seeds of their own destruction."
The damage often reveals the history of each item. Grease, wine, coffee, and even blood can be found on the pages, and insects leave small holes in parchment.
"All of them are equally difficult," says Ms. de Arteni. "A stain from tape can be as hard as blood to remove."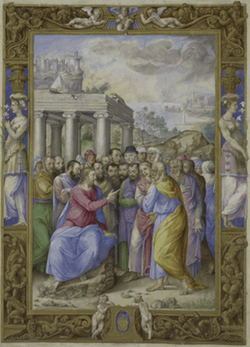 The Towneley Lectionary, one of NYPL's extraordinary renaissance illuminated manuscripts, includes this miniature sermon on the mount. due to the effects of time, some of the vivid pigment flaked off the vellum manuscript.
In most cases, caution dictates a very light hand, for fear of inflicting even more damage. Many of the works in Three Faiths are a testament to rough repairs.
A 16th-century Luther Bible is the perfect example. The front pastedown and first flyleaf were glued together during a previous repair, probably during the 19th century.
The repair helped hold together this precious work, a 1522 first edition of Martin Luther's German translation of the New Testament, but now the damage needs to be undone.
Ms. de Arteni's plan: Separate the two pages with humid mist, mend the paper, and reattach one leaf to the front cover, and the second one to the rest of the text.
Once the book has been treated, Ms. de Arteni will return it to its acid-free storage box; during the exhibition, the Bible will be displayed on a custom-built cradle.
"Some things we're using are just leaves from a Qur'an, says Mr. Fletcher. "Maybe they were damaged by fire, but they're being conserved and matted up and framed. We were actually surprised at how stable most of the materials are."
Related
Popular in the Community