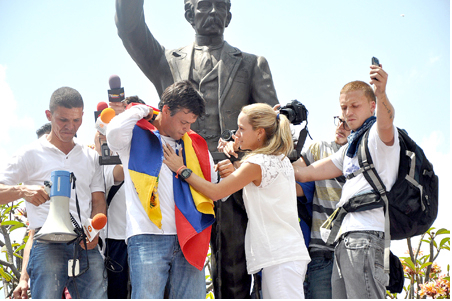 While Venezuelan opposition leader Leopoldo López remains behind bars as he awaits the July 23 start of his trial, his family has worked not only to get him released, but also to highlight the government's attempts to punish him for speaking out about the country's economic and political turmoil.
His wife, Lilian Tintori de López, and parents have been doing interviews with Latin American media and using social media to share his calls for government reform. Back in the U.S., his sister Adriana López Vermut is fundraising to support a legal team for her brother in Venezuela and abroad.
Pro- and anti-government crowds have clashed, sometimes fatally, during protests over Venezuela's inflation rate (just over 62 percent) and rampant unpunished crime. Earlier this year Leopoldo launched "La Salida" ("The Exit"), a movement as much about protest strategy as constitutional maneuvering. His political party, Voluntad Popular (People's Will), and other opposition groups have organized non-violent demonstrations to demand better security and an end to shortages of food while also trying to pressure President Nicolás Maduro to leave office.
"La Salida" also seeks a voter referendum on whether Maduro should remain as president or for new elections via a constitutional amendment; the president is in his second year of a six-year term. Leopoldo (above photo, draped in the Venezuelan flag) has been the country's primary opposition voice for the last few years, serving as mayor of the Chacao district of Caracas and having briefly run for office in 2011 against late President Hugo Chavez.
The government sought to detain Leopoldo after some protests turned violent; four anti-government demonstrators and a government supporter died in the days leading up to his arrest in mid-February. Human-rights groups have described the charges against him (public incitement, damage to property, fire damage and "association for conspiracy") as politically motivated. He's being held at the Ramo Verde military prison outside Caracas.
His sister Adriana observed that since press coverage of the protests has dwindled, no other figure has emerged as a leader to maintain the opposition's momentum and calls for political change.
"There was so much energy around [Leopoldo] turning himself in, and all of a sudden it seems like everything is dying," Adriana said. "There's a constant back and forth between the opposition and the government on what to do to resolve Venezuela's crises. But no one's really rallying around change."
In May, foreign ministers from the Union of South American Nations and representatives from the Vatican, the Maduro government, and the opposition met for talks to try to reach a consensus on, among other things, what to do about Venezuela's economy and rising crime. Those dialogues have since died, and Adriana worries they won't be revived.
She also worries about the toll that Leopoldo's imprisonment is taking on him and the family. His wife Lilian has said that he's being punished for writing letters and for speaking with friends on the prison payphone, both of which are entirely legal. He's currently in solitary confinement, and no one from the family is permitted to visit him. Lilian and their two children celebrated Leopoldo's 42nd birthday without him.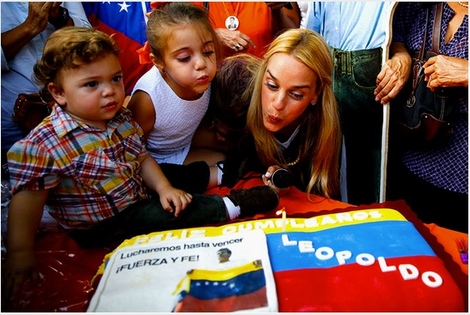 The López family also has struggled to figure out what they're supposed to contribute to Leopoldo's and the opposition's cause.
"Understanding our role has been the biggest revelation of the whole process," said Adriana. "What are we supposed to do that will help him? We're not professionals in human-rights management. Should we speak politically or just as Leopoldo's family?"
In the U.S., she and Leopoldo's wife have served as public faces of his cause. Three months after his imprisonment, Leopoldo became the first alumnus to receive in absentia the Harvard Kennedy School's Alumni Achievement Award. Adriana read a letter her brother sent from prison, which thanked the school for the recognition and urged his supporters to keep fighting on his behalf:
The resolution of our crisis is a priority for the world. If abuse and injustice prevails with little consequence, it will send a terrible message to dictators and would-be dictators in other countries. You have an opportunity to send a far different message: that the weight of the global community is on the side of human rights and dignity.
Leopoldo could face at least 10 years in prison if convicted for conspiracy, arson, and other crimes the Venezuelan government charges him with committing. Before his trial begins, Lilian Tintori de López will present a report about her husband's case at the National Press Club in Washington on July 21.
Related
Popular in the Community