The images of toddlers washing up on the shores of Europe have moved us all except, perhaps, the leader of Hungary. When Jews were forced to flee Europe to escape the Holocaust, so many individuals and nations turned a blind eye. The tragic story of the ship full of refugees in 1939 not allowed entry to the U.S. or Cuba who were returned only to face death haunts me to this day.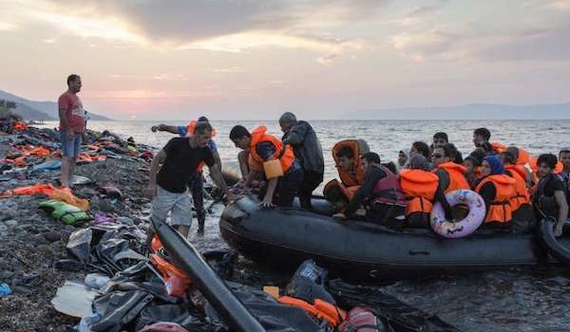 At sunset a group of mostly Syrian refugees arrive on the Greek island of Lesvos
after crossing the Aegean Sea from Turkey. Photo: UNHCR/I.Prickett.
Through an organization known as the Institute of International Education (IIE), my friend, the Hon. Mitzi Perdue recently met Dr. Khaled Hasan, who with his wife, have arrived on America's shores -- and into Mitzi's hometown of Salisbury, Maryland. Dr. Hasan received the support of the IIE Scholar Rescue Fund (IIE-SRF), which places displaced and persecuted scholars at higher education host institutions around the world where they can continue their work in safety.
By getting to know Dr. Hasan and his wife, Mitzi has become an outspoken advocate on behalf of refugees fleeing violence in the Mideast and North Africa. The scope of this human crisis is overwhelming, simply unfathomable.
Mitzi believes that one story, even if not typical, illustrates that to know "strangers" is the pathway to making friends -- and that our nation, like the nations of Europe and the Mideast, has a moral obligation to befriend them.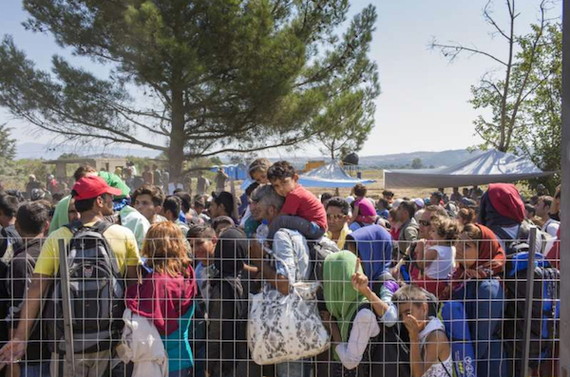 A young Afghan boy sits on his father's shoulders in the scorching mid-day sun on
the border between Greece and fYR Macedonia. The group of refugees and migrants
had been kept waiting for days by Greek police and were growing increasingly
impatient to cross into fYR Macedonia. Photo: UNHCR/I.Prickett
My recent trip to Greece gave me a foreshadowing of this emergency, but the U.N. High Commissioner for Refugees has released their estimated figures that help us make sense of the madness currently unfolding:
4 million Syrians have fled their country since the country's civil war began in 2011.
Nearly 8 million Syrians have been displaced inside their homeland.
More than 500,000 refugees/migrants who have reached Europe this year, half of them Syrian. This tide also includes displaced people from war-torn Iraq, Afghanistan and Libya, as well as from Africa.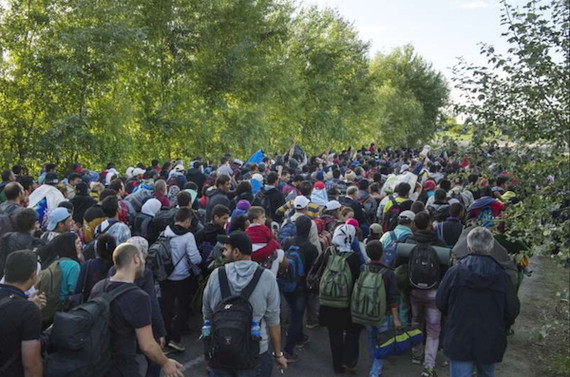 An endless flow of refugees, each one a human being. Here, in Hungary, newly arrived refugees and migrants are accompanied by police on the road to the registration center. Photo: UNHCR/M.Henley.
I spoke to Mitzi about her new friend and realized that this one story, as atypical as it is, shouts to our common humanity and need to assist citizens of the world. Mitzi told me:
If you were to pass Khaled Hasan walking on the campus at the University of Maryland Eastern Shore, he'd probably look to you pretty much like any American you might encounter. Well, maybe he's a little different because he is a tad handsomer than average.

Still, his clothes, his walk, even his expressions do not give away the fact that this man and his family have an extraordinary story to tell. They're also a blessing to our area.

This professor Hasan is a rock star scientist. The research he's engaged in has the likelihood of drastically lowering the price we pay for blood pressure medications. In the United States, the costs associated with high blood pressure are approaching $50 billion a year.
His research subject is the hormone leptin. Its impact includes not only cardiovascular disease but also cancer, and possibly, obesity. Finding substances that stimulate the body's production of leptin can benefit people with cardiovascular disease, and finding substances that inhibit leptin may be helpful in the treatment of cancers.
Recently, his research was accepted for the American Heart Association Meeting. That's a tremendous feather in the cap for all who live on the Eastern shore -- and particularly for the University of Maryland.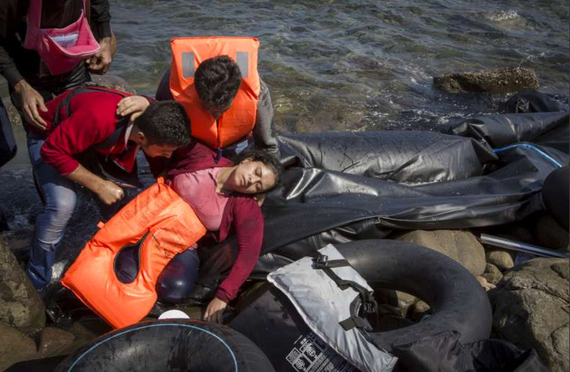 A refugee from Aleppo, Syria, collapses from seasickness and fatigue
after the journey from Turkey to Lesvos. She is travelling with her
husband and three children. Photo: UNHCR/I.Prickett.
How does it happen that we have such an eminent researcher here among us, I asked Mitzi. She related:
The civil war in Syria is touching our lives. Almost a quarter of a million Syrians have died as a result of the tragedy in Syria, and Hasan has seen many of his colleagues and friends tortured and killed.

His life was in danger and so were the lives of his family. Fortunately for him -- and for us as well -- a U.S. organization, the Institute of International Education has the IIE Scholar Rescue Fund to rescue scholars such as Hasan.

The reason I volunteer for IIE is because I believe so strongly in what they do. Through IIE-SRF, they pay to relocate scholars to safe locations -- such as here. IIE-SRF knows that saving the lives of scholars means that two of the most important functions of civilization can be met: adding to our store of knowledge and teaching future students.

This is particularly true in the case of Dr. Hasan. Imagine the loss to mankind if research on improved medications for blood pressure, cancer, and obesity were lost because of the unspeakable tragedy going on in Syria.

Professor Hasan has only been in this country five months, but he and his family are grateful every day to live in safety and to contribute to their new country. They are enriching our lives by their presence.

His two sons are now part of the Princess Ann public school system. His wife, Hanaa, a dentist, is hoping to have volunteer work, or a part time job of shadowing in dental surgery because of her experience for 18 years in her private clinic and health center. She's also hoping to earn some additional money by tutoring people in Arabic as she works on perfecting her English.
But why would Mitzi care about the civil war raging in Syria, 5730 miles and seven time zones distant from Salisbury?
It's hard to imagine that a civil war so many miles and so many time zones away is actually having an impact on our region. But nevertheless, it's true.

The stories I am learning are terrifying. For example, in Aleppo, the rebels make a practice of bombing the areas held by the government. The government, in turn, bombs the areas held by the rebels.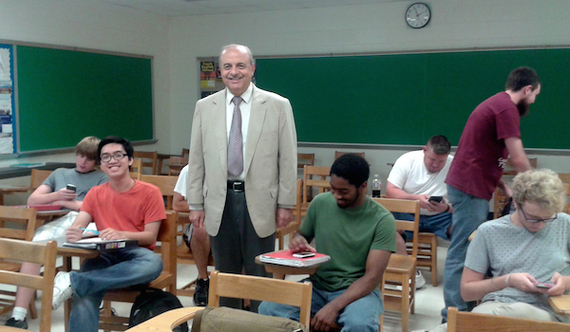 Dr. Adib Sha'ar, a Syrian scholar who was helping protect democracy in Syria.
Photo: Institute of International Education.
Another IIE-SRF Fellow now living in Maryland, whom Mitzi has been fortunate to meet, is Dr. Adib Sha'ar, a Syrian scholar who was helping protect democracy in Syria. She told me his story:
As a measure of the danger and the tragedy that the Sha'ar family has endured, not 100 days ago, Sha'ar's brother was killed in the civil war. Altogether, more than a quarter of a million individuals have been killed in Syria's civil war.

Dr. Sha'ar is a world-famous mathematician and cryptologist. IIE-SRF heard of his case, and understood the grave danger he and his family were in. They were able to get him here.

As a result, Salisbury University now benefits from having a great, new professor, the students benefit, and our entire region benefits from the international prestige of having a world famous scholar in our midst.
And just what is Professor Sha'ar's research?
As a mathematician, Adib has been able to figure out ways of ensuring that electronic voting is more tamper-proof.

Imagine for a moment that someone wants to tamper with an election. He could adjust the computer codes for the voting machines so that randomly -- and therefore undetectably -- votes for candidate A could be changed to votes for Candidate B. Sha'ar's system can detect the difference between the original code and the falsified code.

I realize his research has the potential of making voting throughout the world more secure. It can profoundly influence the success of democracy. And this is just part of the work he's doing every day!

Dr. Sha'ar is contributing to his new country, and so is his wife Sawsan and his two sons. Sawsan is a civil engineer, and as her English improves, she hopes to use her professional skills in this country. Meanwhile she's doing private tutoring in Arabic and would welcome additional students.

Their sons are both 'A' students. They're already fluent in English and are popular members of their community. The entire family is a welcome addition to our area.
Mitzi Perdue was awarded Humanitarian of the Year by our Foundation last winter for her work with the Academy of Women's Health, the Institute of International Education, the Cal Ripken Sr. Foundation, and the Arthur W. Perdue Foundation, as well as for her writing as a syndicated column for 22 years.
A recipient of the Ellis Island Medal of Honor and the Women's Day Magazine Women Who Inspire Us Award as well, Mitzi holds degrees from Harvard University and George Washington University. She served as a U.S. Delegate to the United Nations Conference on Women in Nairobi and she was a Commissioner on the National Commission on Libraries and Information Science.
I reviewed her biography of her late husband, Frank Perdue, Tough Man, Tender Chicken: Business & Life Lessons from Frank Perdue in this publication (link).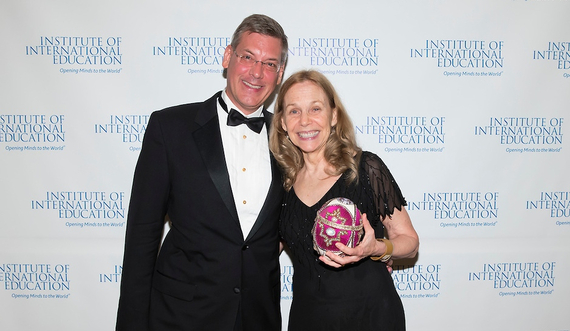 The author with the Hon. Mitzi Perdue at the IIE's annual gala.
Photo: Institute of International Education.
I realize America cannot begin to rescue the many millions of Syrians who have fled their country since the country's civil war began, but I am reminded of the story of the starfish. Two men were walking down the beach at high tide and, as they spoke, one leaned over and grabbed a beached starfish, flinging it back into the waves. Again and again. Finally, his companion laughed and said, "Look at the number of them washed up on the beach - it is endless and has no meaning." "To the ones I throw back," the other replied, "it has all the meaning in the world."
I join Mitzi in welcoming Dr. Khaled Hasan, Dr. Adib Sha'ar, and their beautiful families. I salute the Institute of International Education for working to rescue endangered scholars from around the world. I beseech the governments of the world to open their hearts and their borders. And, as mentioned elsewhere, as the founder of Orphans International Worldwide (OIWW), I repeat my offer to open my home to the orphaned children of Syria.
None of us can save the world, but collectively, if we all care and attempt to do something, humanity stands a chance of survival.
Institute of International Education (IIE)

Founded in 1919, the Institute of International Education is a private not-for-profit leader in the international exchange of people and ideas. In collaboration with governments, foundations and other sponsors, IIE creates programs of study and training for students, educators and professionals from all sectors. These programs include the flagship Fulbright Program and Gilman Scholarships administered for the U.S. Department of State. IIE also conducts policy research, provides resources on international exchange opportunities and offers support to scholars in danger.

Office of the United Nations High Commissioner for Refugees (UNHCR)

The Office of the United Nations High Commissioner for Refugees was established in 1950 by the U.N. General Assembly to lead and co-ordinate international action to protect refugees and resolve refugee problems worldwide. Its primary purpose is to safeguard the rights and well-being of refugees. It strives to ensure that everyone can exercise the right to seek asylum and find safe refuge in another State, with the option to return home voluntarily, integrate locally or to resettle in a third country. It also has a mandate to help stateless people. Since 1950, the agency has helped tens of millions of people restart their lives. Today, a staff of more than 9,300 people in 123 countries continues to help and protect millions of refugees, returnees, internally displaced and stateless people.
Calling all HuffPost superfans!
Sign up for membership to become a founding member and help shape HuffPost's next chapter