It's been over 50 years since NYPD detectives Sonny Grosso and Eddie Egan, along with Federal law enforcement, made the biggest drug bust in U.S. history, nabbing 60 kilos of pure heroin worth $32 million that had arrived from Marseille. In 1971, director Billy Friedkin adapted Robin Moore's 1969 book of the infamous bust and turned it into his brilliant, 5-time Oscar winning movie, The French Connection -- the American Film Institute has included it in its list of the best American films.
But the "French Connection," as the drug trade from Marseille to America was dubbed by U.S. law enforcement, was somehow allowed to thrive through the 1960s and into the 1970s -- some suggest because of political exigencies, both here and in France, and based on hidden agendas.
In the intriguing and very stylish new movie, The Connection, directed by Cédric Jimenez and filmed in Marseille, the director's hometown, there's an early clip of President Nixon in 1971 saying: "America's public enemy number one is drug abuse." The movie, loosely based on real events in Marseille in the 1970s, stars former Oscar winner (The Artist) Jean Dujardin, as magistrate Pierre Michel, the law enforcement man going after a gangster but celebrated, Marseille bon vivant, Tany Zampa.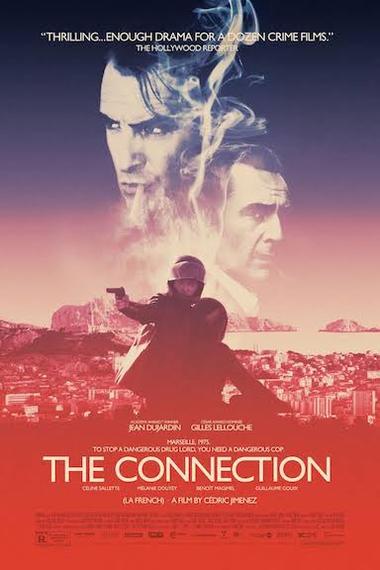 Jimenez says of The Connection, which will screen April 24 at the COLCOA French Film Festival in LA (April 20-28):
I love the original Billy Friedkin-directed movie, The French Connection, as it's a masterpiece, and I'm a huge fan. But it's a story from the early 1960s. My story is about the 'French Connection' in the 1970s. Unfortunately, the illicit trade went on for a long time, you could do 20 stories about it. The organization grew in the 50s, became very big in the 60s. And, Friedkin made his movie in the early 70s when the American people were saying we have to put a stop to these drugs. That's why we used that President Nixon clip. So my movie's timeline starts in the mid-70s, and Judge Michel, who Jean Dujardin plays, was one of the last law guys on the case, and when he died, the French Connection finally stopped in the early 80s.
The French Connection trade and story was still going on when young Jimenez was growing up in the seaside port of Marseille. His father had a big nightclub on the beach, and Zampa's brother had a nearby club. Jimenez says the men knew each other because, back then, the club world was small and everybody knew everybody. And while his father was not involved in Zampa's story, Jimenez said he always wanted to do something with the story of these two very opposing characters (Michel and Zampa) who "are a sort of mirror" image of each other.
Jimenez, who says Dujardin got involved initially through producer Alain Goldman and then with him over a "long drink" with the director, explains:
So it's a story I knew for a long time, a very important story in my city, Marseille, but it's also a personal story about two characters. Both are very extreme. The magistrate on the good side, the side of the law, taking it to the extremes to fight against drugs and the Mafia. Nothing will stop his goal, not even his wife and family -- he sacrificed a personal life to fight against the drugs. But Zampa was also extreme, a very big gangster, almost like a local politician because he was so famous, involved in the city in so many ways through business and restaurants, nightclubs...he was a big deal in Marseille. So I wanted to tell the story of these two men, and how you could be involved in your life to such extremes. And, the magistrate ultimately gave up his life to make things better for everybody, by helping to end the French Connection.
The writer/director says it was no accident that his actors (Dujardin and Gilles Lellouche as Zampa) looked somewhat alike, explaining:
This sort of mirror was very interesting. They are extreme opposites, yet extremes can look alike. They may seem so far away from each other, but in some ways they are the same character, but with opposite mindsets. I wanted them to be the same kind of guy but each took a different way or approach in life. I did this movie honestly and hope people enjoy it but also realize our lives can be short, you have to live your life. I did this movie with the period music, the look of the 70s, and wanted the story to be very alive. I hope people feel this life in The Connection.

So kick back and enjoy The Connection which will also get a limited U.S. release starting May 15.
See the screening schedule for Colcoa.
REAL LIFE. REAL NEWS. REAL VOICES.
Help us tell more of the stories that matter from voices that too often remain unheard.