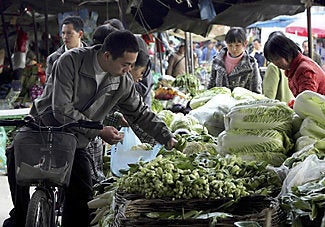 Summer of '68
In the summer of 1968, the US was experiencing post-war growing pains that sparked the birth of a social and political movement that would reshape the country and the world.
20 years earlier, in 1948, the Allies and the bomb had dubiously ended WWII, extinguishing a serious global threat.
10 years earlier, in 1958, the famous peace sign had come to life to serve the Campaign for Nuclear Disarmament in an effort to, ironically, combat the new global threat that had helped to end the war.
Just 1 year earlier, in 1967, the East Coast and Midwest had seen violent riots from Newark to Detroit that awakened many in the US to an explosive rage simmering below the surface over housing, economic, and racial issues. Half a continent away more than 100,000 disillusioned, but inspired, young people had tuned in, dropped out, and gathered in San Francisco for the Summer of Love.
And just 1 month earlier the country had sat stunned at their televisions and radios -- listening to Walter Cronkite report the tragic assassination of Martin Luther King, Jr. on a Memphis balcony.
Channeling this collective outrage, energy, and demand for change, four ambitious organizers came together to plan a gathering of folk singers, world leaders, activists, and thousands of fired-up youth demanding change.
The following summer, the Woodstock Festival, a now iconic event, brought together 32 of the best-known musicians of the day to play to the political, social, and musical aspirations of 500,000 people at a small farm in Bethel, NY.
This seemingly isolated festival would mark a turning point for the country -- harnessing the angry and hopeful energy of the times and channeling it to power the young, modern environmental and peace movements well into a new era.
Summer '08
This summer, just shy of 40 years after Woodstock -- with the world using more than twice as much energy as in 1968, US energy use up more than 33%, and atmospheric CO2 concentrations dangerously close to 400ppm (up from 320) -- the United States will celebrate the 232nd anniversary of its Declaration of Independence.
But this time, in the midst of the fun and madness, a very different kind of event will take place -- representing, in many ways, the maturity of the Utopian visions created at Woodstock .
The Rothbury Think Tank: Finding Energy Independence will unite some of the most influential minds in the country -- Green Party leader Winona LaDuke, Natural Capitalism's Hunter Lovins, Focus the Nation's Eban Goodstein, and the IPCC's Steven Schneider -- to inspire and mobilize today's brightest young leaders.
According to Think Tank programming director Shannon McNeeley:

"This event is about a new era of focusing on solutions and having fun while we're at it. This is not your parents' or your grandparents' festival. This is about empowering youth today to create the world they want to live in instead of just inheriting the mistakes of the past. The climate and energy challenges we face today require us all to participate in creating a sustainable future. We can make a huge difference, but we don't have any time left to lose at this point. It's up to us."
Representing Woodstock, NY at the Think Tank, David Gershon, the leader of the Empowerment Institute and its Cool America campaign, will be on hand to train hundreds of youth leaders -- and the hundreds of thousands of young, inspired leaders across the country that they represent -- to go forth and transform millions of households and neighborhoods through a crash-course, low-carbon diet.
And unlike Woodstock , this event itself will preach, teach, and live sustainability in every sense of the word. To begin with:
- All power generators will run on revolutionarily high grade B100 biodiesel
- All food and drink concessions will use compostable cups, silverware, plates
- Trash/recycling crews will completely separate trash, recyclable materials, and compost
- Staff will coordinate flights and encourage/help the audience to maximize carpooling
- Organic concessions and an on-site farmer's market will support local growers
- All staff will be given one water bottle that they can refill
- The Festival will participate in a carbon offset program for all site operations
Most importantly, in recognition of how the emerging Modern Industrial Revolution will support struggling cities and states across the aging Rust Belt, Rothbury will partner with RE:VOLVE Apparel and Black Rock Solar, and employ Grand Rapids based solar installer Bauer Power, to outfit local Shelby High School with at least $50,000 worth of solar power.
Audience members can actually help fuel these local efforts by purchasing a Green Ticket.
Going Global: Playing to a Flat World
In a nod to just how flat the world is becoming, the artists at Rothbury themselves will hopefully seize on some international momentum in the music industry to both learn about sustainability and share the important, highly-visible work they are doing.
Artist Jimmy Cliff opened the Forum with a charity concert, noting that "I grew up in an environment that was in the country, with clean air, fresh water," calling his work on human rights and the environment "a natural part of my daily occupation."
According to Jorges Daniel Taillant, executive director of the Argentina-based Center for Human Rights and Environment, whose group recently received the Sierra Club's Earth Care Award, "people listen to pop stars, much more than groups like ours...so if the music industry starts to go green that's fantastic."
Taillant's Center recently helped launched the Woodstock Principles, a set of 10 simple principles designed to encourage music bands, musicians, and music fans the world over to commit to more environmentally friendly music activity. Across the globe, then, the spirit of Woodstock is alive and well.
Oh-Oh, Listen to the Music
But, in case this sustainable music stuff is starting to sound like more work than play, let's not forget that the Rothbury Festival is all about the music. According to McNeeley:

"If you're like me and you love live music and making a difference in the world, coming to Rothbury is a no-brainer. I mean, you've got the amazing opportunity to interact with brilliant change-makers by day and rock out with the likes of Dave Matthews, Phil Lesh, and Widespread Panic by night. I can't think of a better time myself. Some say it's mixing apples and oranges. And to quote Jeremy Stein, the festival director, 'Isn't it time we mixed the apples and oranges?' That's the whole point of ROTHBURY. We're creating something new here by leveraging sustainability solutions through the power of music and art to help create a new world order."
So this Independence Day, don't just celebrate this country's independence and democracy. Find a low-carbon way to come to Michigan and participate in it! Or if you can't make it out to Rothbury, keep an eye out for the young leaders who have attended.
But be warned that they may not be obvious. Many of them won't be wearing flowers in their hair, sporting tie-dyes, or touring on Magic Buses. Many of them may appear at your town and city meetings in button-down shirts and 3-piece suits talking about financing schemes and payback periods.
And when you listen to them speak, you will hear the energy and idealism that was born 40 years ago, tempered and refined by the long, difficult decades since, and empowered by both the fear of today's impending climate crisis and excitement over new, revolutionary solutions.
To get involved with Rothbury and the Think Tank, students can contact Brandon Knight at brandon@globalexchange.org

Related