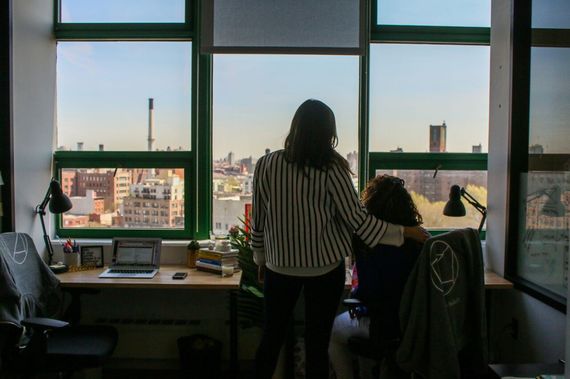 Remember when the concept of a bestie first emerged so beautifully in elementary school? You discovered your fun soul-mate in the energy of summer activities, forming bonds of an allegiance to very select and important activities (pool, snack bar, riding bikes, back to snack bar), and discovering your childlike passions and interests (like taking inventory of your Umbro collection and writing fan mail to Amy Grant - speaking for a friend).
For me, that person was my BFF Ashley. We would flop down on Ashley's bed for endless sleepovers in the summer, exhausted from the happiness of the day, talking about our crushes, our teachers (our crushes on our teachers), and what we wanted to be when we grew up, feeling adulthood many many moons away. Ashley listened, Ashley supported me, Ashley always saw goodness in me, and Ashley, during tough family times, advocated for me. She always had my back.
It was was magic.

It was through my friendship with Ashley (going strong 20+ years later), I felt for the first time what would become a lifelong addiction: comfort through the connection of smart, strong, and kind women. It's a habit I never plan to shake; and has served me well in life and business.
Flash forward to present day, my 9 year old self would be proud to know positive female friendships have continued to shape my life and career, ultimately inspiring me to co-found my company, Shine, with a dear friend, former co-worker, and peer mentor, Marah Lidey.
Marah and I met four years ago at DoSomething.org, the largest (and most badass) organization for young people and social change, and we found instant support in each other. As we both grew teams within the organization, we were able to rely on each other for everything from management advice to publicly celebrating each other's wins - ultimately pushing us both forward along the way.
If it wasn't for our co-support in the workplace, we may never have had the courage to start our own company and go after venture funding. Our previous experience supporting each other day-to-day at work has been a strength as co-founders - research shows former co-workers are the most stable founding teams.
It's no coincidence that our product is all about scaling the support we offered each other, to motivate people to live their best life.
We realize, however, that not everyone is so lucky. Although we spend most of our time at work, friendships at work have decreased from 50% in 1985 to 30% in 2004. Unfortunately, it's at the the risk of workplace happiness; research shows jobs are more satisfying when they provide opportunities to form friendships.
Offering support to peers at work helps you and it helps others: showing leadership & building happiness. In celebration of Lean In's Together Women Can campaign, here are some of our tips to help get you started. These tips are obviously important for everyone, however, many of these issues have specific stats that impact women at a higher rate.
Tip 1: Show the love: celebrate co-workers accomplishments
Insight: Often, it can feel uncomfortable owning your work. We worry about being perceived as "too confident" or "too boastful." Women, in particular, are more likely to credit accomplishments to external factors, like "getting lucky" or "getting help." As a result, we end up undermining accomplishments vs. owning them.
Action: Get together with co-workers and agree to celebrate one another's successes whenever possible (ex: upcoming staff meeting, internal email). Celebrating others shows confidence and leadership.
Tip 2: Help people get started - lead by example
Insight: Ever been in a meeting where there's 1-2 people dominating the meeting, leaving it hard to know where to add your idea? That struggle is real. Remember, when we stay quiet, our status suffers. Women in particular are less likely to speak up in group situations, which can be perceived as having less influence.
Action: Lead by example. Practice your power posing, speak up in meetings, and help advocate for quieter peers to speak up too; help bring them into the convo.
Tip 3: Help your friend take a leap
Insight: Opportunity is exciting...and overwhelming. We often hold ourselves back because of fear of failure, fear of the unknown, not wanting to feel uncomfortable (and all those other really fun emotions). A brief reminder from a close friend on why you deserve to take a chance, and why you're qualified for the role, can be the positive tipping point in a new direction.
Action: Identify opportunities to help a co-worker take a leap for something meaningful. Know a friend who wants a promotion but is hesitant about asking for what she wants? Spend 15 minutes helping her identify accomplishments in her current role and validate that expertise.
Workplace friendships, peer support, and allies drives collaboration, productivity and happiness. Wins all around - for you, your company, and your co-workers.
Today, look for opportunities to be in someone's corner.
For tips from Lean In on how to be an ally, check out this overview.
Related
Popular in the Community