While breastfeeding after pregnancy is a routine act for many mothers, four female pilots with Frontier Airlines said their employer discriminated against them for pumping milk on duty.
In a complaint filed this week with the Equal Employment Opportunity Commission, The American Civil Liberties Union filing on the pilots' behalf said the women suffered physical harm, financial loss and even fears they would be fired on account of the airline's discriminatory practices.
"Women should have choices — we're not just pilots and we're not just moms — we need to find a way to mesh the two together," said pilot Shannon Kiedrowski, one of the four claimants.
"I do understand that yes, we are commercial airline pilots, but it's a time for us to get creative and find ways to accommodate women in the work force of aviation," she said.
In their four separate complaints, First Officers Keidrowski, Brandy Beck, Erin Zielinski and Randi Freyer described the situations they faced during pregnancy and after resuming flying duties.
Under Frontier's policies and the union agreement with pilots, expectant mothers are forced to stop working 32 weeks into their pregnancy to take unpaid leave and are given 120 days of unpaid leave after giving birth. If a pilot doesn't exhaust sick time and vacation days as part of her leave, the unpaid time off amounts to nearly six months without a paycheck.
Phoebe Taubman, senior staff attorney with the family advocacy legal group, A Better Balance, noted the wider cost of the policy given that women are increasingly breadwinners for their families.
"Families are relying on that income and to just cut them off puts them in a difficult position," Taubman said.
All of the women said they could and would have continued to work and earn income before giving birth if Frontier had simply provided temporary alternative assignments suited to their skills, such as working in the flight training or flight operation center.
Kiedrowski, who was the first new mother to raise issues with Frontier, said the company wasn't any more accommodating once the pilots returned to work.
Kiedrowski said she was called into an HR meeting with the chief pilot shortly after her return where she learned a male pilot had overheard she was planning to pump breastmilk for her son during her shift in the aircraft bathroom or at the airport.
"They weren't comfortable with that," Keidrowski said of the management's response. "It had not come up before, and they had to figure out if it was something they could condone or not."
Zielinski said in her complaint she faced similarly hostile responses. When she emailed higher-ups inquiring information on where she might pump at various airports, she was inadvertently copied on an email in which management accused Zielinski of "baiting" them and playing "games."
Pumping breastmilk is a physiological need for new moms: Lactating mothers who don't regularly pump can experience pain, infection of the breast tissue and a reduction or even complete cessation of milk production.
Taubman said that employers commonly make accommodations for employees who need them temporarily for health reasons.
"There are accommodations for people who break a bone skiing or hurt their back moving home equipment, or are recovering from a heart operation," Taubman said.
"Seventy-five percent of women are going to be pregnant and employed in some part in their life," she adds. "It's common, it's part of life and it's also temporary."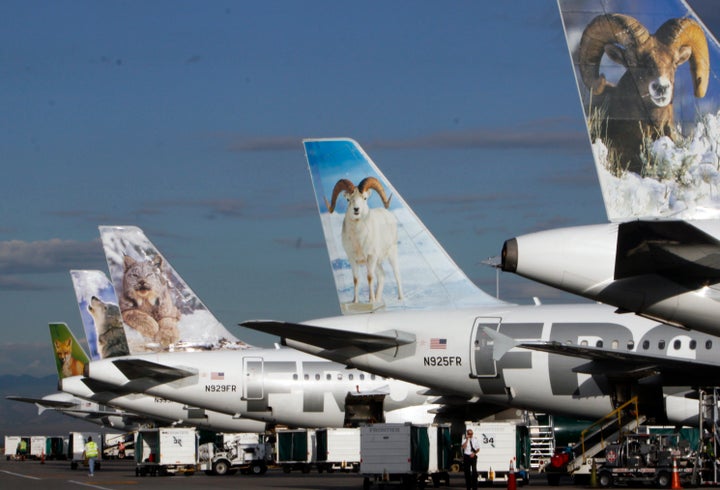 ACLU Senior Staff Attorney Galen Sherwin said that all industries need to find better solutions to address these problems.
"Each industry poses its own unique challenges. The airline industry is still grappling with these problems," Sherwin said. "Frontier airlines, in this instance, is not doing a good job."
Sherwin said pilots typically have 45 minutes between flights landing and taking off, during which time they still have work-related duties.
"Unless they have a convenient place to pump, it's not really feasible," Sherwin said. Even the using the airport's lactation room at Frontier's hub in Denver International Airport can be a challenge if the pilot's gate is a 20 minute walk from the room in each direction.
Kiedrowski, who is among Frontier's pilots with the most seniority, has offered Frontier suggestions on how to better work with new mothers since she gave birth to her second child in 2013.
Other airlines offer longer maternity leave than Frontier, allowing some mothers to be on leave long enough to finish breastfeeding, Kiedrowski said. The pilots suggested Frontier could do the same.
"Or for those who can't afford to take that much time off, a reduced flying schedule or more flexibility in trips we fly could help," Kiedrowski said, noting some flight schedules can stretch three or more days.
Kiedrowski was told by Frontier's director of operations the airline would not craft new accommodations as her situation was an "anomaly" that would be handled on a case-by-case basis, according to her complaint.
The other pilots said the company simply didn't respond to their requests or suggestions.
The airline defended its practices, saying in an emailed statement through a spokesperson:
"While there are many work places that might allow for nursing mothers to express breastmilk during a break from work activities, the duties of a commercial airline pilot present unique circumstances. We have made good-faith efforts to identify and provide rooms and other secure locations for use by breastfeeding pilots during their duty travel."
Under the federal Pregnancy Discrimination act, employers cannot discriminate on the basis of pregnancy -- but the law is murkier on how far companies need to go to accommodate pregnant workers.
Legally, companies are only required to offer the same benefits provided to workers who are facing similar conditions to pregnant women: If a police officer is offered desk duty on account of an injury, pregnant woman are entitled to the same kind of accommodation.
In recent years, 17 states and Washington, D.C. have stepped up to pass stronger laws with more explicit protections for pregnant women.
The current effort to pass similar legislation at the federal level, the Pregnant Workers Fairness Act, is stalled out in Congress, said Emily Martin, general counsel and vice president for workplace justice at the National Women's Law Center.
Male-dominated workplaces tend to see more of these kinds of discrimination cases, said Martin, who has talked to many women facing this issue.
"There is some either implicit or explicit resistance to women doing the job at all," she said. "There are issues in police departments, truck driving; it's pretty common."
Nationwide, women make up less than six percent of all commercial airline pilots, according to the Vancouver, British Columbia-based Institute for Women Of Aviation Worldwide.
"When you look at the numbers of female commercial airline pilots, it's quite alarming," said IWOAW Founder and CEO Mireille Goyer. She said that the percentage of female commercial airline pilots in the U.S. trails world leaders like India (11 percent) and France (7 percent) and is decreasing.
Female pilots in the U.S. hit a peak of 13,925 in 2009, but has declined since.
Goyer said the Frontier pilots' situation demonstrates why it's important to boost the numbers of women in the profession overall.
"These things would not happen if we were not so irrelevant in numbers," Goyer said.
Kiedrowski said she wanted to make it clear the pilots are not seeking money with their complaint, only policy changes.
"We really do love our profession and our job. And we also love our kids," she said. "We want a happy medium. We take our jobs very seriously. There need to be choices out there."
Emily Peck contributed reporting.
Related
Before You Go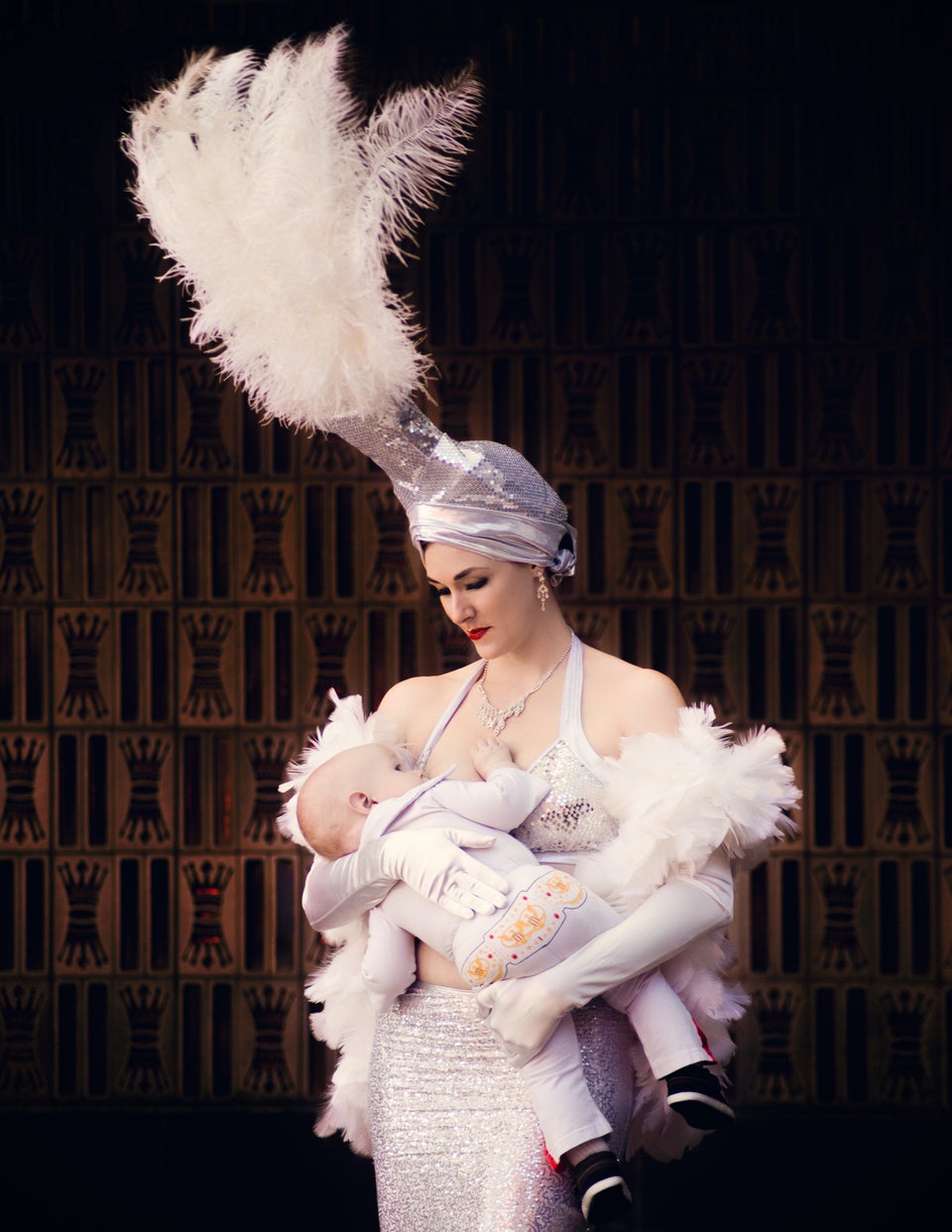 Photo Series Shows Working Moms Breastfeeding In Uniform