I did feel kind of silly--the day after Christmas, instead of standing outside of Target or Bloomingdales like the rest of mankind to rush inside for The Big Sale, I was standing outside my local farm stand waiting to rush inside and buy local meat. The farm stand (I should say farm store--Morning Glory Farm is our only farm on Martha's Vineyard with an actual retail store) closes for the winter on the last day of December, and so ends the opportunity to raid their freezer for local beef, pork, and chicken. So there I was, doing my best bag lady impression, stuffing my rumpled canvas totes full of spare ribs and chicken legs, all on sale for the store closing.
In retrospect, it seems I made a good decision to try and eat mostly locally again this winter, what with the dubious quality of some of the other delicious offerings available to us at grocery stores, like those tasty ammonia-seasoned (yet still E.coli-contaminated) ground beef patties. Yum. And I have to say, so far so good this year with the strategy: I've got plenty of freezer space, and I've learned how to hold some things better.
Last year, I tried holding squash and potatoes in a cool closet, but they were in canvas bags (not enough air circulation) and they rotted in a few weeks. This year, I've relegated the butternut squash I (also) got at the Morning Glory fire sale to a very cool attic. Spread out on open shelves, they seem to be holding just fine. I've also discovered (partially by experiment and partially by accident), that the beets and turnips I accumulated over the last couple months of my CSA share are holding perfectly in the vegetable bin of my fridge. They're wrapped in dishtowels, and popped inside ziptop bags (recycled, I promise!). There's no sign of rot and some are 10 to 12 weeks old.
Also, since I had my little tiny vegetable garden this year, I decided to leave some carrots in the ground (along with a few Swiss chard and arugula plants) after the first frost. I covered them with a blanket of white Remay, which soon was buried under a blanket of white snow. After the snow melted, I uncovered the Remay and harvested perfectly delicious carrots (and Swiss chard--arugula was a tad wilty!). I wish I had parsnips in the ground as they supposedly love a freeze.
The only real problem is that I am beginning to look askance at the large supply of turnips and celery root I have. It's hard to keep things interesting on the culinary front when you eat root vegetables with every meal. But you also make some great discoveries. My new favorite thing is addictive celery root "chips," made by slicing peeled celery root paper thin, tossing with olive oil and salt, and roasting until crisp. The other day, I also came across an old recipe I had developed for The Providence Journal nearly 2o years ago for a delicious turnip, celery root, garlic and rosemary soup. ("Eureka!" I thought. "This uses everything in one dish!"). If you're in root-vegetable winter-wonderland like I am, try this silky pureed soup:
Trim, peel, and dice 1 pound celery root, ½ pound purple-topped turnips, ½ pound Yukon Gold potatoes (weights before trimming), and 1 large onion. Peel 12 large garlic cloves and cut them in half. Melt 3 Tbs. butter in a Dutch oven, sauté the onion until tender, add and sauté briefly 1 tsp. chopped fresh rosemary, 1/2 tsp. ground coriander, 1 tsp. sugar, and 1 tsp. kosher salt, and then add in all the remaining vegetables and 7 cups chicken or vegetable broth. Simmer 30 to 40 minutes until the vegetables are tender, turn off the heat, let sit to cool a bit, and puree in batches in a blender. Return to the pot, taste to season with salt, pepper, and a tiny bit of lemon juice, and stir in a ½ cup of heavy cream if you like. (It's still great without.) Serve with toasted pine nuts and a little more chopped fresh rosemary for garnish.
Lest you think it's all roots and bones all winter around here, I have to tell you the best part about eating locally in the winter: Freezer-diving for summer fruit. Yesterday I dipped into my cache of frozen raspberries (that we picked at Whippoorwill Farm for weeks last fall), and let them defrost in a bowl overnight. As they warmed up, they sort of melted into a brilliant ruby-red pool of liquid that tasted like the very essence of summer. Twirled into my yogurt (goat's milk--yum!), it tasted almost as good as an ice cream cone on a hot summer night--and certainly was more appreciated.
At some point, I'm going to run out of roots. Never fear, thanks to the best idea to come along in years--our new monthly winter farmers' market--there'll be no need to go turnip-less. I'll even get some delicious winter salad greens from a local greenhouse. That's a good thing, as all roots and no greens makes dinner a bit drab.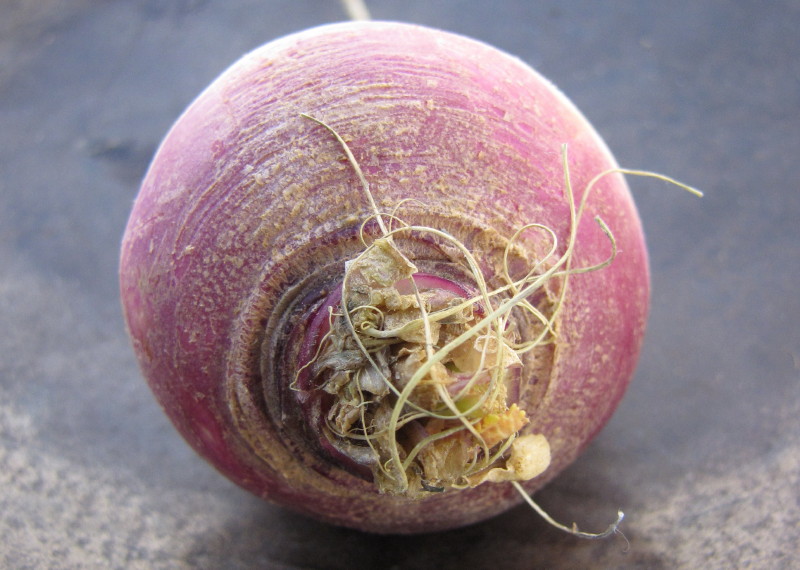 Related
Popular in the Community