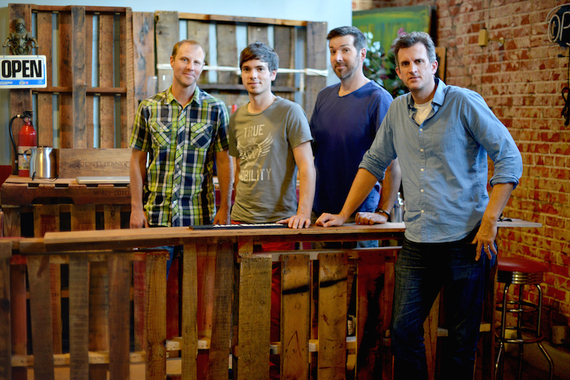 As the popularity of reality TV fades, what is taking its place is amazing content that's being created by everyday people. We're experiencing something incredible - the democratization of content. Anyone with a great idea can have access to millions of people - and that was just the case for three suburban dads in Southern California. Like many dads they were driven crazy by Disney's Frozen, then touched a nerve and tickled the funny bone of millions of people with their video and a special kind of humor - real, honest and family friendly.
One viral YouTube video sparked a journey these dads: Ryan O'Quinn, Todd Wilkerson, and Matt Reithmayr, never would have expected leading them to sit around the table on set 4 1/2 months later with TV legend Jerry Mathers filming a new comedy sitcom.
True story: this regular-guy-pop-culture-dream-team came together in their suburban Los Angeles homes to see just what the group of "Dad Dudes" could launch out of their moment of unexpected fame. A month later, while in conversation with Executive Producer, Bradley Dorsey, they imagined together what a family friendly TV Show could look like for this generation. Fast forward three months: they have created and are in the midst of production of a pilot for their TV show, appropriately named: "Dad Dudes" the name of their YouTube channel.
Actor and producer Ryan O'Quinn share:
"We are dudes, but being dads takes first priority and why not have other dad dudes along for the ride to help each other figure it out? We're creating a 30-minute single camera sitcom that is wholesome and good, entertaining and funny. We have been really excited to cast Jerry Mathers of Leave It To Beaver as my father on the show. The Cleaver's classic values are those that we want to translate into a modern context, so it was a natural fit. In addition to Mathers, Joyce Giraud, Tracy Melchior and Kelsey Crane round out the cast as regulars."
Actor Jerry Mathers laments:
"I don't have any problem with shows that target adults, but I am thrilled to be part of a show that I could watch with my kids and someday, my grandchildren. If there is one thing I'd change about modern television, I'd hope that family shows would return to the scene showing consequential behavior and parents that teach their children value lessons. Over the course of my career, I've wanted to take work I can be proud of for its great content and wholesome values, and this show fit with the kind legacy I want to leave."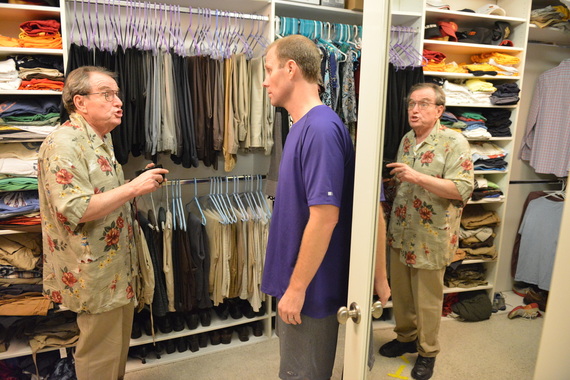 As the team continues to film and create their dream, executive producer and dad to 5 young children, Dorsey, hopes that this show will allow him to incorporate a modern show into the line up of 1950s and '60s reruns they currently watch together as a family. He says, "I want 'Dad Dudes' to be a show that portrays parents in a positive light."
This band of intentional dads hope to return some dignity to TV parents and allow them to be the heroes of their homes, rather than the clueless companion to their hilarious children. They advocate in the show's tag line: dads first, dudes second. Three suburban dads attempt to make sense of kids, careers, wives and lives.
Every day, thousands of people post videos of their kids and families to the web, hoping to capture a minute of YouTube fame. For these regular suburban dads, they've been given the opportunity to create content that can impact the mass culture--an opportunity only recently afforded to each of us in the last decade. Out of their passion to raise great kids, they're investing their creativity in "Dad Dudes" so that their families and yours can sit together and enjoy a moment connecting in front of, and not fast forwarding through, the shows that are on the TV.
Popular in the Community