 So was it glamorous and exciting for Chris Buck and Jennifer Lee earlier today when they learned that Frozen -- the Walt Disney Pictures release that they had co-directed -- had been nominated for Best Animated Feature? Not exactly.
You have to understand that the Academy makes these announcements at around 5:30 a.m. West Coast Time. And the last time I was nominated, for Surf's Up, I didn't set my alarm. And then you get all these phone calls. So this time, I thought -- just in case, just be safe -- I'd set my alarm. But once I got up, there were all of these early-morning chores that I needed to do like feed the dog and adding water to the fish tank. So I was juggling all of that stuff as I was listening to the nominations.
And in Jennifer's case, she was still in bed as Chris Hemsworth and Cheryl Boone Isaacs began reading off this year's nominees.
But I have a very good excuse for being in bed. You see, I have the flu right now. And since Chris and I are supposed to be traveling to Japan and China shortly to support the launch of Frozen over there, I figured that the best thing for me to is just get some rest. Stay in bed and concentrate on getting better. But then I just happened to wake up at 5:30 a.m. So I turned on my laptop and watched the live stream of the announcements from bed. And then when I heard that Frozen was nominated, for about 30 seconds there, I didn't feel sick. But then my cold kicked back in again. Which is why I'm still here in bed.
Well, no matter under what conditions Chris and Jennifer received this news, they were still thrilled to learn that Disney's Frozen had been nominated for Best Animated Feature.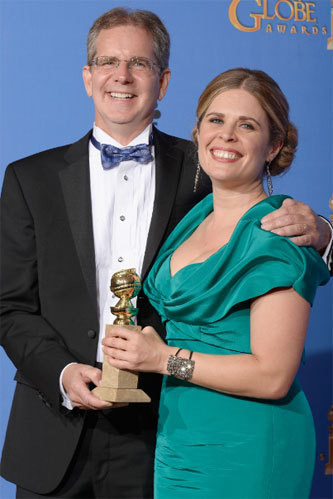 And you know what makes this sort of recognition from members of the Academy of Motion Picture Arts and Sciences all the sweeter? The fact that Disney 's Frozen was actually produced on a severely compressed production schedule. Few people outside of Walt Disney Animation Studios know this, but this animated re-imagining of Hans Christian Andersen's classic fairy tale was originally supposed to be Disney Studios' big holiday release for 2014. But back in the Fall of 2011, when WDAS head John Lasseter saw how well this film's story was coming together, he then decided to shift Frozen's release date to Holiday 2013. Lee enthused:
And the fact that we were still able to meet that new deadline, still able deliver a quality film under those sorts of conditions, that's a real tribute to our crew. They're the ones who actually made this movie happen. These were people who gave 120 percent the whole time. Chris and I were constantly asking for new things. We doubled -- no, tripled -- the number of crowd shots and effects to go with along our story telling and they were always right there. These people were just not going to compromise. They wanted Frozen to be the very best thing that Disney had ever done. And I just love that about our crew. They always tried to top themselves.
And as for Frozen's tight production schedule... You know, sometimes a situation like that when -- as a filmmaker -- you're in a time crunch, it can actually be a good thing. You can spend a lot of time in development going 'What if?,' 'What if?' But when you've only got two years to make your movie, you've then got to start making decisions. You've got to move down that road with determination. So seriously, sometimes when you've got a tight production schedule, it can actually help make your movie stronger.
And speaking of stronger: What with Disney's Frozen now standing at $319.8 million in domestic ticket sales (which means that it's now officially displaced Walt Disney Animation Studios' previous top earner, The Lion King, which sold $312 million worth of tickets in North America back in 1994), and this film's soundtrack being the No. 1 best-selling digital album in the country right now, not to mention Disney CEO Bob Iger confirming that a Broadway stage musical version of Frozen is already in the works... It's sometimes hard to remember that time when the team at WDAS wasn't entirely sure that modern movie-goers were actually going to embrace their take on The Snow Queen.
I mean, just 12 weeks ago, it was still just us at the studio with this movie. We had done a screening of Frozen with an audience back in June and the response was far beyond what we had expected. "But even so, we didn't know if that reaction was going to be typical of how Frozen was going to be received once it got into theaters. But to have people be so enthusiastic, to have them embrace this movie in the way they have... It's just mind-blowing. I haven't processed it yet.
Which brings us to the big question: What's Frozen's secret? What is it about this particular Walt Disney Animation Studios production that then allowed it to make such a strong connection with today's audiences? Chris thinks that Frozen's success has a lot to do with the way this animated feature mixes classic Disney with modern storytelling techniques.
"Look, when it comes to classic Disney, I've got it in my DNA. I mean, the guy who trained me, the man who mentored me when I first came to the Studio was Eric Larson, one of Walt's Nine Old Men," Buck continued:
What Jen and I wanted to do with Frozen was tell a classic Disney story only with characters that weren't up pedestals. I mean, if you really look at Anna and Elsa, they're contemporary characters with flaws. These two sisters are just like the rest of us. So it's this mix of Disney classic and the contemporary that I think audiences have really been responding to.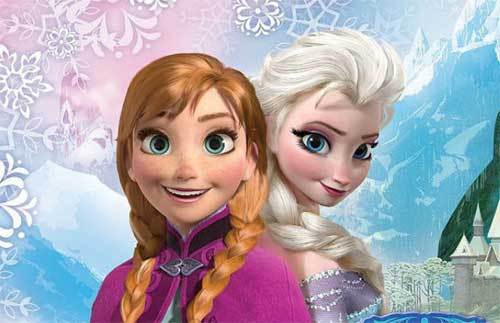 When Chris and I first talked about Frozen, we wanted characters that sounded genuine & were relatable. Our No. 1 thing when we were working on Anna and Elsa's dialogue was 'Don't try and control them. Let the characters speak as they really would. And -- in the end -- this pair of sisters surprised us. They wound up being a whole lot more feisty than we originally thought they would be.
And speaking of feisty: When Jennifer was casting about for inspiration when it came to how Teenage Anna might move, she found someone sitting right on the other side of her dining room table.
My daughter Aggie was a very big inspiration for Anna in terms of her physicality. And then when it came time to record Do You Want to Build a Snowman... Well, we really wanted to use the first two verses of this song to show you Anna's personality. And we wanted the singing to be done by real-sounding kids, not necessarily Broadway kids. And Aggie? Well, she loves to sing. More importantly, she can sing in key. And since my daughter has the sort of feisty spirit that we were looking for with Teenage Anna... Well, everything sort of fell into place. Even so, that whole having-Aggie-in-the-recording-studio thing was very nerve-wracking for me. I don't know how parents do that. I was so nervous for her.
Chris laughed. "Yeah. You were way more nervous than Aggie was at that session."
Well, if Lee got that nervous while her daughter was recording that portion of Do You Want to Build a Snowman, one wonders how she and Chris are going to feel on the evening of March 2. When the two of them are seated inside of Hollywood's Dolby Theatre along with the directors of Despicable Me 2, Ernest & Celestine, The Croods and The Wind Rises as they wait to hear which film Academy members awarded the Best Animated Feature Oscar to.
Here's hoping that Jennifer Lee is finally over her cold by then. Because having the flu and celebrating the success of Frozen probably wouldn't mix.
Popular in the Community