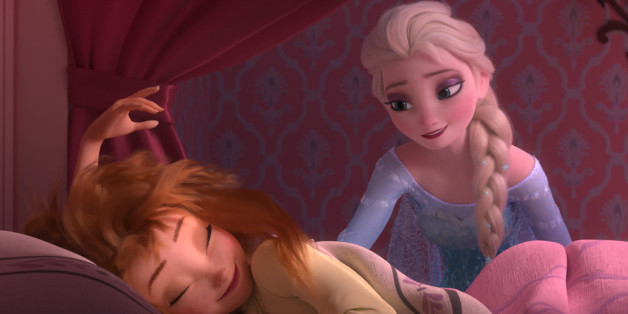 "Frozen Fever" is a clever name for Disney's short-film follow-up to "Frozen," and not just because the seven-minute mini-movie is built around Elsa having a head cold. In the 16 months since "Frozen" was released in theaters, the animated musical has broken box office records, won two Oscars, sold millions of copies of its soundtrack and spawned enough viral videos to fill two YouTubes. Put it this way: The official trailer for "Frozen Fever" has nearly 18 million views.
"I still can't believe that," co-director Jennifer Lee said to The Huffington Post about the number. "A trailer for a short!" added co-director Chris Buck.
Such is life in the world of "Frozen," which is why Lee and Buck were initially a little intimidated about going back to the fictional kingdom of Arendelle. It was only after the idea to build the short around Elsa (voiced by Idina Menzel) trying to throw Anna (voiced by Kristen Bell) a birthday party while also battling a head cold that things clicked into place.
"Whatever pressure we had for the future went away a little bit," Buck said of cracking the plot. "We know these characters pretty well. We know what works for them and what doesn't work for them. So at that point it's all about having fun."
Part of their enjoyment came from stretching what audiences might expect from Elsa, who spent most of the first film locked in a kingdom of isolation. In "Frozen Fever," she shows a goofy side that rivals anything Anna did in "Frozen."
"Elsa was much more of a tragic figure in 'Frozen,'" Lee said. "Now she's a lot of fun. Idina loved it. There was a lot of laughing when we recorded her for the song ['Making Today a Perfect Day' from 'Let It Go' writers Robert Lopez and Kristen-Anderson Lopez] and the short."
But while Lee and Buck are thrilled with the finished product -- and Lee is currently writing the book for the forthcoming "Frozen" Broadway musical -- don't expect "Frozen Fever" to become "Frozen 2" any time soon.
"It was really nice to do a short and just get back with these characters who we love without the pressure of having to do a huge sequel," Buck said. "We're going to take a little bit of a break from the 'Frozen' stuff before diving into anything else."
"Frozen Fever" is attached to Disney's "Cinderella," in theaters on March 13.
REAL LIFE. REAL NEWS. REAL VOICES.
Help us tell more of the stories that matter from voices that too often remain unheard.
BEFORE YOU GO
PHOTO GALLERY
Celebrities Who Look Like Disney Characters