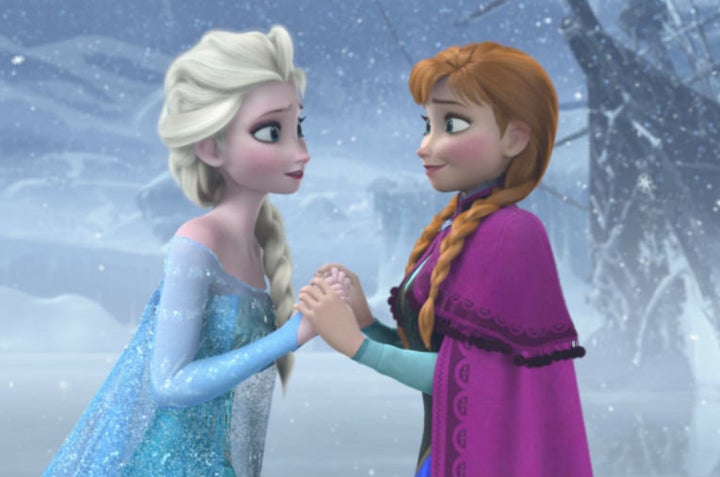 Elsa, the magical white-haired princess in Disney's smash-hit "Frozen," quickly became an audience favorite after the animated film's 2013 debut. And not just because her signature song was catchy. When Elsa sings "Let It Go," voiced by magical Broadway princess Idina Menzel, she embraces the thing that had made her a social pariah, allowing that unique quality to fill her with confidence instead of oppressive fear and anxiety.
Many embraced the version of "Frozen" that made it to theaters because Elsa's contradictions felt new, and refreshingly human, in animated form. Although she can turn things to ice ― the stuff of cold-hearted evil in fairytale language ― Elsa doesn't want to hurt anyone. And unlike many Disney princess movies of decades past, "Frozen" allowed its two female characters to be more concerned with the complexities of sisterly love rather than romance ― the absurdity of "love at first sight" is memorably laughed at when Anna meets the handsome Prince Hans. The movie aced the Bechdel test.
Originally, though, "Frozen" looked a lot different. Although the film went through many iterations before its release, producer Peter Del Vecho recalled some common elements from early drafts:
Elsa had turned into a super-villain after being left at the altar.
Yes, evidently, a man so hurt Elsa that she decided to turn her heart to ice, so she could never love again. In her new life as a woman scorned, Elsa became evil.
Elsa and Anna weren't royals. They weren't even related.
Non-princess Elsa and Anna might have been an interesting road for Disney, which traffics in princess tales. As newly orphaned royalty in the final version, though, we're given strong, commanding female characters with a duty to their kingdom.
Elsa has a change of heart, literally, as Anna convinces her to use her powers to save the kingdom.
Having conjured an army of snowmen, Evil Elsa is taking aim at the innocent kingdom when Hans triggers an avalanche. The avalanche would stop Elsa's army, but also put the whole town in peril ― not that Hans cared ― and so Anna convinces her to use her powers for good, which melts her frozen heart.
Anna's frozen heart might've needed rescuing by a traditional "true love's kiss." (Yawn.)
According to Del Vecho, director Chris Buck started to wonder whether another form of love could have the power to save Anna, other than romantic love between a man and a woman. In the final version, as her frozen heart is consuming her, Anna rushes to save Elsa from Hans' sword, shattering his blade with a frozen hand. Anna's dramatic act of love for her sister turned out to be the key to thawing herself, and Elsa realizes that love can end winter.
Unsurprisingly, Del Vecho told EW that these ideas were scrapped because it "felt like we had seen it before." Surely the world did not need any more one-dimensional, frigid Gorgons.
"It wasn't satisfying. We had no emotional connection to Elsa — we didn't care about her because she had spent the whole movie being the villain," he said. "We weren't drawn in. The characters weren't relatable."
We're glad they made some changes.
You can support the ACLU right away. Text POWER to 20222 to give $10 to the ACLU. The ACLU will call you to explain other actions you can take to help. Visit www.hmgf.org/t for terms. #StandForRights2017
Calling all HuffPost superfans!
Sign up for membership to become a founding member and help shape HuffPost's next chapter
BEFORE YOU GO