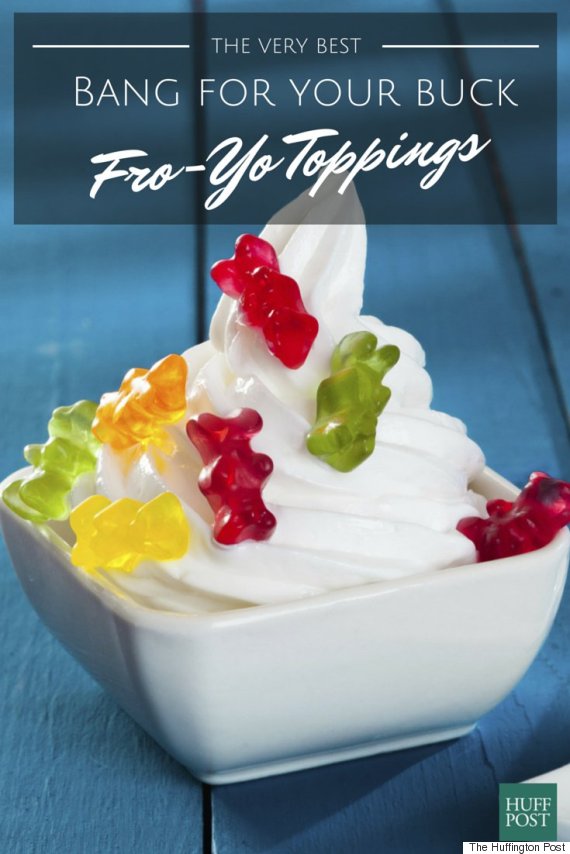 For some, a trip to a frozen yogurt shop is a lighter way to satisfy a sweet tooth. For others, it's basically a visit to a build-your-own-sundae bar.
With options that are endless, piling on loads of toppings comes at a price. Which made us wonder: which options provide the most bang for your buck? We reached out to 16 Handles, a well-known frozen yogurt shop with locations across the east coast, to inquire about the most popular toppings at their franchises. We measured 0.6 ounces (a rather unscientific amount, just because it looked good in pictures) of each topping to determine which of the most popular treats had the highest volume or number of individual pieces.
Though we only used 16 Handles' chart toppers, the theory applies to any frozen yogurt place you might visit this summer. Check out the toppings that are worth the splurge, and the ones you should skip below.

1. Chocolate Chip Cookie Dough
Cookie dough is the way to go if you want some sort of baked good. It's surprisingly light. For comparison, consider this: just 13 cheesecake bites equate to 39 pieces of cookie dough at 16 Handles.
2 M&Ms
Chocolate candy fans should reach for the M&Ms -- especially mini M&Ms if they're available. The smaller pieces were the second best deal we found because of the sheer number of M&Ms you could layer on your dessert.
3. Oreo Pieces
Volume-wise, crushed Oreos are one of the best deals. The cookie weighs so little and its flavor is distinct enough with some added crunch, which makes for a great compliment to your dessert.
4. Gummy Bears
If you're a bigger fan of fruity candy over chocolate, gummy bears are your best bet. The colorful sweets aren't heavy so you can pile a good amount on your froyo.
5. Mini Peanut Butter Cups
Reese's were a favorite on 16 Handles' list, likely because peanut butter is universally pretty damn amazing. More powerful in flavor than Oreos, grab the peanut butter cups if you're looking for your topping to nearly overpower your fro-yo flavor.
6. Rainbow Sprinkles
Rainbow or chocolate jimmies are a winner -- a classic addition to your fro-yo concoction. They're also relatively light and disperse nicely across your cup, which ensures dozens of sprinkles in each bite. Win-win.
1. Cheesecake Bites
We obviously get the appeal here. But the cheesecake bites are so dense that you barely get any cheesecake in 0.6 oz. If you want a baked (or unbaked) treat, go for the cookie dough or brownie bites.
2. Milk Chocolate Hazelnut Crunch
First of all, what is this stuff? It resembles something pretty unpleasant, but when we discovered it's essentially Nutella with round rice crisps, we forgave its appearance. However, the thick hazelnut spread weighs more than chocolate syrup or caramel, so it's not the ideal wet topping.
3. Wet Walnuts
If you're adding wet walnuts to your creation, you're weighing down your fro-yo with more syrup than nuts. Walnuts are packed with tons of health benefits, but when covered in a sugary liquid, they become a different topping entirely.
4. Maraschino Cherries
The argument against these is twofold: they're heavy, and opting for fresh fruit is a healthier option. If you're craving a fruit topping, go for blueberries -- they cost about $0.59 per oz. in a fro-yo shop, compared to about $0.65 per oz. in the supermarket.