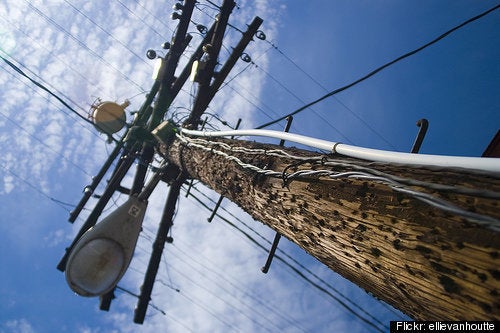 Hundreds of thousands of Chicagoans were without power this weekend after a devastating storm blew through the city Friday afternoon.
As of Sunday night, nearly 30,000 people were still in the dark.
Commonwealth Edison spokesman Paul Elsberg told the Chicago Sun-Times that of the roughly 550,000 people who had lost power, around 95 percent of them had seen service restored. Hundreds of crews worked through the weekend, and were expected to continue today. Elsberg anticipated that all customers would have their electricity restored by Tuesday.
The outage was so infuriating to an Oak Lawn man that he called 911 and threatened to shoot someone because he was so distraught over not having power, police said. After a three-hour standoff, the man, whom police did not identify, was arrested in the home he shared with his mother.

Along with restoring power, residents and utilities alike spent the weekend coping with the damage from the storm. The Willis Tower needed repairs after windows blew out on its upper levels, and the American Girl Store's facade on Michigan Avenue also shattered. Residents of Hawthorn Woods in the northwest suburbs boiled tap water Saturday because the power outages affected water treatment. And the city responded to nearly 3,000 complaints of downed trees.
The cleanup comes just in time for another round of storms headed this way on Monday. The severe thunderstorms are expected to bring heavy rains, NBC Chicago reports, but winds aren't expected to exceed 15 miles per hour, a far cry from the 70mph gusts experienced last Friday.
REAL LIFE. REAL NEWS. REAL VOICES.
Help us tell more of the stories that matter from voices that too often remain unheard.