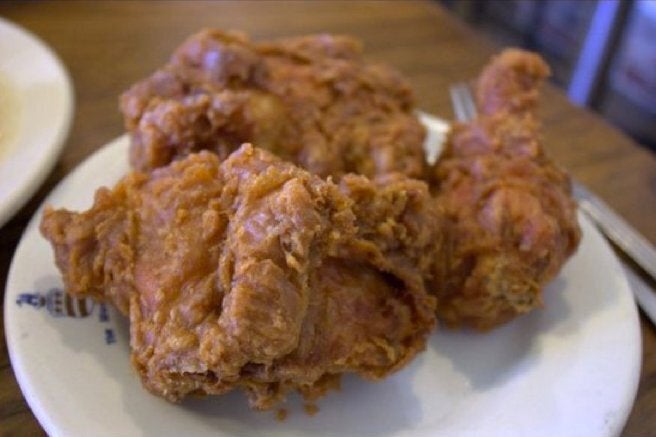 I grew up in a traditional Italian family. My mother did the day-to-day cooking and my father would roast a turkey or duck every holiday. They were both excellent cooks. We ate fresh vegetables from my grandfather's garden, soft polenta, handmade pastas and lots of antipasti. Colorful dishes heaped with salt-cured olives, homemade dried salami, marinated beef tongue. Fried potatoes in olive oil sprinkled with fresh rosemary would round out meals. We used olive oil for everything. Whether cooking food, fighting earaches, my sister's dry elbows, or my Nana's weathered hands, I can still hear my mother say, "Just rub a little olive oil on it." It didn't really matter what hurt; olive oil would cure it.
It was decades before I learned about other oils. Yes, you heard that right: Decades.
When my mother bought a wok in the '70s, the family learned about peanut oil. A Mexican vacation taught my mother about lard, and Florence Henderson sang to us about vegetable oil. But it was a trip to Atlanta and Savannah that taught my mother about fried chicken. She perfected it, and I've been trying to make my mother's version ever since. I've made some good chicken, but not as good as hers. This past week, however, I believe I may have stumbled upon her secret.
Riding through the Canadian prairie as a guest of the Canola Council, I was seated next to my new best friend, Southern cookbook author Rebecca Lang. The first words out of her mouth were, "I always cook my fried chicken in canola oil."
Like the Pope giving me a blessing, I kneeled. Here this precious girl, with nine generations of Georgia red clay and cotton in her blood, was unlocking secrets to me about great fried chicken. I about died. When I got back to Los Angeles, I decided to put Rebecca's recommendation to the test. Cindie and I fried chicken all day and night in my test kitchen. Below we share the recipe we perfected.
We used canola oil for all of our tests and we got even color, really crispy exteriors and moist, flavorful meat. We tested three coating variations on the chicken: Flour, corn flakes and panko. There were differences in taste, texture and frying temperature, but all were delicious. Below is my recipe for the flour version, with instructions for corn flakes and panko at the end of the recipe.
Our results were inconclusive... we liked them all! Although the corn flake version reminded me so much of my mother that maybe I liked that one best by a tiny bit. Make the recipe below and please share your results!
Tips for success:
Don't overcrowd the chicken pieces in the skillet. Do use a thermometer to keep the oil at the right temperature. Do use a very heavy, deep skillet, preferably cast iron.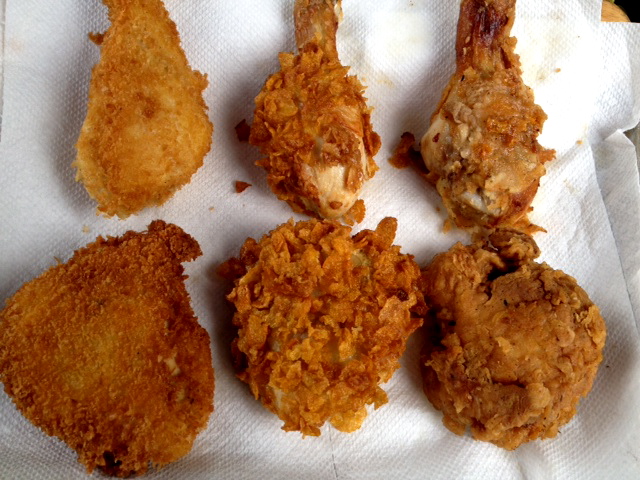 Fried Chicken
Makes 4-6 servings
Summer is meant for fried chicken, first love, long walks, skinny dipping, music in the park, sunburned noses, berry tarts and vanilla ice cream.
Ingredients:
1 (3 pound) chicken, cut into separate pieces
1 quart buttermilk
3 cups all purpose flour
2 teaspoons salt
2 teaspoons onion powder
1 teaspoon dried thyme
1 teaspoon dried sage
1 teaspoon ground black pepper
1/2 teaspoon cayenne pepper
4 large eggs
1/4 cup whole milk
Canola oil for frying
Directions:
• Rinse chicken pieces and pat dry. Place inside a large resealable plastic bag. Pour buttermilk over the top. Seal bag and shake to coat chicken in buttermilk. Place bag in a medium bowl (in case of spills!) and refrigerate for at least 2 hours or up to overnight.
• Mix together flour, salt, onion powder, thyme, sage, black pepper and cayenne pepper. Place a third of the mixture in a shallow bowl. Place remaining mixture in a second shallow bowl. (This will keep the flour mixture used for dusting from getting goopy with egg.)
• Place eggs and milk in another shallow bowl and whisk to combine.
• Place the three bowls in a row, starting with the small amount of flour mixture, the egg mixture in the middle, and the larger amount of flour at the end.
• Remove chicken from buttermilk and rinse under cool running water. Pat dry.
• Pour about a half-inch of oil in skillet. Place over medium heat. Use a high temperature thermometer to keep oil at 360-365 degrees F.
• Working in batches (chicken will cook more evenly if they aren't crowded in the pan), dip chicken in the first bowl of flour, shaking to remove excess. Dip into egg, turning to coat all sides then into second bowl of flour, pressing lightly so that flour sticks to all sides. Shake lightly to remove any excess. Place into skillet and cook until deep golden brown, 10-12 minutes. Turn and cook until chicken is deep golden brown on all sides. (If some of the larger pieces are not cooked through, place on a baking sheet and cook in a 350 degree F oven for 5-10 minutes.)
• Let chicken drain on paper towels for 2-3 minutes before serving. Serve hot.
Corn Flake Variation:
• Place 3 cups slightly crushed corn flakes in a shallow bowl.
• After dusting chicken pieces in flour and dipping in egg, press into corn flakes to coat all sides.
• degrees F as corn flakes burn easily.
• Cook pieces, turning as necessary, until nicely browned on all sides.
• Transfer chicken to a baking sheet and bake in a 350-degree oven until cooked through, 15-20 minutes.
Panko Variation:
• Place 2 cups panko breadcrumbs in a shallow bowl. Add _ teaspoon each salt, pepper and onion powder, stirring to combine.
• After dusting chicken pieces in flour and dipping in egg, press into panko to coat all sides.
• Cook pieces, turning as necessary, until nicely browned on all sides.
• Transfer chicken to a baking sheet and bake in a 350 degree oven until cooked through, 8-12 minutes.
Denise Vivaldo recently sold her business trademark of Food Fanatics after 20 years. She was a little sad, until she cashed the check. Her company has been renamed Denise Vivaldo Group, Inc./ Media Food Services.
Popular in the Community