 Mafraq, Jordan -- For some strange reason they made me think of the Supreme Court Justices, sitting in a row against the wall wearing their black abaya and grim faces. We shook hands and I sat beside one of the translators (both of whom -- this time -- were women). This time I had prepared questions -- the same ones I asked at the women's meeting in Domiz camp where, I think because our translators were male, the conversation had needed frequent prodding. Not here. In the company of women I barely got a word in edgewise - and after their stories I could barely speak.
I had come in my role as an IRC Voice to ask about their situation as urban refugees - thus far I've only visited camps, but these women live in Mafraq, a city in northern Jordan about ten miles from the border with Syria. They are among tens of thousands of Syrian refugees who have foregone camps to fend for themselves in cities in Jordan, Iraq, and Turkey. An estimated 70 percent of Syrian refugees live outside camps, and these populations face substantially different challenges from those living inside camps. For starters, it's hard to find them; they can live in apartments, schools and formerly abandoned buildings. Because they're so spread out, spreading the word about services can be tough. They are more transient as well, making follow-up medical help and aid distributions more difficult to provide. And then there's the issue of having to pay rent when they have no income.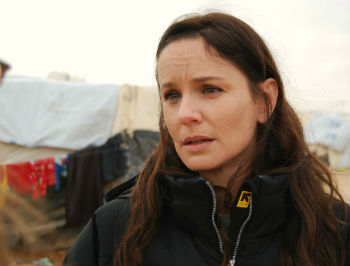 Sarah Wayne Callies in Zaatari refugee camp, Jordan.
However, before we got to any of that, the women needed to talk about Syria. They opened up about why they left their homes. All are desperately hoping to return to Syria as soon as it is safe, even though their homes are little more than rubble now. They miss it, and their hurt and rage at having to leave was crushing them, so they had to share their stories to get out from under the weight of it.
So I listened. Flatbed trucks full of children with their throats cut. Disappeared husbands returning home destroyed by torture. A mother shaking in fear as a soldier broke his way into her house, stomped on the only food her family had found in a week, and then forced her into a room to rape her. She cried as she told me she was saved at the last-minute by another soldier's intervention. But then, we were all crying at one point or another.
If we put these women up at the penthouse in the Ritz Carlton for three months they would still have a desperately difficult journey to heal from all of this. They could expect flashbacks, nightmares, inability to trust, irrational behavior - we'd call it PTSD in soldiers, wouldn't we? But they are not in the Ritz. They are in Mafraq, packed into tiny apartments with their children and no man to head the household. They have to provide food, health care, and shelter for themselves and their families. And, as I mentioned earlier, they have to pay rent - housing outside the camps is not free.
A number of women and aid workers told me that some landlords exploit their tenants' poverty. Without a steady income, families quickly run out of money for rent. Then a young daughter may be coerced into marrying the landlord in exchange for housing. If there is no young daughter, the euphemism for the mother's only other option is what's called survival sex.
Bear in mind that the number one reason these women gave me for fleeing Syria was the threat of rape. They fled their homes to find safe haven and instead some are forced into early marriage and survival sex in order to provide the most basic needs for their families. This isn't sleeping your way to a better job or a nice necklace. This is trying to keep your family from starvation and exposure in a culture that prizes chastity and modesty. This is violating and humiliating one of the world's most vulnerable populations. This is leaping from the frying pan into the fire.
At the end of our visit together, our eyes were all red and we clutched wet tissues in our hands. I thanked them for their stories, told them I would try and give them a voice, and mentioned that while I cannot know their pain as survivors of war I know what it is to survive sexual violence. We sat together for a few minutes, nodding at one another in mute assurance of inner strength and waiting for our emotions to subside enough to move on with our day. Eventually, each woman fixed in place the grim mask of I'm okay that they wore when I came into the room. I know that face: I put it on myself for a long time, but I was granted the luxury of healing in peace. I leapt from my frying pan into safety, help, and understanding.
These women are on fire. When we talk about what they need to get through this emergency, the conversation cannot leave out psychosocial health. Their spirits have been no less demolished than their homes and it would be both naïve and dangerous to think we can help them with tents and food rations alone. They have children to provide for, new homes to make in a foreign country; they have the strength for it, and they lack no courage, but they need someone to talk to, someone to help them release the surging rapids of emotion that come with the flashbacks, the nightmares, the vestiges of what they have endured.
They need someone to help them put out the fire.
IRC Voice Sarah Wayne Callies is blogging about her recent trip to visit IRC programs in Northern Iraq and Jordan. You can read her blogs on the Huffington Post here.
You can learn more about the International Rescue Committee's response to the ongoing crisis in Syria here.