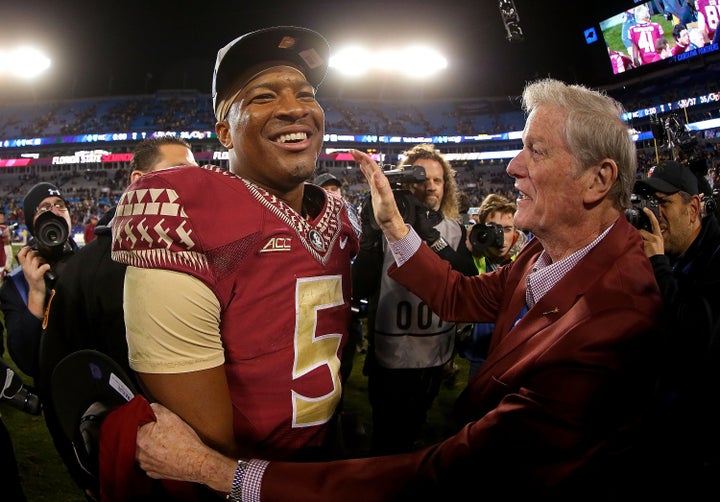 There were a couple things wrong in Florida State University President John Thrasher's statement on Monday about a settlement with Erica Kinsman, a former student who reported that Jameis Winston raped her in 2012, when they both attended FSU. 
Kinsman sued the school, claiming it violated the gender equity law Title IX by not taking seriously her sexual assault allegation against Winston -- the Seminoles star quarterback, who left the university early to pursue an NFL career. Kinsman left FSU under less celebratory circumstances -- following harassment from people who believed she lied about Winston. 
In Thrasher's statement announcing FSU's decision to settle the Kinsman lawsuit, he said if the university continued to a trial, the outcome would've been "consistent with the previous law enforcement investigations and retired Supreme Court Justice Major Harding's findings in the student conduct hearing."
Neither of those investigations Thrasher referred to, however, looked at the same claim put forward in Kinsman's lawsuit -- that FSU mishandled the case.
The law enforcement investigation, which was flawed, was to determine if there was enough evidence to charge Winston with a crime. The student conduct hearing was examining if it was more likely than not that Winston violated FSU's sexual assault policy.
There is, however, another investigation that is ongoing. 
The Education Department Investigation Continues
Settlements with colleges and universities in civil court can sometimes stipulate the withdrawal of a complaint that sparked a federal investigation. That's not the case here, however.
The settlement, reviewed by The Huffington Post, instead stipulates that Kinsman will decline to accept any monetary relief that OCR orders FSU to pay. The settlement requires FSU to simply continue to cooperate with OCR. 
An Education Department official confirmed to HuffPost on Monday that the investigation "is ongoing and separate from any legal proceedings related to the university."
What Happens At The End Of An Education Department Investigation
After the OCR completes an investigation of a university, the federal agency typically issues a letter of findings. Those findings can include details about how a school failed to follow federal guidelines on how a sexual assault or harassment case should be handled.
Along with that, OCR will release a "voluntary resolution" that a school has agreed to, which lays out the reforms a university will undertake to fix whatever shortcomings were evident in its handling of sexual assault cases. 
The next phase is that OCR will leave campus, but typically keep a university under monitoring to ensure the resolution is being enacted, by receiving regular progress reports. The extent of the monitoring all depends on what is included in the resolution agreement, which often depends on what OCR finds as a failure on the university's part. OCR is not a punitive agency, and currently doesn't have the power to issue fines, so instead uses its power to change what policies are put in place on a campus.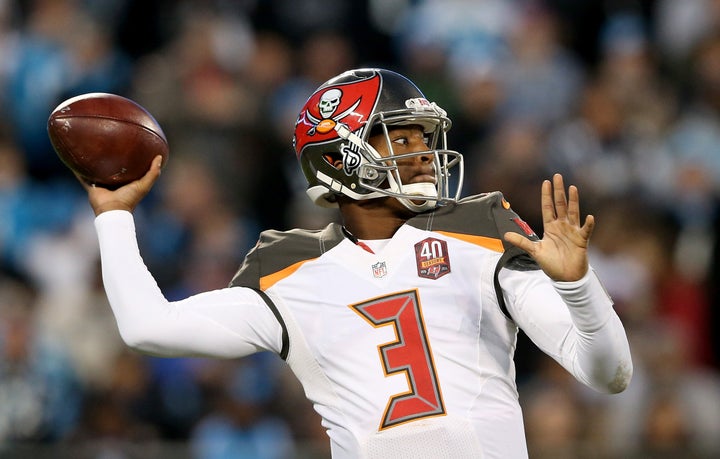 Erica Kinsman Is Still Suing Jameis Winston, And He's Suing Her
Following the lawsuit against FSU, and the opening of a federal investigation, Kinsman filed a civil lawsuit against Winston in April 2015 for assault, false imprisonment and emotional distress.
Winston countersued in May and filed a defamation suit against Kinsman. He did so shortly after signing a $23.35 million contract with the NFL's Tampa Bay Buccaneers. 
Winston was never charged criminally. If he had been, prosecutors would've needed to prove his guilty beyond a reasonable doubt, which is to convince a jury there's little chance he's not guilty. In the individual civil suits filed by Kinsman and Winston, however, the burden of proof is lower. 
But the case may never make it to trial. 
Court papers filed on Jan. 11 show that the attorneys for Kinsman and Winston set July 13, 2016, for a mediation conference. If they come to an agreement during that meeting, the two sides could come to a settlement and end the litigation. 
FSU Already Agreed To Several Things To Improve
Within the settlement between Kinsman and FSU, the university committed to implementing "Title IX awareness, prevention and training programs for students, faculty and staff, including in the athletics department," for at least five years. For each year, FSU will publish an annual report to the community summarizing these efforts. 
"kNOw MORE" is one of the programs FSU is pushing on this front. Public service announcement videos have been posted online.
One of these videos depicts two students getting drunk at a bar -- the heavily intoxicated man takes the woman back to his place, even though she can't stand on her own.
It then rewinds to show that if someone walking by had noticed, they could've checked on her and intervened. A couple of other scenarios play out as well, showing how bystanders could stop a potential sexual assault from occurring. 
FSU said it also hired a sexual violence prevention coordinator, a health promotion assistant director, three student conduct staff members, an additional caseworker in the dean of students office, and a Title IX coordinator investigator.
The university further noted in its statement that it now requires all freshmen to take an online course about sexual violence. However, provisions in the latest Violence Against Women Act reauthorization, from 2013, require all colleges and universities to conduct sexual assault prevention programming for new students and employees. 
The Case Is Still Enshrined In The Campus Rape Documentary "The Hunting Ground"
"The Hunting Ground" premiered at the Sundance Film Festival  one year ago, hit theaters last spring, and since then has been screened hundreds of times on college campuses and was aired on CNN. 
In March 2015, the filmmakers dared FSU leaders to join them in a panel about sexual assault in Tallahassee, Florida. The university declined. As CNN prepared to air the film in November, Thrasher then turned down a chance to appear on TV to talk about sexual assault, saying the film was "one-sided." Winston threatened to sue CNN for airing it, though he has not filed any litigation to date. 
Amid the back and forth, "The Hunting Ground" posted the portion of the film about FSU on YouTube.
The filmmakers, Kirby Dick and Amy Ziering, have not backed down over the portrayal of FSU in the film. Given that their last documentary, "The Invisible War," which was about sexual assault in the military, made it into circulation on Netflix and other streaming platforms, it's likely "The Hunting Ground" will continue to attract viewers on the public's laptops and TVs.
They're also continuing to screen the film on campuses and at conferences around the country. In a sense, a movie portraying FSU and Tallahassee police as mishandling a sexual assault case involving a star quarterback remains on tour. 
Calling all HuffPost superfans!
Sign up for membership to become a founding member and help shape HuffPost's next chapter