The beauty of travel within the Unites States is that we have a country with such a diverse landscape you really don't have to spend a lot or cross borders to experience a tropical paradise.
Ft. Lauderdale, Florida has grown up, shaken off its frat-boy shenanigans and come into its own as a great getaway for adults and families full of pristine beaches, water fun and a lively scene of outdoor cafes and bars.
Sleep Here
I made my home at the pretty darn lovely Harbor Beach Marriott Resort, one of South Florida's largest private beaches. Tucked away on 16 tropical acres, the resort is a quick ride from the airport and right near all the restaurants and shops on Las Olas Boulevard. Named among the "Top 100 Resort Spas in the Continental U.S." by Condé Nast Traveler magazine, the resort has three restaurants, two lounges, water sports, tennis and children's programs. The food at 3030 Ocean was serious divine and eating on the water and fun open bar restaurant felt delightfully "resorty" -- as did my massage in the spa with its own private adult-only pool. Nice touch, Harbor Beach. Why go to the Dominican Republic when you have it all here?
Eat Here
Tree-lined Las Olas Boulevard is packed with charming bistros, cheese shops and boutiques. And, thankfully, nary a wet t-shirt contest in sight.
Before dinner, stop in to six-month-old Las Olas Wine Cafe. This unique wine bar is a debit card self-service wine dispensary. Load up your card with cash and taste wines from 40 different bottles. There are great nibbles of meats and cheeses, plus they often have live music in their courtyard.
With an acronym name standing for "You Only Live Once", you may think that YOLO could be a crazy, spring-break type of party bar. But you'd be wrong. It's a sleek, sexy and modern restaurant that will have you falling for its wonderful salads, decadent truffle oil and bleu cheese chips, and way-better-than-the-ice-cream-man's ice cream sandwiches.
Perhaps taking the name a little too seriously, Tundra is the coolest new spot to hit the scene with various ice sculptures around the front patio and interior dining room, plus drinks poured out of beakers with that icy haze of liquid nitrogen. But don't let a few gimmicks take away from what really is the main event here: the food. Tuna tartare, artichoke fritters, grilled salmon on a cedar plank, all are delicious.
Do This
Hop on the Waterboat Taxi at any 12 of its stops. More tour boat than taxi, the ride takes you through several miles of canals -- yes, some call it the Venice of America; of course so is actual Venice, California -- in and around the Intracoastal Waterway. I couldn't help but gawk at the huge homes sitting side-by-side on these canals. For a $20 hop on/hop off ticket, you can cruise past Mediterranean villas and mansions of celebrities and moguls along what's known as Millionaires Row.
When you jump off, take a stroll on the Riverwalk along the New River to Las Olas Boulevard and all its shops and restaurants.
For a unique experience, travel inland about 40 minutes to the Holiday Everglades Park. The Everglades is a two million acre subtropical wetland ecosystem that stretches from central to southern Florida. After you pass the last subdivisions and strip malls of suburban Ft. Lauderdale, it feels like you've come to the end of civilization at one big bog. Here you can take an airboat tour into the swamplands that make up the middle of Florida and see alligators, hundreds of species of tropical birds and a gaggle of vultures up close and personal (well not that personal).
Want to walk on water? Try your hand at Stand Up Paddleboarding over at Aloha Watersports just in front of the Marriott Resort. This newer water sport has its origins in Hawaii and is catching on around the globe. It's much easier to learn than surfing and you get a great core and arm workout. Plus when you get tired you can simply lie down on the board and make it your very own ocean lounger.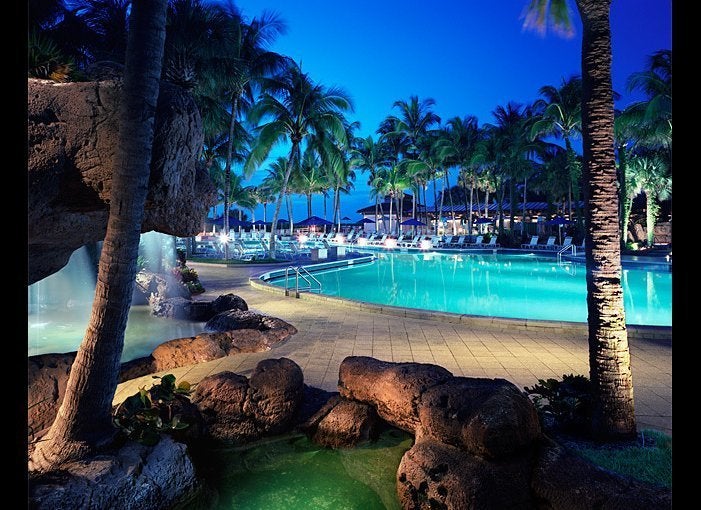 Ft. Lauderdale Grows Up
Related