DeWolf, the founder of performance art show Tourettes Without Regrets and the great-grandson of Scientology founder L. Ron Hubbard, made headlines last month for speaking out against Scientology. Now, his show is speaking out against Chick-Fil-A.
At its show last week, the group staged a lap dance contest involving gay, lesbian and straight couples...and an unsuspecting Chick-Fil-A sandwich.
"Ladies and gentlemen, to add to the national debate, we will have a "f*ck this chicken sandwich contest," said DeWolf before the performance. "Let's show them how the Bay Area really feels about this conversation."
The routine started with an introduction by cast member Inhibition Elf.
"Oh Chick-Fil-A, we're onto you. We gays know what you're doing," he said. "We know that your safe word is 'hamburger.'"
The group then dragged three couples from the audience--one gay, one lesbian and one straight--for a lap-dance contest using a Chick-Fil-A chicken sandwich as a prop.
"We had a Tourettes emissary go all the way to Fairfield to get it," DeWolf told The Huffington Post. "The only one in the Bay Area."
The contest was judged by audience applause, eventually crowning the straight couple as champion.
"The straights won!" shouted DeWolf onstage. "Yet another blow to homosexuals everywhere."
Watch the performance for yourself in the video above. Then look through a slideshow of images from Tourettes Without Regrets below: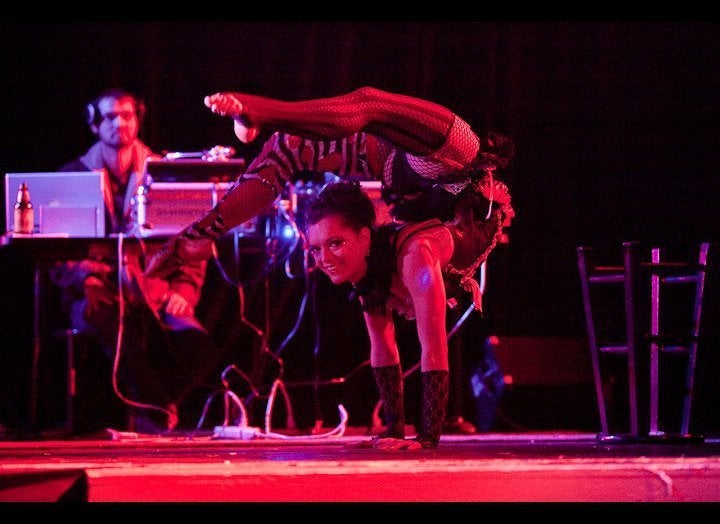 Tourettes Without Regrets
Popular in the Community