QUEENS, N.Y. ― A Bangladeshi-American man called on prosecutors Monday to bring hate crime charges against a man he says viciously attacked him while screaming, "Fuck Indians!" 
Gazi Rahman, 46, said he was talking on the phone outside a grocery store on Hillside Avenue near Parsons Boulevard in Jamaica, Queens, on May 7 when Christopher Porr, 39, who he did not know, asked for money. 
"I said, 'I'm sorry I don't have any money,' and then he punched me and said, 'Fuck Indians,'" Rahman recalled at a news conference outside Queens Criminal Court. 
Rahman, a U.S. citizen, said he was treated at a hospital for a concussion, a broken nose, and lacerations to his face. A photo shows he lost a significant amount of blood: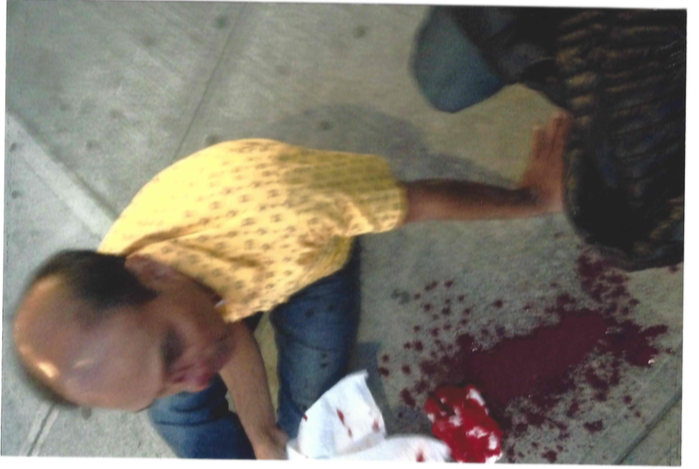 When police arrived, they didn't just arrest Porr. They arrested Rahman, too, assuming that the men had simply gotten into a fight, Rahman said. 
Glen Rozado, who said he witnessed the assault, said he tried to explain to officers that Porr had screamed an anti-Indian slur before attacking Rahman. 
"I just told them what happened," Rozado said. "But they weren't that interested in listening to us." 
Rozado said Porr at first attempted to flee, but when cops arrived, he collapsed to the ground and pretended to be hurt. 
The NYPD's own camera captured video of the attack. The footage, which Ali Najmi, Rahman's lawyer, published Monday on Twitter, corroborates Rahman's and Rozado's version of events and clearly shows Porr is the "unprovoked aggressor," the lawyer said. 
"The video shows Mr. Rahman being a law-abiding citizen, doing nothing wrong, and all of the sudden being attacked by a large man later identified as Christopher Porr," Najmi said.  
"Mr. Rahman should not have been arrested," Najmi added.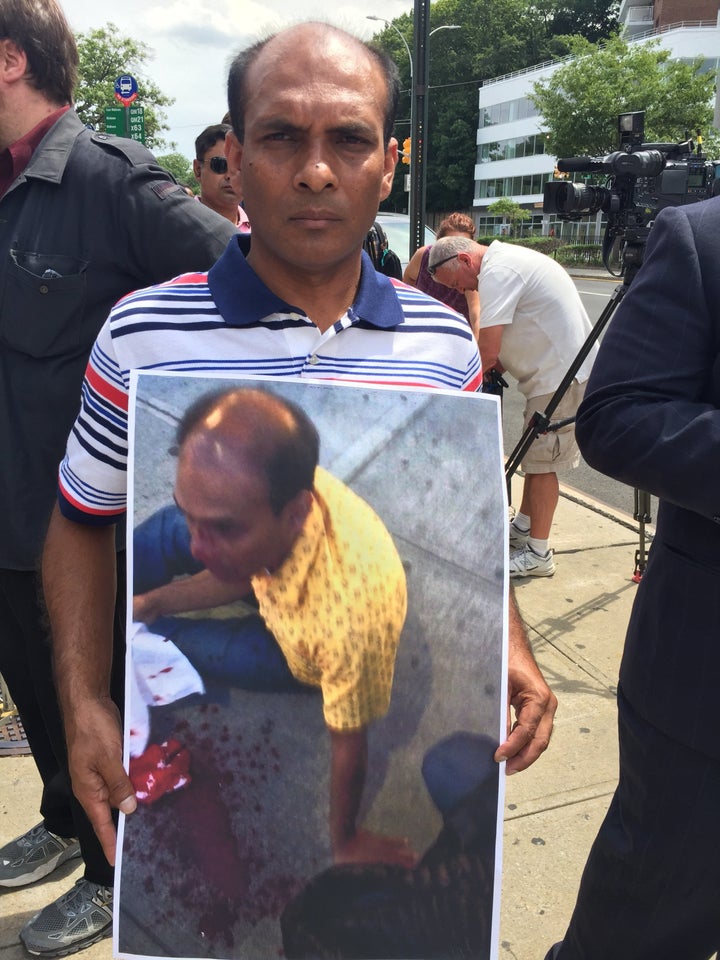 The footage appears to show Porr attacking Rahman. Rahman attempts to defend himself with a series of kicks, but Porr delivers a powerful punch, knocking Rahman to the pavement. 
Rahman said police accused him of being drunk, which he said was not only untrue, but offensive. Rahman said he is an observant Muslim, which forbids him from drinking.
A NYPD spokesperson referred questions to the Queens District Attorney's office. 
Both Rahman and Porr were charged with assault, court records show. Najmi said the DA's office told him they will drop the charge against Rahman. 
Now, Najmi said, prosecutors should charge Porr with a hate crime and send him to prison. 
"In an era of racial incitement that we live in, and the political environment we are unfortunately living through, we are coming together as a community to say we will not tolerate hate crimes in the county of Queens," Najmi said. "We are calling on the Queens district attorney to take this very seriously." 
"We are reviewing the allegations," a spokeswoman for Queens DA Richard Brown told The Huffington Post. 
Najmi said Porr's social media posts show that he "is an avid supporter of Donald Trump, show that he is anti-immigrant, show that he is anti-Muslim."
Porr appeared to share a Facebook post from the Donald Trump for President Facebook page. Trump has called for a ban on all Muslims entering the U.S. Porr also shared an image with a caption reading, "As long as there's a homeless child in America, we have no room for Muslim refugees." 
Porr's lawyer didn't immediately return a request for comment. Two phone numbers listed for Porr were no longer in service. 
Nobody should go through what I have been through."
The number of hate crimes targeting Muslims skyrocketed in the final month of 2015, amid the heightened anti-Muslim political speech of Trump and others.
The Huffington Post continues to document this wave of anti-Muslim terror with its Islamophobia tracker. 
Rahman immigrated to the U.S. from Bangladesh 18 years ago. He works as an an exterminator and is married with two daughters. Since the attack, he said he's been living in fear.
"When I walk, I think somebody is coming from behind me, to attack me," he said.
"I want justice," he said in a statement. "I want him to be punished for this hateful act. Nobody should go through what I have been through." 
Calling all HuffPost superfans!
Sign up for membership to become a founding member and help shape HuffPost's next chapter
BEFORE YOU GO