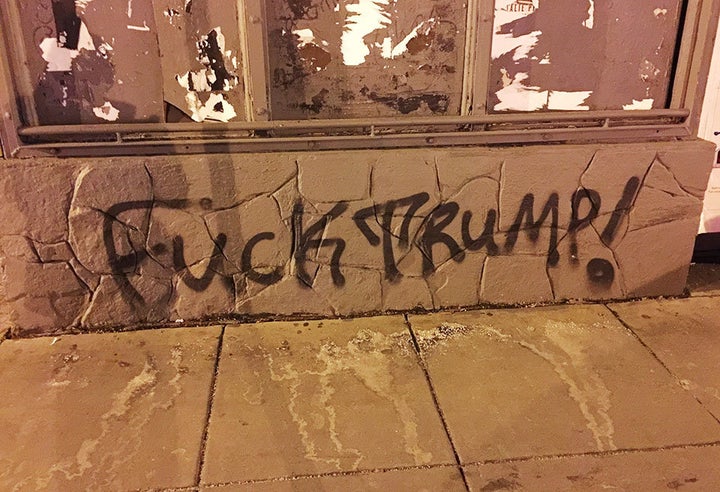 WASHINGTON ― In a coffee shop here, a man known as Dirty Knucklez was explaining the process of capturing, for many, the national mood.
"'Dump Trump,' that doesn't really satisfy me," he said, questioning whether the slogan that appears on yard signs and stickers really conveys what people are feeling. "There's genuine discontent, and I think it's emphatically felt when I say, 'Fuck Trump.'
"Like, fuck him," Dirty Knucklez continued. "Fuck everything he represents. I can't stand him. Our government right now, it's been fucked up. Our system's been broke. And he's just representative of all that."
And so every day, from sunup 'til sundown, and sometimes for a few hours after, Dirty Knucklez, a homeless rapper, walks the streets of D.C. and writes a simple message of protest onto nearly every wall and street sign he passes.
His "Fuck Trump!," written with a fat, felt-tipped Sharpie, is only lightly stylized. A broken-legged "k," a big-shouldered "T," a thermometer exclamation point.
But you know his handiwork when you see it, and you see it everywhere in the city. "Fuck Trump!" say the plywood construction sheets along the U Street corridor, one of D.C.'s main entertainment districts. "Fuck Trump!" say the electrical boxes at intersections from the White House to New York Avenue Northeast. "Fuck Trump!" say the sidewalk curbs and parking meters and street signs. If you've walked around the nation's capital for even five minutes, to work, to the bar, to a friend's house, to a Metro subway station, you've seen those two words, in his handwriting, somewhere.
You can have your "No matter who you are or where you're from, we're glad you're our neighbor" lawn sign. "Fuck Trump!" is "D.C.'s Street Art Anthem," as the Washington City Paper put it.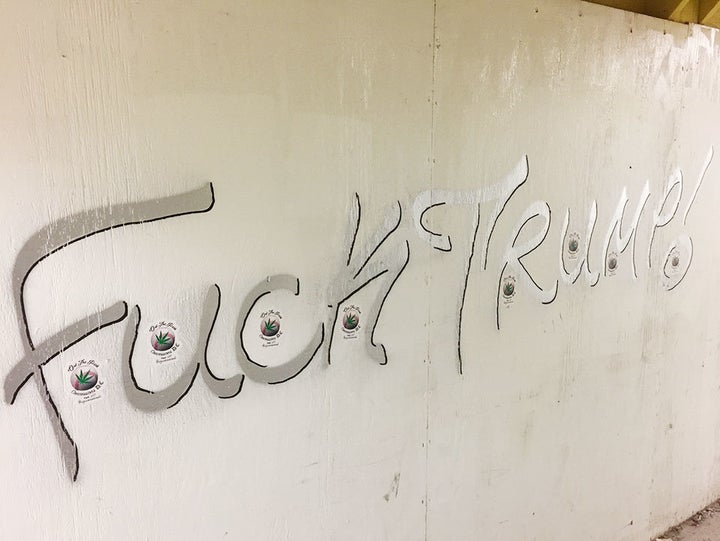 Dirty Knucklez ― he uses the moniker exclusively ― is a California native who came to the nation's capital two years ago and has spent most of that time homeless. Out west, he was a rapper; here, he planned to continue to chase his hip-hop dreams.
Then Trump won the election, and Dirty Knucklez, who had already scrawled his name across the city in an effort to boost his brand, felt moved to do something more. So he took to the streets with a Sharpie and began writing "Fuck Trump!" whenever and wherever he felt like it.
He knows the vulgarity may turn people off. Some of his fellow Muslims ― he converted years ago ― have urged him to stop for just that reason. But how else to put it, particularly in a city where 96 percent of residents voted for someone other than Trump?
"It's not so much a protest as a visual demonstration of my discontent with the way our country's going right now. We're supposed to be America," he said over coffee. "He's not respectable, he's not admirable, he's not any of the qualities we would ideally look for in a president. He's not representative of our country."
"We need somebody who understands people, who understands the majority of the people. The majority of the people aren't rich. The majority of the people are out here struggling, bro."
I asked Dirty Knucklez how long his famous scrawl took to complete. He pulled his Sharpie from his pocket and walked outside, to an electrical box on the street corner that he'd spotted on his way in. In less than 10 seconds, he was done.
A policeman stood just across the street. It didn't matter. A minute later, Dirty Knucklez bent down and scribbled the same message onto a parking meter.
By his reckoning, he does this 200 to 300 times a day, whenever the inspiration hits him. He started right after the election, with an electrical box in the city's northeast quadrant.
But the U Street corridor is his most common canvas: Dirty Knucklez scratched "Fuck Trump!" onto the walls of a single, block-long plywood construction walkway more than 120 times. The construction firm painted over many, so Dirty Knucklez returned and tagged the walkway again, this time in even more elaborate fashion, with spray paint instead of his Sharpie.
One day, he hopes to hit the Trump International Hotel, located just a few blocks from the White House. His favorite tag for the moment, however, is the one on the curb outside Ben's Chili Bowl, a landmark restaurant on the stretch of U Street once known as D.C.'s Black Broadway.
Dirty Knucklez loves this particular tag because of its locale. President Barack Obama once visited Ben's, one of D.C.'s oldest black-owned establishments. Obama wasn't perfect, Dirty Knucklez said, but at least he "had been around the block."
"We need somebody who understands people, who understands the majority of the people," he said, still bundled in layered coats to protect from the bitter winter cold, his face hidden behind a long beard. "The majority of the people aren't rich. The majority of people don't have money."
And then, Dirty Knucklez started to cry.
"The majority of the people," he said, "are out here struggling, bro."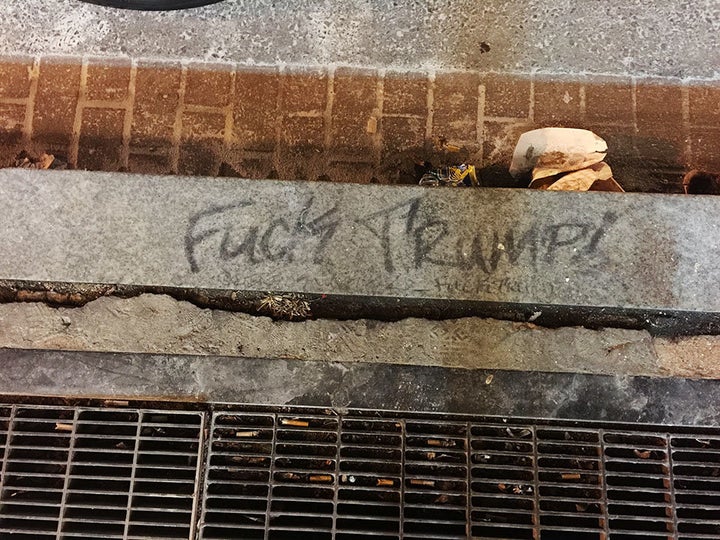 Being homeless, he said, has deepened his opposition to the president. Same goes for his friends. One of his closest is a Muslim woman who left her family behind in the Middle East when she immigrated to the United States nearly a decade ago. Now she fears a return visit to see them would mean never re-entering this country.
In some ways, Dirty Knucklez has become a local celebrity. His Instagram notifications are full of people who have posed in front of a "Fuck Trump!" in one place or another and who tagged him in their photos. Tourists have asked for pictures with him as he holds a "Fuck Trump!" sign in front of the White House. Local graffiti artists have hailed his work, he said, and local rappers have supposedly included him and his signs in videos filmed in D.C.'s streets.
The nation's capital has a long and rich history of street art and graffiti, protest-minded and otherwise. Dirty Knucklez took his inspiration from the late Cool "Disco" Dan, a street artist who moved to D.C. and began tagging his name on every surface he could find in the 1980s and 1990s. Disco Dan became a D.C. icon. His art, former Washington Post metro columnist Clinton Yates wrote, was "a personal testament to the struggles of the city and the people who lived here, and his staggering visibility, even if illegal, was a steadying hand for many when we had few others."
"It wasn't until the buildings that he tagged went away," Yates, who now works for ESPN, said of Disco Dan at the artist's funeral last year, "that people realized that they actually cared about those monikers that some people just considered vandalism."
In recent years, D.C.'s street art has taken on a more urbane nature, as former taggers have transitioned to painting sprawling, intricate ― and legally sanctioned ― murals alongside the city's buildings, particularly in neighborhoods that have gentrified.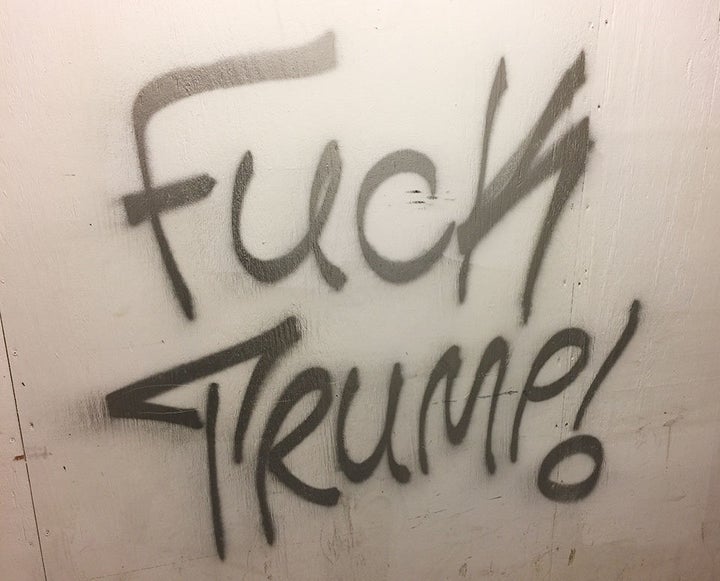 Dirty Knucklez insisted that his art isn't just a protest against a president he sees as a clear threat to the very idea of America. It's also a more subtle gesture against the sanitization of a city that, as it's grown whiter and wealthier, has sought to maintain and celebrate its graffiti culture ― without the actual graffiti. That's the subject of another message Dirty Knucklez is fond of tagging: "Preserve urban culture," he writes. "The suburbanization of America is a plot to wipe out our strongest roots of independence."
"It helps me," Dirty Knucklez said, wiping tears from his eyes. "It keeps me looking forward to the future. Maybe people will see my tags and get the freaking picture."
His most enjoyable moments are when it's clear people do.
As we walked into a sandwich shop and ordered lunch, Dirty Knucklez jokingly asked for "the full Fuck Trump." The woman taking his order smirked. She didn't know who he was. At least, I don't think she did.
"Fuck him," she said. "Fuck him. Fuck him. Fuck him. He's got these rich people getting tax money back, and poor people getting poorer."
Some nights, when U Street is busiest, Dirty Knucklez sits silently outside Ben's Chili Bowl and watches as visitors bend down to take pictures of his favorite piece of work. Then he walks over to one of the temporary construction walkways where he's scribbled "Fuck Trump!" a hundred times and listens. "Fuck Trump!" people scream, the words echoing off the plywood walls around them.
"It means," Dirty Knucklez said, "I'm doing my job."
Popular in the Community