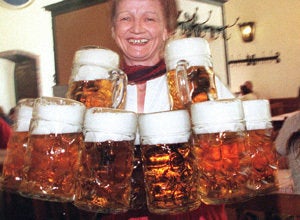 According to the Mirror, denizens of the Austrian town of F---ing have voted to change their town's name. That name, likely a variation on the name of a sixth century nobleman, Focko, has made it a popular target for prank calls and a destination for young tourists eager to titter in snapshots under street signs and the F---ing people are apparently fed up with being mocked. The name was good enough for generations but not so for today's Fucking youngsters and therefore and henceforth, Fucking wishes to be known as Fugging, Austria, which irks folks in Fugging, Austria, a town some 200 miles to the south.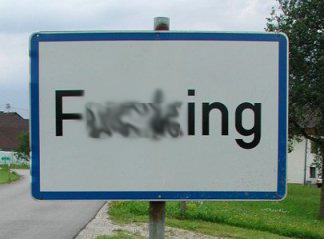 It seems there were once two F---ing, Austrias, but in 1836 the people in the one nearest Vienna, the one most exposed to snickers from traveling English speakers, changed the name of their hamlet to Fugging. According to Andreas Dockner, mayor of that township, "We think one Fugging in Austria is enough."
Can one ever have enough Fugging, Austrias?
If you ask me, the Austrians should lighten up. What's the big deal about people making fun of your town's name? If not for the street sign I doubt anyone would ever visit F---ing, Austria. But then, I'm an American and like many of my countrymen, I love oddball place names, which stands me in good stead with the kindly people of Intercourse, Alabama, a slightly more optimistically-named burg than Greasy Corner, Arkansas.
Someday I intend to visit all of the following places: Fort Dick, California; Climax, North Carolina; Beaverlick, Kentucky; Assawoman Bay, Maryland; Love Ladies, New Jersey; Horneytown, North Carolina; Sweet Lips, Tennessee; Bumpass, Virginia; and Spread Eagle, Wisconsin.
Those are real places. So is Blue Ball, Pennsylvania, but I'm skipping that trip. Ditto Hooker, Oklahoma. With my luck, it could be raining hookers and I'd get hit by a nun.
But then there's Texas. It might take months to accomplish but I'd someday like to drive that entire state and stop in each of the following: Bacon, Ben Hur, Converse, Cut and Shoot, Ding Dong, Dime Box, Echo, Flower Mound, Gun Barrel City, Happy, Hoop and Holler, Little Hope, Looneyville, Muleshoe, Noodle, Oatmeal, Pointblank, Smiley, Sour Lake, Tarzan, Telegraph, Telephone, Trophy Club, Uncertain, Veribest and Wink. All real places, all in Texas, cross my heart.
But getting back to Austria, the F---ing citizens voted and their wishes are clear. What's as yet unclear is whether they will be allowed to adopt the name Fugging or if they will have to choose another name that's not already taken by some town that didn't wish to be laughed at by Englishmen anymore. In the event that F---ing should lose its case before Austria's Embarassing Place Names Tribunal or whatever august body decides such matters, I have compiled a list of alternatives the town might wish to consider.
1. Fooking
2. Shagging
3. Boinking
4. Humping
5. Coupling
6. Bumping
7. Tapping
8. Waxing
9. Testing the Flesh Trampoline
10. Blogging
Yeah, it's my personal favorite, but that last one might be a stretch.
Calling all HuffPost superfans!
Sign up for membership to become a founding member and help shape HuffPost's next chapter