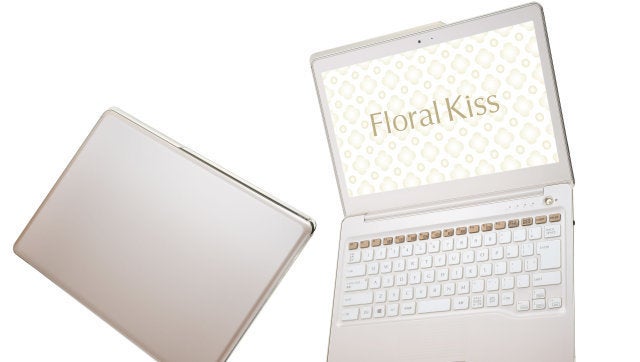 Fujitsu has developed a personal computer just for women.
The company's new Floral Kiss notebook, released last week in Japan, has a plethora of stylish features designed specially for females, including a "flip hatch" that can even be used by the well-manicured.
According to the company press release, the oddly named Floral Kiss notebook was worked on by a special team of "female engineers in aiming to bring elegance to PCs." There's also a model designed in collaboration with the jewelry brand "agete."
Some of the computer's female-specific features include a power button adorned with a pearl-like accent and a Caps Lock key decorated with diamond-cut stone "for a sophisticated look." It also features outtake and intake vents with a floral motif design.
The computer also comes standard with a number of helpful software programs, including "SCRAPBOOK," "DIARY" and "12 daily Horoscopes by Fortune@nifty."
"Laydeeez, if you like your technology to sound like a feminine hygiene product, Fujitsu has cooked up a real treat for you," CNET reviewer Katie Collins writes.
Women are not some special subclass of humanity with totally unique needs in laptop computers (and a bizarre and unshakable preference for the color pink). Laptops are unisex, and the talents of the vague "team of female engineers" who were tasked with designing this monstrosity would be put to better use improving the user experience of all Fujitsu's existing female customers.
Popular in the Community