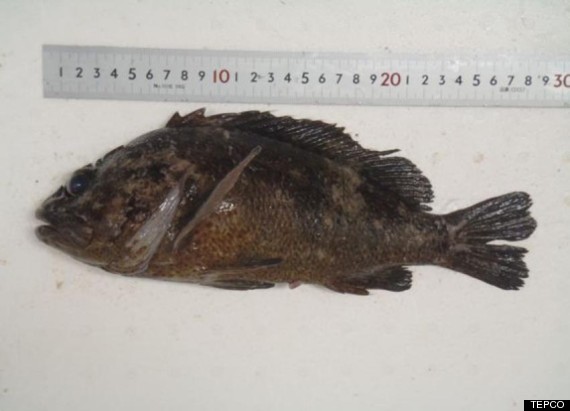 (Photo of the "murasoi" fish caught near Fukushima. Credit: TEPCO)
[Plant operator] Tokyo Electric Power Co. (TEPCO) said caesium equivalent to 254,000 becquerels per kilogramme -- or 2,540 times more than the government seafood limit -- was detected in a "murasoi" fish.

The fish, similar to rockfish, was caught at a port inside the Fukushima plant, a TEPCO spokesman said.
The find is a stark reminder that fears of radiation continue to haunt the island nation years after the nuclear catastrophe rocked Japan's waters.
Since the Fukushima catastrophe -- the largest nuclear disaster since Chernobyl -- scientists have attempted to figure out the spread and impact of the radiation that was released that fateful day.
Then in October, Buessler and his colleagues revealed that about 40 percent of the fish caught near the nuclear plant was found to be contaminated with radioactive caesium above government safety limits. According to the Guardian, Buesseler warned at the time that Fukushima fish "may be inedible for a decade."
"We can't sell any of these fish, it's such a waste," Kozo Endo, a Japanese fisherman from the Fukushima area, told ABC Radio Australia last November. "We can only catch them for radiation sampling."
Both the Japanese government and TEPCO have said in the past that the tainted fish that have been found in the waters near the nuclear plant may not have been caused by the Fukushima fall-out. According to ABC, Japan's Fisheries Agency said last year that the contamination was "sinking deeper into the seabed and is not entering the food chain," while TEPCO maintained that no "tainted water is leaking from the facility."
Support HuffPost
The Stakes Have Never Been Higher
Related
Popular in the Community