 Within weeks of setting off a geiger counter and scrubbing three layers of skin off his hands and arms, former Navy quartermaster Maurice Enis recalled being pressured to sign away U.S. government liability for any future health problems.
Enis and about 5,000 fellow sailors aboard the USS Ronald Reagan aircraft carrier had finally left Japan, after 80-some days aiding victims of the March 11, 2011, Fukushima earthquake and tsunami, and were about to take a long-awaited port call in Thailand.
But first, they were told they needed to fill out some paperwork.
"They had us sign off that we were medically fine, had no sickness, and that we couldn't sue the U.S. government," Enis told The Huffington Post, recalling widespread anger among the sailors who saw it as "B.S." but who also felt they had little choice.
On Monday, the two-year anniversary of the Fukushima disaster, Enis joined a lawsuit with more than 100 other service members who participated in the rescue mission and who have since developed medical issues they contend are related to radioactive fallout from the disabled Fukushima Daiichi nuclear plant. Rather than targeting the U.S. government, the federal lawsuit names plant owner Tokyo Electric Power Co. the defendant.
TEPCO, as the company is known, provided false information to U.S. officials about the extent of spreading radiation from its stricken reactors, according to Roger Witherspoon on his blog Energy Matters.
Among the lawsuit plaintiffs is Enis' girlfriend, Jaime Plym, who also served as a quartermaster on the aircraft carrier, a position that involves guiding the ship and spending significant time on deck. The couple had been looking forward to leaving the military and starting a family. Now, Enis said, they don't know if children will be an option due to health problems they've both developed since signing away government liability. They've both been honorably discharged from the military and don't know how they will pay for medical treatment.
Plym has a new diagnosis of asthma and her menstrual cycle is severely out of whack. Enis has lumps on his jaw, between his eyes and on his thigh. He's also developed stomach ulcers and lung problems, and is losing weight and hair.
There's a tradition of growing out your hair and beard after leaving the Navy, explained Enis, to make up for all the time spent with a buzzed head. He said at a press conference in New York on Monday that he's hesitant to comb or wash his head of black curls lest he speed up the loss.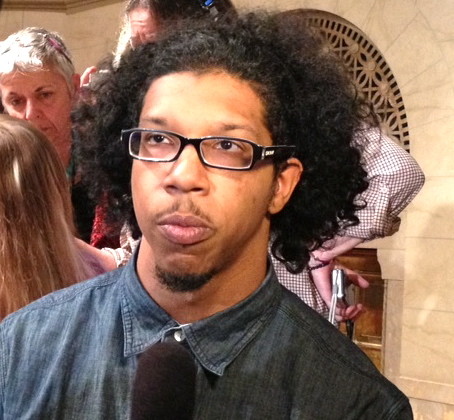 Former Navy quartermaster Maurice Enis described the health problems, including hair loss, that he's suffered since working in radioactive plumes after the Fukushima disaster. (Lynne Peeples)
It was more than a month after arriving off the coast of Japan -- and circling at distances of one to 10 miles from the crippled reactors -- when sailors aboard the carrier got word that a nuclear plant had been affected, according to Plym. "Even then, it was rumors," she said. And it wasn't until the USS Ronald Reagan had left Japan and sailors were scrubbing down the ship that they were offered radiation protection. Enis said the enlisted sailors were never offered any iodine. He said he later learned the "higher ups" -- officers and pilots -- had received the tablets to protect their thyroids from radiation damage.
Enis said no one collected samples of sailors' blood or urine for tests. Neither Enis nor Plym have been fully evaluated by a doctor.
In his series detailing the sailors' situation, Witherspoon highlighted questionable U.S. government decisions that followed Fukushima, such as the halt of a federal medical registry planned for nearly 70,000 American service members, civilian workers and their families who may have been exposed. The Department of Defense "concluded that their estimates of the maximum possible whole body and thyroid doses of contaminants were not severe enough to warrant further examination," Witherspoon reported.
Without the registry, Witherspoon added, there will be "no way to determine if patterns of health problems emerge" as a result of radiation exposure among military personnel stationed in Japan, or among those just offshore with the USS Ronald Reagan Carrier Strike Group 7.
Enis recalled one day that convinced him of a connection.
He described at the press conference retrieving the American flag that had flown atop the carrier to give to the people of Japan as a ceremonial gesture. The wind, he recalled, caused the flag to flap around his body as he brought it down by rope. Only later did he realize the flag and the rope were probably highly contaminated with radiation.
After folding the flag, he went out to eat with his buddy. The two joked about growing extra fingers and toes, Enis said. Talk of a radiation leak had begun spreading onboard, despite being downplayed by officials. On a whim, the friends decided to get checked for radiation. His friend tested clean, but the geiger went crazy on Enis' hands.
"Instantly, we went from smiling to just being nervous and scared," Enis recalled. "No one told me at the time what was going on."
Related
Popular in the Community