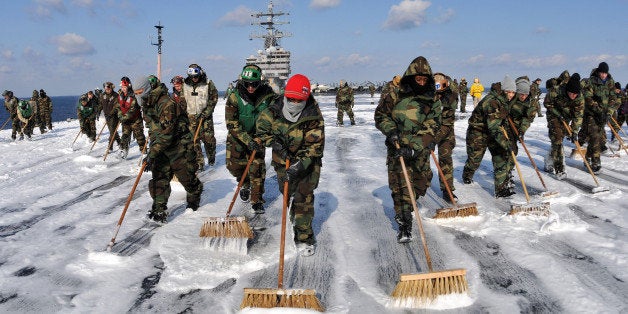 Mike Sebourn served at a U.S. Navy base in Japan after the Fukushima nuclear meltdown, measuring radiation and decontaminating aircraft. Nathan Piekutowski spent the days after the disaster with the Marine Corps, passing out water to survivors near the stricken power plant.
Today, nearly three years after the March 11, 2011, earthquake and tsunami that triggered the nuclear catastrophe, Sebourn has lost 60 percent of the strength on the right side of his body. Piekutowski faces a long recovery from a recent bone marrow transplant.
Both men are among hopeful beneficiaries of an online campaign launched this week aimed at raising money for medical expenses the U.S. government won't cover for sailors and Marines who served near the power plant and may now be suffering radiation-related illnesses.
"The whole system is running away from them. This is exactly the time when we should be running towards them to help," said Eric Egland, founder and president of Troops Need You, the nonprofit leading the campaign. "We want the American people to know about it and know they can help."
The fundraising program initially seeks to pay the costs of medical consultations, testing and treatments for 10 former service members, but Egland said he hopes to help many more. As The Huffington Post reported last March, more than 100 U.S. military personnel who responded to Fukushima have reported health problems that they believe may be related to radiation emitted from the nuclear reactors. They question the U.S. Department of Defense assertion that radiation levels they encountered were far too low to cause harm.
"My exposure was continuous," said Sebourn, a former Navy senior chief mechanic and radiation-decontamination officer. He noted that radiation levels routinely read 300 to 400 times the amount naturally found in the air from the sun. He took those measurements more than a month after the disaster, and more than 100 miles from Fukushima. Sebourn said his son, now 11, who lived at the same Japan base, became acutely ill during those months -- throwing up as many as 30 to 40 times a day.
"I put in a claim for radiation exposure," Sebourn said, "and it came back completely denied."
Without a recognized service connection for their illnesses, many sailors and soldiers are struggling to afford specialists, find appropriate treatment and pay bills. Some, including Sebourn and Piekutowski, are no longer healthy enough to work.
"It's clear that these troops have radiation-related symptoms," said Egland, who previously served on the ground in the Middle East. "All they're asking is a chance to see a specialist for a medical opinion."
Troops Need You launched a fundraising campaign for Fukushima responders ahead of the disaster's third anniversary.
As a start, Egland said he plans to transfer $434 of his nonprofit's funds to a neurology center in Southern California to pay for a consultation for Sebourn. All donations to the campaign will go directly to medical providers.
Overall, nearly 75,000 service members, families and other Department of Defense personnel were on or near mainland Japan in the two months after the disaster, according to the Pentagon.
The Defense Department website contains a map with "conservative" estimates of radiation doses for people at various offshore or onshore locations. Each estimate falls well below amounts associated with short-term or long-term health effects, spokespeople for the Navy and the Defense Department told HuffPost. In fact, the reported radiation doses were less than the annual background dose for an average American, they said.
David Brenner, director of the Center for Radiological Research at Columbia University Medical Center in New York, concluded the same from the estimates. "All the doses are indeed very low, and the chances that these radiation exposures could lead to a cancer are very small indeed," he said.
Brenner noted that no exposure to radiation is risk-free. "Rather," he said, "the risk is very low."
Dr. Lydia Zablotska, an epidemiologist with expertise in radiation at the University of California, San Francisco, said she agreed that the exposures estimated by the government were "miniscule." She said it is impossible to link specific health problems in individuals to a radiation exposure.
"It could be genetics, smoking or radiation -- and the leukemia would look exactly that same," Zablotska said.
Still, other experts and advocates said they were convinced of radiation's potential role in the soldiers' health complaints.
"The U.S government has not been very forthcoming. The Japanese government has not been very forthcoming. The [Tokyo Electric Power Plant, or TEPCO] has not been very forthcoming," said Dr. John Rachow, co-chair of the Physicians for Social Responsibility's committee on radiation and health. "You get the sense that there's this systematic minimization of the risk."
Rachow and other critics said they lack confidence in the published estimates, which were based on radiation readings by the Japanese government, the U.S.Department of Energy and by the U.S. military. As the DOD's report states, "computer modeling was required to evaluate doses for ships at sea because of the relative lack of empirical data to estimate radiation exposure rates and airborne activity concentrations."
Rachow further noted that the estimates were calculated by averaging information across a large number of troops, and therefore cannot reflect an individual's exposure. Sebourn, for example, worked hands-on with radiation for months, which likely resulted in far greater exposures than others at the Atsugi Naval base.
Advocates also criticized the U.S. government for failing to keep tabs on the health of the exposed troops. No monitoring means no data that may reveal future patterns of disease. Radiation-induced cancers, for example, can take decades to manifest.
The Defense Department notes on its website that, due to the low levels of radiation, "there is no need for a long-term medical surveillance program."
"What do you do when sailors come forward who have unusual, unexpected illnesses for their age and physical condition?" asked Rachow. "It's in the interest of the Navy to say, 'It's not related. There's no proof.' It's in the interest of sick sailors who are angry, scared and sick to say, 'Yes, I was exposed.'
"There's so much uncertainty. We really just don't know," Rachow added. "But do we love our vets? Should they be taken care of? That's the bottom line."
Piekutowski and Sebourn are among the more than 70 troops who filed a $1 billion lawsuit last month against TEPCO, seeking damages for health problems from radiation exposure. Many of the claimants served during the rescue mission aboard the USS Ronald Reagan, which reportedly sailed for hours through a nuclear plume.
The class-action case and any resulting payouts are likely years away, of course. Egland said he wants to raise funds that Piekutowski, Sebourn and others can use now.
"They're not asking for a lot," said Egland. "All they want is what any of us would want for ourselves or our children."
Before Piekutowski's bone marrow transplant in January, he underwent radiation treatment and chemotherapy. "My doctors were hesitant," recalled Piekutowski, who was a Marine Corps private. "You can only be exposed to so much radiation in your life and they were curious how much I'd been exposed to in Japan."
"They said that radiation was definitely a major cause of leukemia," added Piekutowski, whose cancer was diagnosed about a year and a half after his time in Fukushima. While the science remains uncertain, experts generally agree that it takes two or more years after an exposure for leukemia to develop.
"I don't know that it was the radiation," said Sebourn, referring to his own mysterious symptoms. "All I want is to be seen and figure out what is wrong with me. And I want to make sure I'm here for my son years down the road."
To make a donation to the Troops Need You fundraising campaign, click here.
Calling all HuffPost superfans!
Sign up for membership to become a founding member and help shape HuffPost's next chapter
BEFORE YOU GO
PHOTO GALLERY
Japanese Tsunami-- The Aftermath