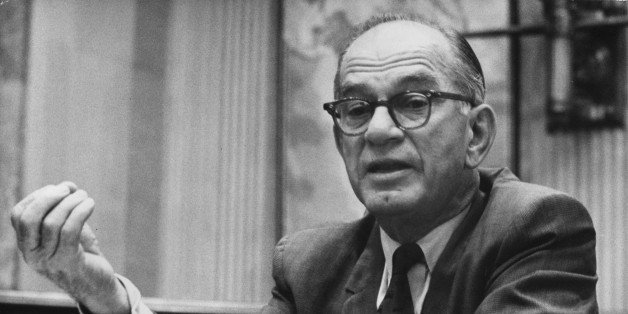 Many have strived to reach the North Pole over the centuries. Explorers set out as early as the 19th century, but faced with dangerous waters and difficult conditions, most were forced to turn back -- or died trying.
Finally, in 1926, Norwegian explorer Roald Amundsen defied the odds by reaching the Pole. He and his U.S. sponsor, Lincoln Ellsworth, made the journey on the airship Norge -- which, though Norwegian-owned, was designed and piloted by an Italian, Umberto Nobile. In spite of colossal challenges, success was ultimately attained through international cooperation -- combining scientific skill, engineering know-how and financial support from across borders.
Crossing boundaries to surmount great obstacles and strive for great achievements is at the heart of the Fulbright Program. The Program began in the wake of World War II, with an ambitious aim to achieve mutual understanding and foster peace through international educational exchange. Envisioned in 1946 as an innovative way to apply war surplus to promote peace, the program has since engaged more than 360,000 participants. Nearly 70 years later, it sends 8,000 students and scholars to and from the United States annually, in what was described by Senator J. William Fulbright's Oxford tutor, Ronald McCallum, as "the greatest movement of scholars across the face of the earth since the fall of Constantinople in 1453."
As people around the globe observe International Education Week 2014, the new Fulbright Arctic Initiative exemplifies the urgency of international academic cooperation. This interdisciplinary collaborative research program will bring together established experts and specialists from the eight Arctic Council countries to tackle Arctic challenges of global import, including climate change, sustainable water supplies, energy, health, and infrastructure.
The unique approach and immense impact of the Fulbright Program around the globe are often recognized by partner countries. Most recently, the Fulbright Program received Spain's prestigious 2014 Prince of Asturias Award for International Cooperation, given annually for scientific, technical, cultural, social and humanitarian work that "constitutes an outstanding contribution at the international level."
Partner governments around the world recognize and validate Fulbright's impact by their concrete commitment to fund the Program alongside the U.S. government. Over 30 countries contribute more than a million dollars per year to the Fulbright Program, and six countries contribute more than 5 million dollars annually.
In the current economy, international educational exchange may strike policymakers and taxpayers as an expendable luxury -- therefore, an easy budget cut. Upon closer examination however, it is clear that international educational exchange is a high-return investment in global security and development. Fulbright Program alumni are important players in the world forum. They have received 53 Nobel prizes, 80 Pulitzer Prizes, 28 MacArthur Foundation Awards, and 16 U.S. Presidential Medals of Freedom, to name only a few indicators. Fulbright alumni account for 30 current or former heads of state, including Afghanistan's recently elected President, Ashraf Ghani. Ukraine's newly appointed government includes Minister of Education and Science and Fulbright alumnus Serhiy Kvit. Those and countless other high achievements by Fulbrighters stem from formative international experiences made possible through a program that permits accomplished and committed students and scholars to broaden their horizons beyond their home environments and to make direct impacts on the world we share.
Senator Fulbright observed that educational exchange is not merely a "nice but marginal" activity, but rather, "from the standpoint of future world peace and order ... probably the most important and potentially rewarding of our foreign-policy activities." Indeed, today the strength of the Fulbright Program remains its commitment to immersion through which participants form lasting international connections, gain a deep understanding of other countries and cultures, and work collaboratively to find solutions to some of the world's most pressing challenges.
The intrepid Arctic explorers of the past knew that facing the challenges of the future -- and present -- requires a concerted effort and the pooling of resources, intellectual and otherwise, across borders. The 21st century has a new set of challenges as well as many holdovers from the past, but one commonality over the past 70 years has been the commitment of nations participating in the Fulbright Program to create a more peaceful world through the exchange of ideas, skills, and citizens. The Fulbright Program remains one of the best and most internationally respected shared investments in shaping the next generation to meet those challenges.
Calling all HuffPost superfans!
Sign up for membership to become a founding member and help shape HuffPost's next chapter