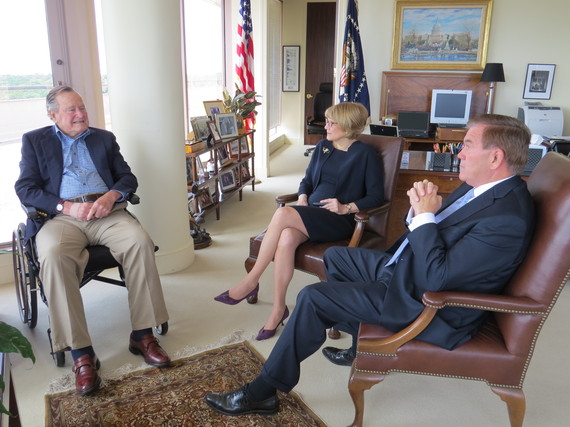 Each year at this time, those of us who work in the disability space take a very serious look at our progress to fulfill the promise of the Americans with Disabilities Act (ADA), which prohibits discrimination in all areas of public life for America's 56 million individuals with disabilities. It has been nearly three decades since the ADA's passage on July 26, 1990, and people with disabilities have seen progress made to increase their access to education, transportation and public places, but, notably, employment is still a hurdle to many.
When he signed the ADA into law, President George H.W. Bush very publicly challenged the business community to welcome people with disabilities into their workplaces, and he reflected on that call to action in a poignant exchange with Governor Tom Ridge, chairman of the National Organization in Disability (NOD), on the occasion of the ADA's 25th anniversary last year.
Still today, 24 million working-age Americans with disabilities are not employed. The next step in our progress to realize the ADA is clear: ensure that people with disabilities enjoy full opportunity for employment, enterprise and earnings, and that employers know how to put their talents to work. For us at NOD, that means innovating scalable and sustainable disability employment models that marry the talent needs of corporate America with the skills of working-aged Americans with disabilities.
And the reality is that companies face a lot of challenges today that can be solved by building a culture of inclusion at work and employing talent with disabilities. From emerging market developments and changing consumer demands, companies must evolve to remain competitive. On top of that, between now and 2024, American industry will need 47 million new workers to replace retiring Baby Boomers and respond to growing industry sectors. In my many conversations with corporate leaders, there is no question these are pressing issues.
To succeed in the face of these challenges, companies need resiliency, adaptability, and a future-oriented perspective to anticipate what tomorrow's customer wants. But how can global companies foster and deploy these skills to meet consumer preference and drive value?
The answer--in large part--lies in talent development, with the men and women, who at every level of the organization, embody and enact the core values of the organization. Companies that can retain talent, with sought-after competencies such as problem solving, innovation and adaptability, will have the most success in meeting the constantly evolving demands of the 21st century marketplace.
And due to living in a world that wasn't built for them, many of the millions of working-age Americans with disabilities have already honed these skills. Studies across the board show that workers with disabilities are loyal, dedicated, have few absences and last longer on the job.
As many of us know, attracting the best talent is closely linked with creating a progressive and inclusive corporate culture--including welcoming employees with disabilities. Robust diversity & inclusion practices have a positive effect on employee recruiting and retention across the entire workforce and are appealing to consumers. Ultimately, companies will see the benefits in their bottom-line.
Just look to Giant Eagle. The Pittsburgh-based grocery giant tapped NOD's expertise to help them bring in talent with disabilities and enhance their overall corporate culture. Their company-wide commitment to inclusion is paying off--and Giant Eagle is reaping the benefits of skilled workers, improved morale among all employees, and growing consumer preference for their brand.
In looking back 26 years after President Bush signed this historic legislation, it's clear to me and our corporate clients like Lowe's, PwC and J.P. Morgan Chase that fulfilling the ADA's promise of equal employment opportunities for Americans with disabilities is not an act of 'charity.' It's a solution for leading companies whose success in the global economy depends, more than ever, on the quality of their workforce. From our perspective--and the businesses we serve--it's a win-win.
Related
Popular in the Community