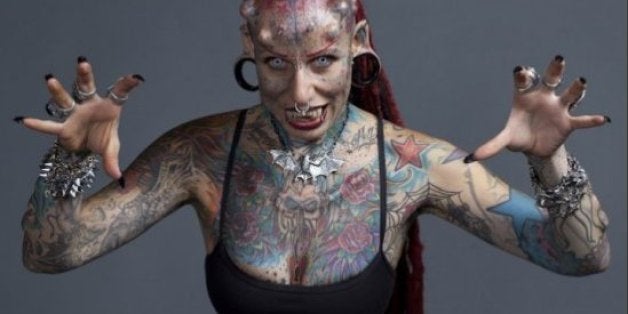 These 9 inked-up people certainly stand out with their full-body tattoos. From the truly bizarre reptilian and vampire queen themes to checkers and puzzle pieces inspired art, these individuals stand by their awesome, inked-out bods.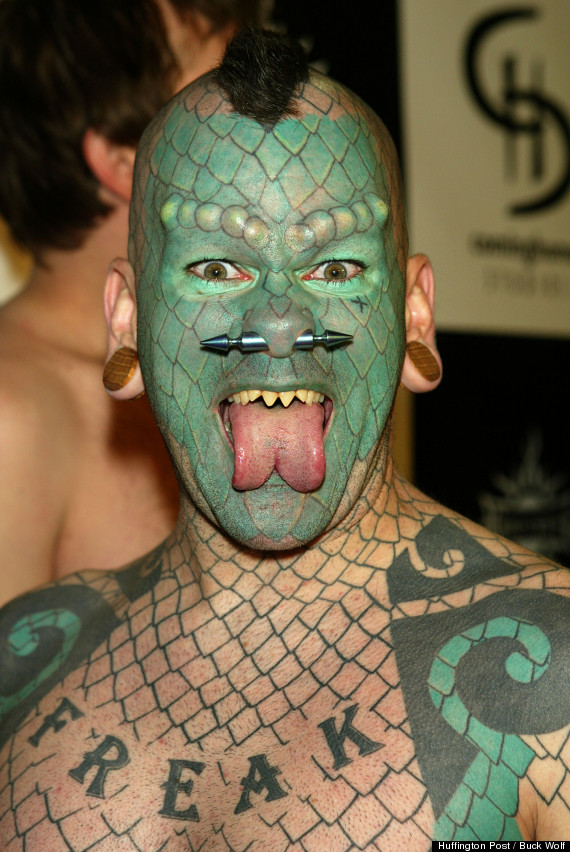 Eric Sprague, who goes by the name Lizardman (further explanation not needed), has spent more than 700 hours to give his face and body tattooed for his reptilian appearance. Lizardman also installed teflon implants on his forehead to create horned ridges, filed-down his teeth and split his tongue. "I'm a big Godzilla fan," Sprague told HuffPost.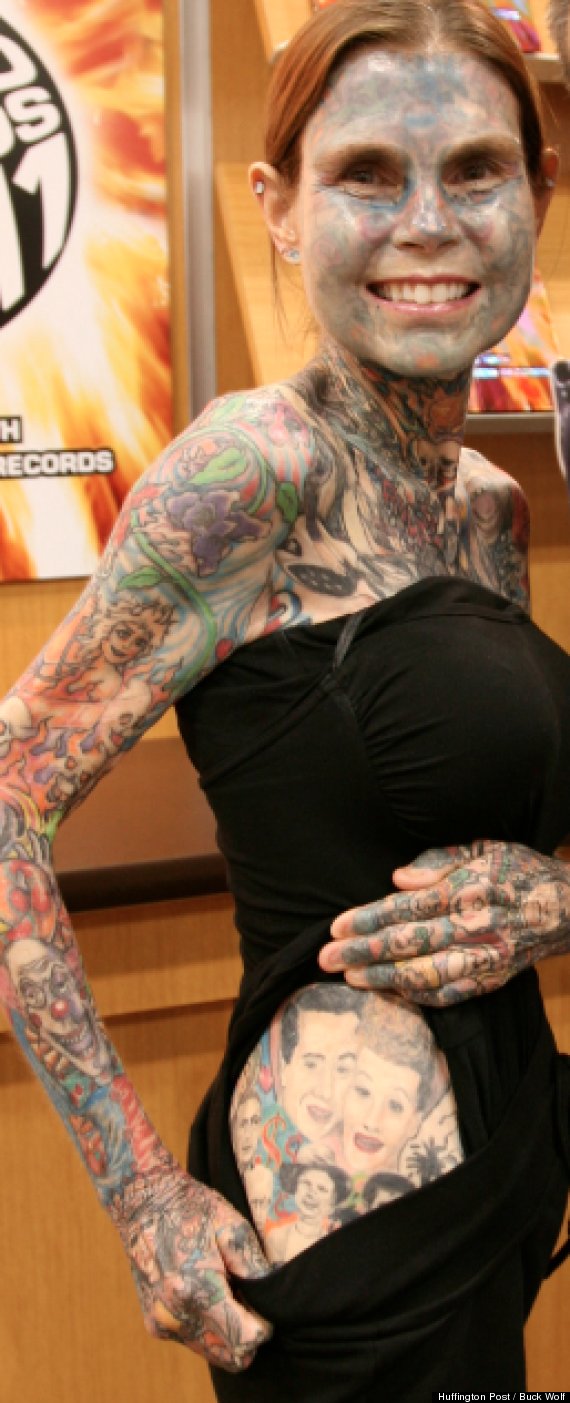 Julian Gnuse holds the Guinness World Record as the world's most tattooed woman, with over 400 tattoos covering 95 percent of her body. Starting in 1991, her first tattoo was an octopus. After developing porphyria in her 30s, a skin condition that leaves her body scarred when exposed to sunlight, Gnuse decided to cover up with these awesome tats.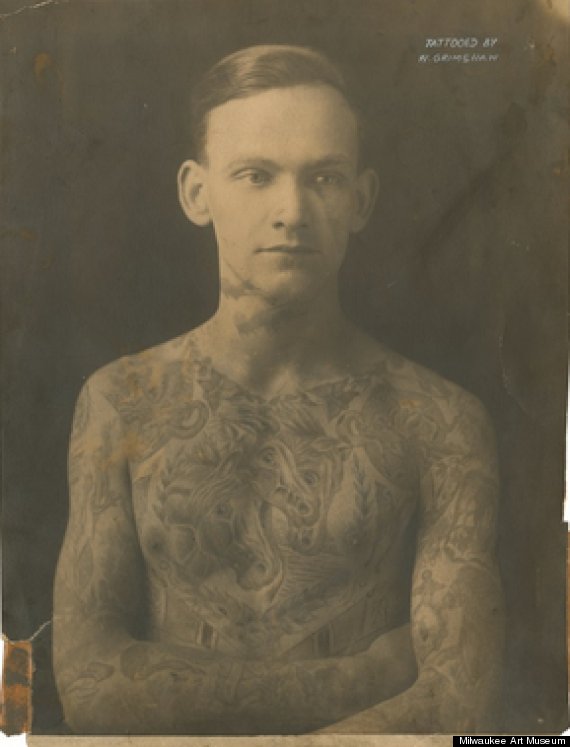 Artist Amund Dietze got his first tattoo in the early 1900s at the age of 14, and just kept on going. With tattoos from neck to feet, Dietze was a tattoo pioneer, opening up his first parlor in 1913, where he was dubbed the "Master of Milwaukee." His body tats included a cowgirl, a Navy ship and Chinese dragons.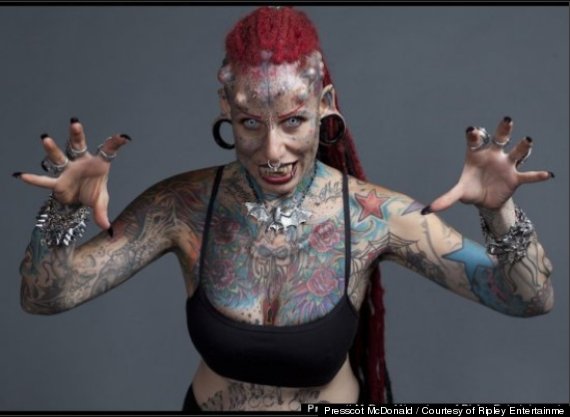 Maria Jose Cristerna, a 35-year-old former attorney from Guadalajara, Mexico, is better known as the "Mexican Vampire Woman" thanks to her full-body tattoos and titanium horns implanted in her skull. Cisterna was immortalized in a full body cast form thanks to Ripley's Believe It Or Not. "It's my vampire dream to be immortal!" she told HuffPost Weird News through a translator.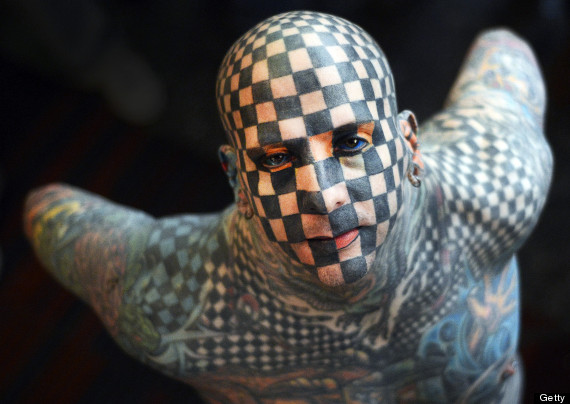 Matt Gone, better known as the Checkered Man, has 98% of his body covered in tattoos. What originally started as getting a few tattoos to cover up some muscular anomalies caused by Poland Syndrome grew into a full blown tattoo addiction. "I would like to marry a heavily tattooed woman who works a real job," he said in an interview with Big Tattoo Planet.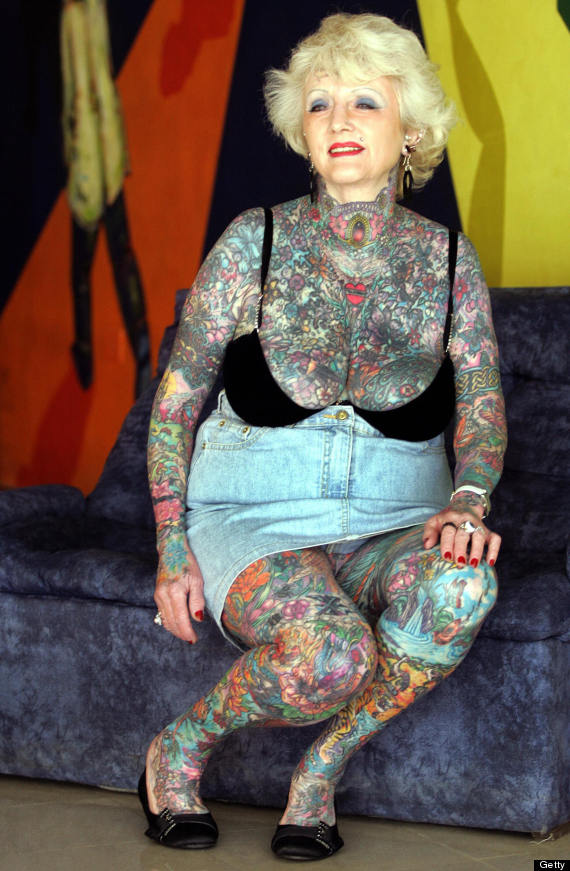 British woman Isobel Varley has 93% of her body covered in tattoos, giving her the Guinness world record for the most tattooed senior citizen at 75 years old.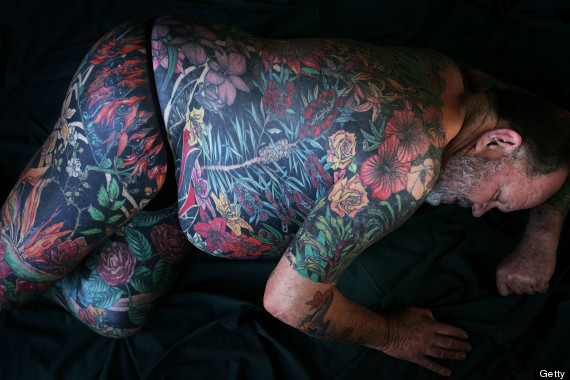 Retired teacher Geoff Ostling shows off his intricate, nature-inspired tattoos. He has pledged to donate his skin to the National Gallery in Canberra after his death.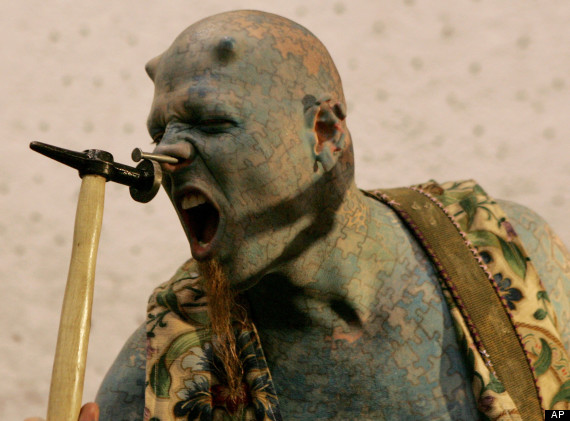 The Enigma, born Paul Lawrence, has his body covered in a giant blue jigsaw puzzle. Enigma is a performer, musician, and actor, having appeared in a cameo on the hit 90s show The X-Files.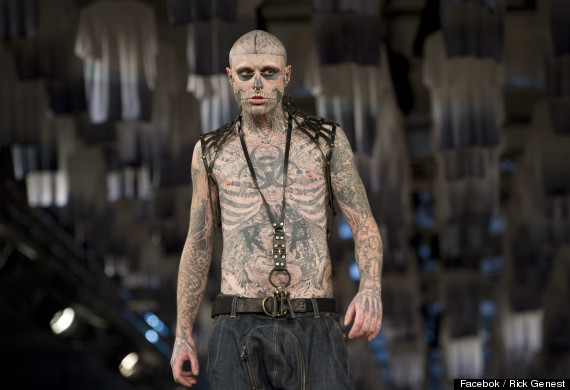 Rick Genest is a walking zombie skeleton, complete with his head shaved and a brain inked in in place of hair. The inspiration for Genest's tattoos come from his appreciation of the fragility of life after he recovered from a brain tumor.

Related
Before You Go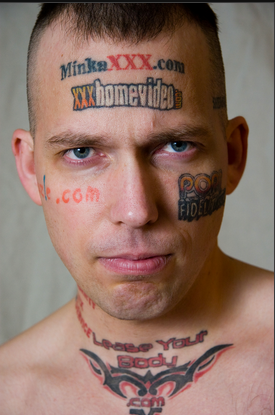 9 Ridiculous Face Tattoos
Popular in the Community