Never work with children or animals. That classic show-biz adage attributed to W.C. Fields has been around for decades, but not all entertainers care to heed the advice. Sure, kids and animals may be unpredictable, but for actors like Dave Coulier of "Full House" fame, they can also play a big role in a sitcom's success.
"We had all of that," Coulier tells "Oprah: Where Are They Now -- Extra" in the above video. "We had that just about every episode."
On the set of "Full House," Coulier played the comedic Uncle Joey and worked with many child actors during the family sitcom's eight-year run. Candace Cameron (D.J.) was 10 when the show started, Jodie Sweetin (Stephanie) was 5 and twins Mary-Kate and Ashley Olsen (Michelle) were babies. Personally and professionally, the cast was extremely close, but working with children did have its trying moments.
"It was difficult at times," Coulier admits. "Mary-Kate and Ashley were 8 months old when we started, so they could only be -- because of child labor laws -- on the set for a finite amount of time. And when you lost them, that was it. That's all you got. So, you had to get what you needed at that specific moment."
Desperate times, as they say, call for desperate measures. To help ensure that the Olsen twins would deliver perform within the limited window, Coulier and others would resort to bribing the girls with candy.
"We used to bribe them with gummy bears," he says. "That was a big deal. 'I'll give you a red gummy bear...' [They'd say], 'OK, you got it, dude.'"
As "challenging" as Coulier says it was, he and his other adult cast mates, specifically Bob Saget (dad Danny) and John Stamos (Uncle Jesse), found ways to keep spirits high on set by making the crew laugh and loosening themselves up during their own scenes. The trio may have been entertaining to some, but not everyone found their antics quite so charming.
"The three of us -- me, Bob and John -- we got in trouble a lot. From the moms," Coulier says. "What we didn't realize is that the kids are backstage and they have monitors in their rooms..."
In one particular incident, Coulier, Saget and Stamos were filming a scene that was proving rather difficult and, it seemed, everyone was in need of some comic relief.
"It was late. We had this scene [and] we couldn't get it. John, Bob and I had to walk around this van and come out, and I said, 'Let's just take our pants off,'" Coulier says.
That's exactly what they did.
"We walked around from the van and we're all standing there [pantless]. The crew's dying, and the producers -- everybody's cracking up," Coulier recalls. "About 30 seconds later, as we're slapping each other on the back [like], 'Yeah, that was funny! We made everybody laugh,' here comes Jodie Sweetin's mom, Candace Cameron's mom and Adria Later, who... was our teacher for the kids."
The three men quickly realized their pantless performance might have been seen on those backstage monitors.
"We're like, 'Oh, we're in trouble. We did it again,'" Coulier chuckles. "It was my idea to take our pants off. Sorry."
"Oprah: Where Are They Now -- Extra" is a digital series from the OWN show "Oprah: Where Are They Now?"
Related
Before You Go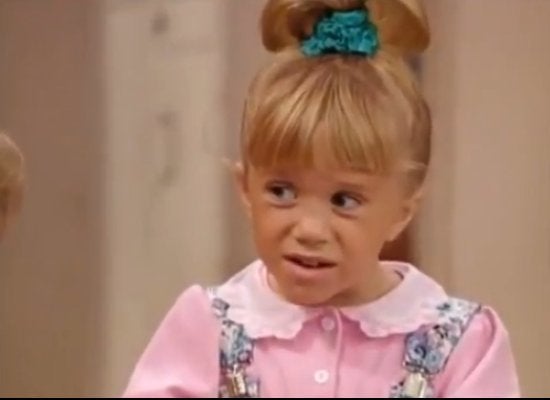 "Full House" Vintage Fashion
Popular in the Community