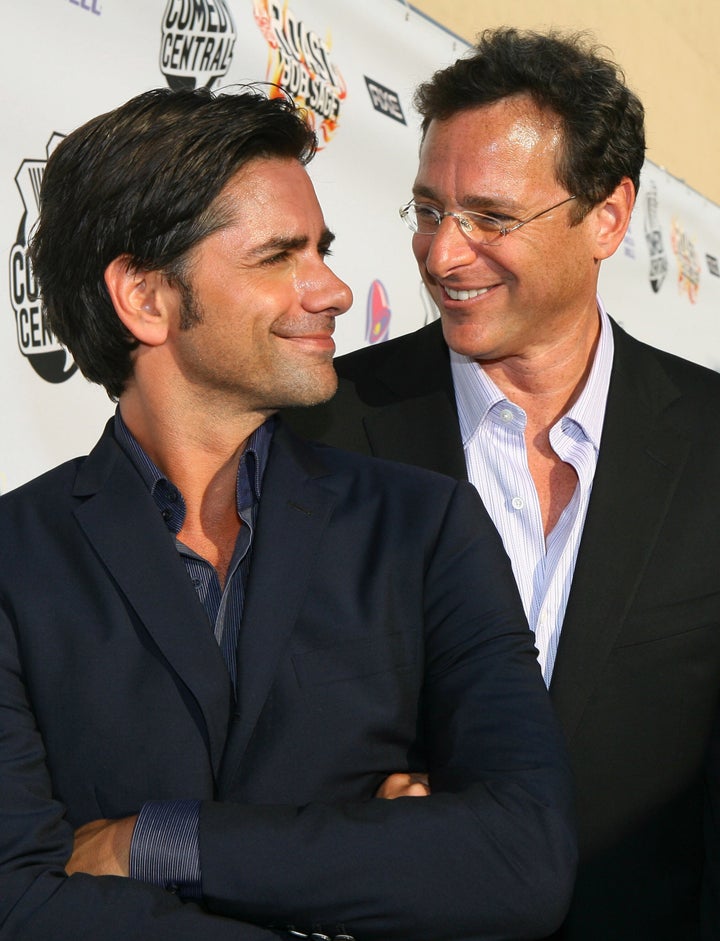 When Tom Hanks took the stage on Sunday afternoon for his Broadway play, Lucky Guy, he was performing for a full house. Such a full house, in fact, that Uncle Jesse and Danny Tanner became the "rockstars" of the show.
Full House alums John Stamos and Bob Saget have famously remained close since the show ended 18 years ago, with Stamos even posting an Instagram photo of the on-screen brothers-in-law spending Thanksgiving 2012 together in front of sheet music (I'd like to imagine they were singing "Kokomo" -- duh).
But what link do they have to Academy Award winner Hanks? Well, Hanks is a not-so-closeted Full House geekburger with cheese (in the words of Kimmy Gibbler, natch). So much so that he mastered a slam poetry tribute to the '80s and '90s sitcom on Late Night with Jimmy Fallon in October 2012.
So in a totally random (yet oddly completely natural!) pop culture moment, it was Stamos and Saget who showed their support for Hanks in his Broadway debut play.
After the curtain call, the cast of Lucky Guy -- including Christopher McDonald, Christopher B. Vance, Peter Gerety, Hanks' Bosom Buddies and That Thing You Do! co-star Peter Scolari, and Stamos' ER co-star Maura Tierney -- stayed on stage to solicit donations for the fourth day of the Broadway Cares/Equity Fights AIDS campaign. Hanks gave the audience permission to take their cameras out and auctioned off a "one of a kind" signed reporter's notebook used in the play.
The bidding started at $100 and quickly skyrocketed... as Stamos shot his hand in the air, followed by Saget.
Hanks changed his tune when he saw the big bucks coming in from his poetry slam subjects. "There's two pads, guys!" he said, pulling another notebook off the desk. The bidding reached a reported $4,000 as McDonald announced, "Bob Saget, rockstar! John Stamos, rockstar -- there's two one-of-a-kinds!"
After the auction, the Stamos and Saget worked their way backstage and posed with Hanks and their pair of winning notebooks. "Saw pal @TomHanks be so damn good in 'Lucky Guy' on Bway-@BobSaget & I won the auction for @BroadwayCares -- amazing night," Stamos tweeted along with the photo, cementing our suspicions that the trio of '80s sitcom star indeed are a full house of supportive friends.
Popular in the Community