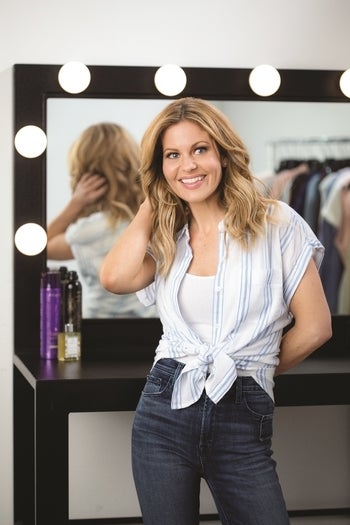 Thirty years ago, Candace Cameron Bure won our hearts with her curly locks and twinkling blue eyes as D.J. Tanner on Full House. Today, a whole new generation is falling in love with Bure on Fuller House, which is currently in its third season on Netflix. The success of Fuller House has paved the way for other beloved shows like Will & Grace and Roseanne to return to television.
Unlike many other child stars, Bure has never faded away from the spotlight. Whether competing on Dancing with the Stars, co-hosting The View or being the darling of the Hallmark Channel, Bure's smile and infectious outlook on life has become part of our lives.
As a wife and mother of three, women look to Bure for inspiration. Her books about living confidently and with courage and faith have become best sellers.
Bure's latest book, Staying Stylish: Cultivating a Confident Look, Style, and Attitude, is a guide for looking and feeling your best. As Bure writes, "The absolute best way to stay stylish is to stay true to you."
This holiday season, Bure is back in familiar territory. She's starring in the Hallmark Channel's Switched for Christmas, which premieres on November 26. The movie centers around estranged, identical twins who are envious of each other's lives and decide to trade places. Bure's daughter, Natasha, co-stars in the romantic comedy.
On a chilly afternoon in New York, Bure opened up about her style, shared heartfelt Christmas memories and revealed her favorite episode of Full House.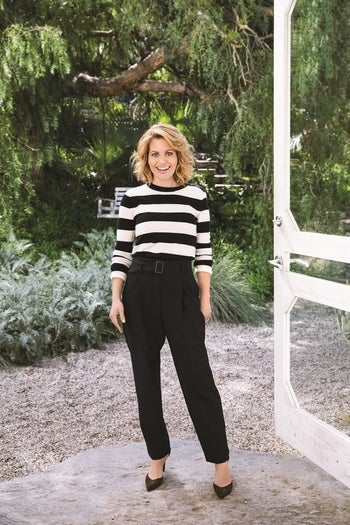 In your new book, "Staying Stylish: Cultivating a Confident Look, Style, and Attitude," you give a lot of tips on putting together different looks for various occasions. There is even a chapter dedicated to traveling in style. What do you recommend for travel?
I do like to be comfortable, but I do like to look put together and stylish. A go-to look is a jogger pant. There is a difference between having sloppy sweats or pajama pants that we see. I'm like, "Please don't wear your pajamas on the plane. We're not in your bedroom." A t-shirt is comfortable, and you can wear one that doesn't look sloppy.
What is the most frequent question you get asked about your style?
One of the most-asked questions is, "How did you get fit? How did you end up enjoying fitness and making that a regular part of your life?" For me, I found the fun in fitness.
What does being stylish mean to you?
It's about being confident and comfortable in your own skin. That's really what the book is about for me because everyone's style varies. Everyone's perception about what style is varies. What could look beautiful to me may not look beautiful to you. True style is really about radiating confidence. It's a beauty, a warmth, a spirit, a kindness, and a love that's on the inside that radiates on the outside.
Everyone has looked back on some of their old looks and wondered, "What was I thinking?" When you watch "Full House," what do you think about some of the clothes you wore?
They make me giggle. I remember we would joke about it all the time saying, "If this show ever goes into reruns like The Brady Bunch, we're all going to be laughing at our style." It's fun. It was the fashion then, and it's actually some of the fashion now. The '90s have come back. They don't embarrass me at all.
In the book you say, "As I became more comfortable in my own skin, I started to think differently about style." How did you become comfortable with yourself?
It's an ongoing process. With age and maturity, I think you just become more comfortable with who you are because you have more life experience. You hopefully have more wisdom. Different seasons of your life change you and grow you. I have worked since I was 5 years old. Becoming a mother was a whole different season that gave me a whole new depth of myself that I didn't know and a whole lot of patience, too. You also become more confident, hopefully, by knowing what you believe in.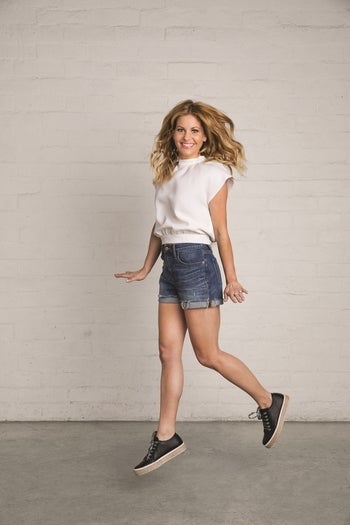 Do you have a motto that you live by?
I tell a lot of younger people that no matter what career you're going into, know who you are. Have your convictions in place. Know what your values are. Know what your morals are before you walk out into the world because if you don't have those, the world will shape them for you.
So many child stars faced difficult times as they grew older. How have you been able to avoid the pitfalls that often fall on child stars?
I have incredible parents who were right by my side. They were very protective. Show business was not the end all by any means for them. They didn't have stars in their eyes hoping their children would become stars. It was kind of like an extracurricular activity. My parents always had a healthy perspective of us working as children. I believe faith has played a huge role in keeping me and my parents grounded.
You once said that your husband doesn't like watching your kissing scenes. Do you have any kissing scenes in your new movie "Switched for Christmas?"
I do! I have several because I kiss two men in this movie because I'm playing two different people, and they both find love. I keep those kisses very simple. There's a general term for that in the whole entire industry. It's called a Hallmark kiss.
You've worked with your daughter Natasha before, but in "Switched for Christmas" she has a leading role. What was it like working together?
We had so much fun together. She did a great job. I was really proud of her. It was like our normal relationship when we were off camera, but when we started working, I treated her like a co-star and not like my daughter. I let the director do her job. I just sat back. It was good for me as a mom because she's 19 years old, and I have to let go and allow her to be more independent. It was good practice for me.
Having done six Christmas movies, you may be the reigning queen of holiday movies. What are your favorites?
Elf is my favorite. I have to watch it every year and multiple times a year. Sometimes Christmas Vacation. I also love Home Alone. And it's not because I'm on the channel, but I love my partnership with Hallmark because I'm a Hallmark watcher. I watched Hallmark long before I was on the network. That channel is on practically 24/7 in my house during the holidays.
Do you have any Christmas traditions in your family?
They are really simple. It's an event to go and get our Christmas tree with the kids and our dog. Then we spend an evening decorating it. We have a Christmas Eve tradition where my husband cooks and makes beef Wellington. My parents come over, and we have a more formal dinner. Christmas morning we started a new tradition five or six years ago where we serve at a homeless shelter. That's the first thing we do when we wake up. That for me now is the best part of Christmas.
What were some of your most memorable Christmas gifts as a little girl?
I still remember opening up my very first pink two-wheeler bicycle. And I remember my first Apple computer. I think I was about 12. I could not even believe that Santa brought that for me. I didn't ask for it. I was like, "This is amazing!"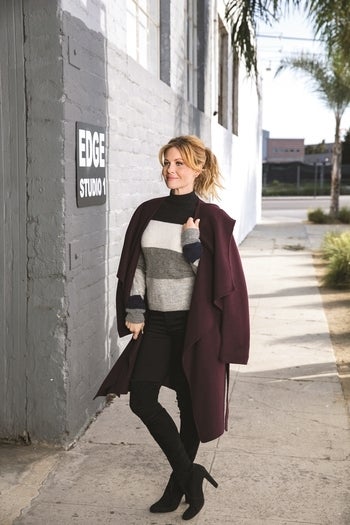 After everything you've done professionally, what are you the most proud of?
It's definitely Full House and Fuller House. That show has just left a legacy. It's not because it's what I'm probably best known for. I'm just proud of it because that show is living on for generations to watch. I've heard unbelievable stories of how that show--as silly as it sometimes--has deeply affected families and relationships because people have found family within the show.
What is your favorite episode of "Full House?"
The New Kids on the Block episode from Fuller House. That is probably my favorite episode of Full House and Fuller House. I mean, that was like my dream come true.
When you were growing up, who was your favorite from New Kids on the Block?
"Staying Stylish: Cultivating a Confident Look, Style, and Attitude" is now available. "Switched for Christmas" premieres Nov. 26, 8/7c on Hallmark Channel.
REAL LIFE. REAL NEWS. REAL VOICES.
Help us tell more of the stories that matter from voices that too often remain unheard.