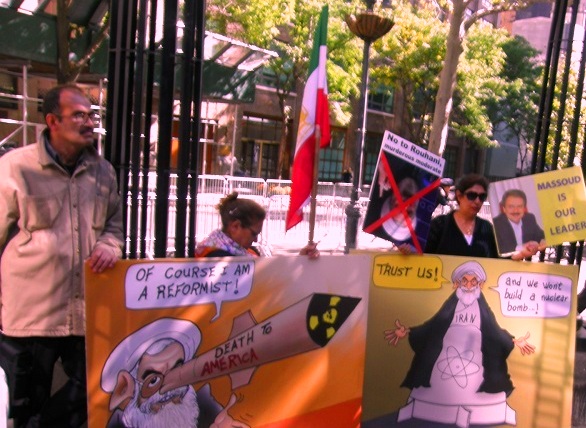 Iranian émigrés at the Dag Hammarskjold Plaza near the UN express their true feelings for the leaders of the Islamic country. They fear that Western powers are gullibly going into peaceful negotiations. / Photo by Jared Feldschreiber
For all the hope expressed that Iranian President Hassan Rouhani may be a "moderate leader" and the antidote to his predecessor Mahmoud Ahmadinejad, many remain leery as to the true intentions of the Islamic republic's leader. Protesters loudly expressed their displeasure toward the Muslim leader outside the United Nations recently, denouncing what they perceive as the Western world's willful acquiescence to the charm offensive orchestrated by Iran's mullahs. These protests came during the opening of the 68th session of the U.N. General Assembly, and while President Obama and Rouhani spoke by phone, the first dialogue between the heads of state of America and Iran in 34 years. Those who are skeptical about Rouhani's outreach efforts believe it is economic sanctions, not an intent to negotiate in good faith over Iran's nuclear program, that have led to Iran's change in tone. "Among other effects, these sanctions have made it difficult for Iran to sell oil, the lifeline of the regime. Rouhani is certainly under a great deal of pressure from those who voted for him to persuade the international community and the U.S. in particular to lift some of these sanctions," the U.S. Institute of Peace has noted. "There is no moderation in Iran and Rouhani is part of the same regime that Ahmadinejad is," Saeed Shams, a rally organizer, told Agence France Presse. "[Supreme Leader Ali Hosseini] Khamenei basically rules everything else." In a June interview, Rouhani made clear that talks with the United States were only possible under certain conditions. "First of all, the Americans have to say ... that they will never interfere in Iran's internal affairs," Rouhani said. "Second, they have to recognize all of the Iranian nation's due rights, including nuclear rights. And third, they have to put aside oppressive ... policies toward Iran." At the protests outside the United Nations, participants included Iranian emigres who believe that Rouhani is no different than his predecessors, known to quash any form of dissent. Zari Shayesteh had six family members killed by the regime under the direction of the Islamic Republic's regime. Their crime? Speaking out about human rights. "There was no court, nor a justice system," says Ray Kafi, another protester. "Activists are oft-times beaten to death in jail or hung in public."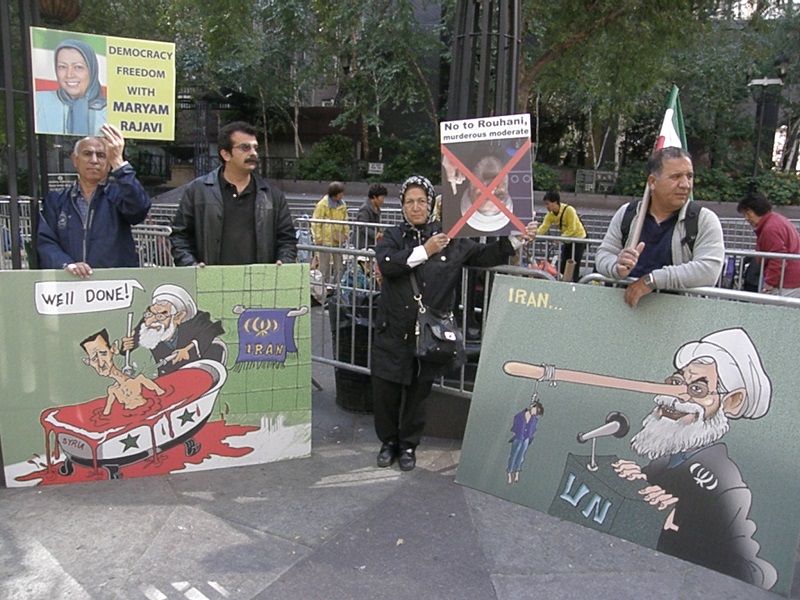 Iranian protesters gathered all week during the UNGA to protest the Islamic Republic's authoritarian government. Zari Shayesteh, seen in middle, lost six family members killed by the regime / Photo by Jared Feldschreiber
During his speech to the General Assembly, Israeli Prime Minister Benjamin Netanyahu called Rouhani "a wolf in sheep's clothing." The Israeli government is among those who remain anxious that potential talks over Iran's nuclear program are a diversionary tactic that will allow the regime to proceed with the program while presenting a "smiley face" to the world. Pete Hegseth, CEO of Concerned Veterans for America, says, "Iran is taking a page out of the 2005 North Korea playbook. They are making overtures and are talking about disarmament, saying nuclear technology is being made for peaceful means. All they want is a loosening of the sanctions." He added:
"It is important be clear-eyed and skeptical of Iranian intentions, not coming to the talks hoping and wishing they'll give us what we want. Why would they? And while they have a new face, the reality of the ideology remains the same. ... The worst kind of diplomacy is when a bad arrangement is made."
Calling all HuffPost superfans!
Sign up for membership to become a founding member and help shape HuffPost's next chapter