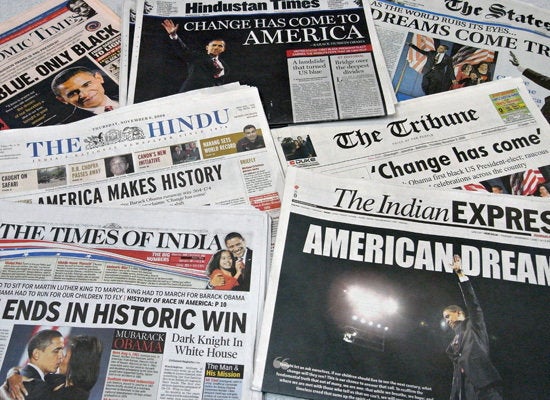 Coffee, snacks, social media, reporting, producing a paper, online publishing?
This isn't your typical café or newsroom. It's all of the above.
It's a news café where people in Czech communities can relax, meet, down some brew, see their local paper being produced, mingle with editors, contribute to the copy and even nourish its Web presence.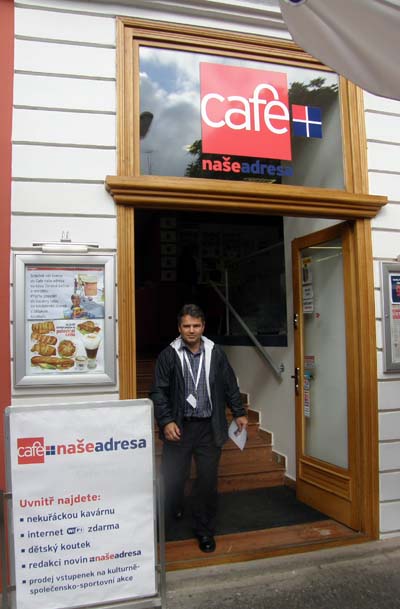 Coffee, snacks and news at Nase Adresa café (Abu-Fadil)
"The readers can go there and be in contact" with the pros, said Roman Gallo, director of media strategies at PPF, an international financial group that's invested in the project and operates in Central and Eastern Europe, Central Asia, China and Vietnam.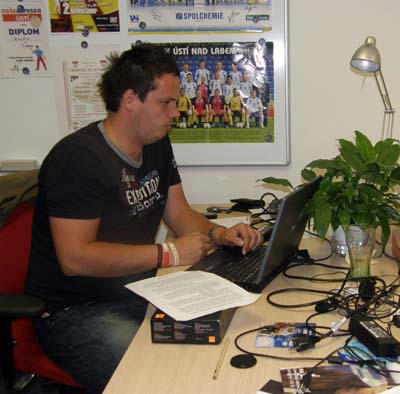 Editor at Usti edition of paper in northern Bohemia (Abu-Fadil)
The editorial team is available to talk to people and is in tune with the community's problems, he added.
Almost four months since its rollout, the project is attracting many fans, readers and browsers.
The paid-for weekly newspaper called Nase Adresa (our address in Czech) http://www.naseadresa.cz is considered a revolutionary business model, and "a new frontier for the newspaper industry," according to the Paris-based World Association of Newspapers' World Editors Forum that organized a study tour of the weekly's regional newsrooms.
It seems circulation is up for the different editions, traffic on its various websites is on the rise, and the cafés that form the centerpiece of the enterprise are bubbling with activities, like live rock concerts outside the storefront newsrooms.
They've even monetized the websites through advertising.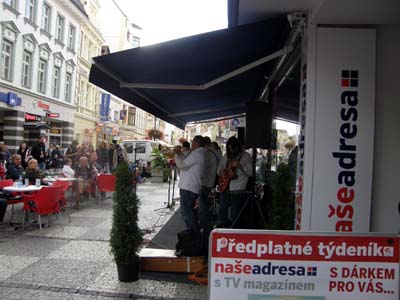 Paper's community involvement includes musical entertainment
(Abu-Fadil)
Even children are part of the editorial process. Their curricula include media literacy of the first order.
These young reporters gather news, write, and shoot pictures and/or video that is edited by coaches (real hacks) and supervised by their teachers.
"I would like to know how many newspapers you have in your countries," a girl sitting at a laptop in the children's section asked visiting foreign editors of the news café.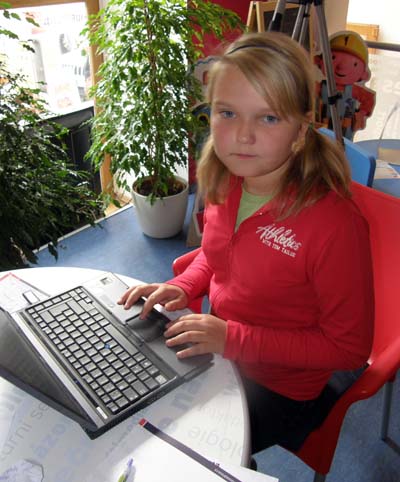 Czech student contributes to paper's content at news café through
school program (Abu-Fadil)
She was one of a dozen "tweens" preparing copy, checking sources, following a newscast on a TV screen behind her and listening to her journalist coach.
One wouldn't expect such an avant-garde approach to journalism from a country where the media were centrally controlled (and stifled) a mere two decades ago.
At first, PPF http://www.ppfgroup.nl thought it had to get experienced journalists to run the papers but later realized that training young people was the key to the venture's success.
Thirty percent of the paper's content is generated by communities pro bono, and 20% of the copy is unique, not repurposed from the web.
According to Nase Adresa, half the new subscriptions are from walk-ins to the cafés after a cup of java and a chat. Circulation is not more than 30,000 copies for all seven pilot districts.
Residents of those areas feed the papers with over 50% of their news, views, pictures, and more. If this bold experiment succeeds, 200 other hyperlocal weekly papers and 700 websites will blanket the 10 million-strong Czech Republic in the coming year or two.
Each paper can operate with as few as five full-timers and a phalanx of freelancers or community reporters. Nase Adresa editor-in-chief Petr Sabata said the monthly cost of personnel averages 8,300 Euros ($12,267).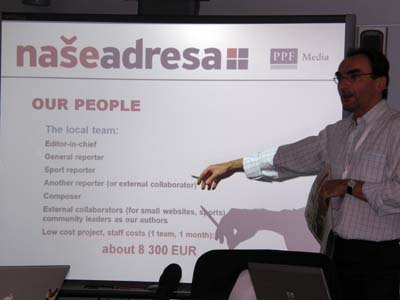 Petr Sabata, Nase Adresa's editor-in-chief for all local newsrooms
on a hyperlocal paper's makeup (Abu-Fadil)
A cutting-edge central newsroom, or Futuroom, in Prague supports the local teams.
Futuroom http://www.futuroom.cz/en and Nase Adresa complement each other with the former providing a multimedia training center in the Czech capital that also serves as an innovative lab where journalistic formats and news production vehicles (including text, pictures, film, sound and interactive graphic designs) are tested.
Futuroom even sells its own infographics to newspaper clients.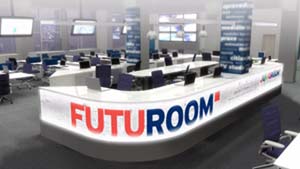 Futuroom (PPF)
The building also hosts Junioroom, where about 30 school children ages 10-16 attend a summer camp, learn from journalists, and practice journalism in the field.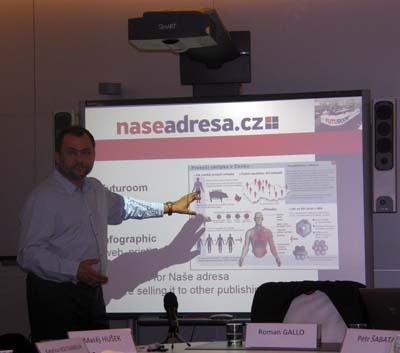 Roman Gallo explains Futuroom's operations (Abu-Fadil)
"Print isn't dead, and hyperlocal news is the future of newspapers, with new players," said World Editors Forum director Bertrand Pecquerie. WEF http://www.wan-press.org/wef/articles.php?id=2 organized the study tour and a conference on the 2015 Newsroom for some 25 editors from around the world.
Popular in the Community