"You're late! You're appointment was 45 minutes ago Angeline!" Startled out of my relaxation, I look up from my pedicure to see a male tech rushing with excitement and a waving index finger to greet my friend and her Mother, 2 women who I thought I would be having dinner with later this evening. As Angeline, whose name has been changed to protect her identity, and her Mother greet him with air kisses, I am struck by what a beauty her Mother is and how she looks more like her sister than old enough to be Angeline's Mother. I wave her over to me. Thinking I still had time before our chat, and remembering I had texted her where I was going, Angeline reminds me that her time is limited and every second in her day counts so they decided to come meet me.
Let me preface this by saying that people in my life find what I do fascinating. As a writer, I find very few that do not want their story told and more often than not, would like me to have theirs heard. My Grandmother used to say, "Cada mente es un mundo". Translation, "Every mind is its own world" meaning, everyone has their own version of the world they live in as everyone's lives are different.
This is Angeline and she manages her Mothers Companion Business while she is a fulltime Medical Student. "My Mother and I came from Spain when I was 5 years old and she was 22. Neither of us spoke English, but my Mother was determined for us to live the American dream, one way or another. I started school, and as I learned the English language, so would she. I would come home and teach my Mother what I had learned in school that day. She was my Mother and I was her teacher."
Angeline says that her Mother worked as seamstress at a local cleaners making minimum wage. "Most nights she would bring clothes to work on at home" says Angeline noting that her Mother's employer imposed this work on her to keep up with the supply and demand of the skill only she could provide. Work "detailed enough to pass for stitching found on couture garments" their high end clientele would say. Masterly refined work her Mother was providing on a minimum wage paycheck.
Angeline says that her Mother was first approached to be a companion by a 60 year old man who was taken with the Spanish beauty when she was 25 years old. "My Mother was embarrassed that this man wanted to pay for her time, remembering her Mother telling her "Vas a crecer y vas a encontrar hombres como el, tienes que tener cuidado Angeline. Tu cuerpo no esta de venta." Translation, "When you grow up, you have to be careful of men like this man. Your body is not for sale." And stressing that the American Dream was more fruitful with an education.
So when her Mother decided to embark on her new journey as a Business Companion, she kept Angeline in the dark about her new career.
Her Mother, says Angeline, "Was afraid I would have thought less of her for the choices she made, but to the contrary, I'm proud to be her daughter." Angeline says that her Mother has been in 3 porn movies and "half the money was a down payment on the home we've lived in for 20 years and the other half was put away for my education" stressing that what her Mother charged as a companion was not only with the intent on providing a better life, but also to provide a better future for the 2 of them. She goes on to say that her Mother "Never traded sex for a roof over their head, she traded "services" for MONEY to provide more than just a home and food" as Angeline never wanted or needed for anything.
She says her Mother has cornered the market on services provided to men 55 years old and older. Older men who have no interest in having children at their age but still want a companion young enough to flaunt and have money to do so with. And at 42 year old, Angeline's Mother is a richly experienced companion who has traveled a not so long road to know her worth and now holds private seminars teaching women over 30 years old to be Business Companions, for a fee, to the older generation of Sugar Daddies. And in what little free time Angeline has, she manages her Mother's business. "This is about survival Lisi, not taking advantage of men. Some girls who are in their twenties are discarded after they turn a certain age because they're not considered "fresh" anymore by their lovers." Angeline says that they have found that women over the age of 30 are sometimes seen as not "as sexy" as someone in their twenties is. So why not cater to men of a certain age who would appreciate what an experienced woman brings to the table, offering a place of appreciation for everyone. Hmmmm I think to myself.
Still wondering about the profound advice Angeline's Mother imparted upon her about her body not being for sale, did Angeline ever think about traveling the same path? Did her friends, when she was growing up, know WHAT her Mother did for a living, was she embarrassed by her Mother? Ah, so many questions, so little time! "My Mother always fed me first, she would let me eat until I was full, ONLY THEN would she eat what was left. I remember going from our fridge with just enough food to being driven around with a Real Estate agent looking at homes for sale in gated communities. No, it has never crossed my mind as THAT has NEVER been an option for me. She has done what she felt she had to do to give me a better life because she wanted to. Why would I be embarrassed by that? No. Yes, my 3 closest friends know what she did for a living and it wasn't a big deal." Angeline says that her Mother never missed any of her basketball or soccer games as she was an involved Mother in everything from A to Z where Angeline was concerned.
As Angeline steps away to take a quick phone call, her Mother comes and sits next to me and asks if she can have a word with me. "Of course" I say. "You know, I have no regrets but one, about anything I have done in my life because it has provided a better one for Angeline. The one regret is that I don't have an education past the 9th grade so that put me in a position to HAVE to do WHAT I HAD to do for myself and my child. I wanted her to tell YOU Lisi our story because I'm not the ONLY Mother out there doing what needs to be done for their children, and I want people to know that "This apple" she says pointing to Angeline, "fell far away from the tree." Her Mother continues, "Because I do what I do doesn't mean Angeline will follow in my footsteps. I never wanted her to be under ANYONE'S thumb like I was when I was young and left my country. Her education is what will keep that from happening."
Later at dinner, in between laughter and tears that were shared by the 3 of us, I find that Angeline's Mother and I have so much in common. Yes she has been in porn, but that doesn't take away from her being the best Mother she could be and if doing something she advised her daughter against doing is what has built a foundation to a better future for them both? Who am I to judge! Our values and our only the best of wishes for our children is what has connected us and I feel like they have welcomed me into their small but mighty family. I would like Angeline's Mother to know that she is not defined by WHAT she has done for a living, but rather defined by WHO she has been to her daughter. A Mother who would do what she had to do so her daughter could live the American dream. And after having spent these few but memorable hours with the 2 of them I would say I now know Angeline didn't fall far from the tree. Having known her for 5 years, I was always impressed with how level headed she was. She's pretty terrific and now I know why.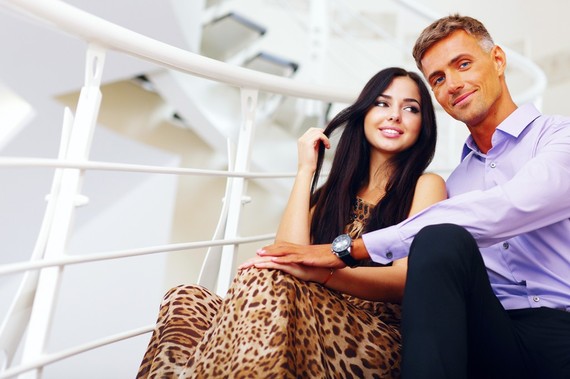 REAL LIFE. REAL NEWS. REAL VOICES.
Help us tell more of the stories that matter from voices that too often remain unheard.