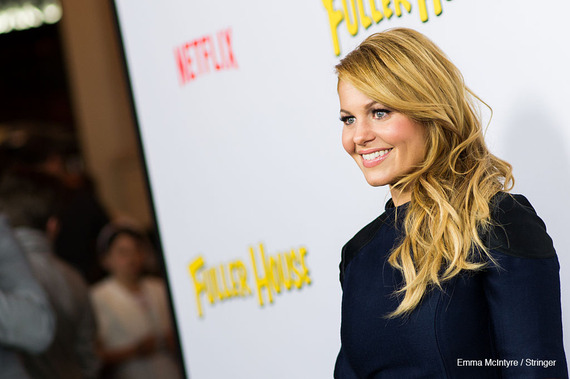 "I love photographs, I love my family," our conversation begins. "We have this huge corkboard in the living room in my house and it's all of us.  It's enormous -- covering most of the wall, it's a framed linen board and we put all different photographs up constantly," Cameron-Bure says.
Many of us have either grown up with Candace Cameron-Bure, or have watched her grow up on-screen. Cameron-Bure, actress, television personality, producer, author and proud hockey mom is best known for her role as DJ Tanner on Full House, extending now to Fuller House.
Cameron-Bure says, "As much as social media is great and I love posting on my Instagram, looking at a printed photo versus on a screen is so different for me."  Cameron-Bure partnered up with Canon PIXMA Printers at the Little League World Series in Williamsport, PA. "Unbelievable moments will be captured here for the families coming from all over the world," she adds.
There's something about the printed piece that is timeless and that will never be old school. "I don't like to be attached to my electronic device all the time, and I don't want that to be my main hub for all of my photos," Cameron-Bure says.
While constantly photographing everything from food to her kids' first days of school throughout high school, Cameron-Bure loves to give special access to her fans--especially for her Netflix original series Fuller House. She explains, "Even if I'm at work and we're shooting the show I want to take behind-the-scenes photos that the fans will enjoy."
While on the topic of Fuller House, it was not an overnight idea. The original cast was offered deals for years including one-off reunion movies which the cast didn't think would do justice to the original show's status. This was in the making for more than a few years, and when Netflix gave the green light it was emotional and exciting for everyone onboard.
Cameron-Bure explains her decision to reprise her role as DJ Tanner: "I've played this person for virtually my entire life and everyone knows me by this character even though I've have many other facets of my career. I thought, do I want to go back to this? Will it not go as magical as I hoped? Or will it be perfect?  I quickly said, of course I'm going to do this; I would love to."  
Staying very active at age 40, Cameron-Bure loves to play tennis and run obstacle course themed races like the Tough Mudder. From the first season of Fuller House, DJ Tanner was found in the middle of a wresting ring with BFF Kimmy Gibbler (Andrea Barber). "I did all my own stunts and I loved it," she says with a grin.
Viewers can expect many guest stars and surprises in Fuller House season 2 as it is being filmed currently. Cameron-Bure spills the details on one of her favorite guest stars, New Kids on the Block, which she was beyond excited to work on set with. Cameron-Bure has been a fan of the group since she was thirteen years old and there are plenty of references to the group in the original Full House show. "Filming the episode with them was a dream come true for me," she gushes.
Also this year, Cameron-Bure joined the all-female driven show, The View. The View is a panel of women who take on heavy topics from current events, politics, and entertainment to name a few. Cameron-Bure explains, "The View is such a departure from sitcom world so I love that it challenges me every day and to be added to the cast this year especially is very special."
Throughout the interview I realized how positive and candid Cameron-Bure really is. After a few questions it was showing how much heart, thought and work that goes into Fuller House from everyone on set who also remain close friends off set. We ended the interview by talking about how to inspire, and be a role model to viewers and fans.
She leaves me with this, "I like to love on people and let them know that they are valued.  People take inspiration from all different places.  What makes life worthy is to be able to, famous or not, encourage people in whatever form they need."
REAL LIFE. REAL NEWS. REAL VOICES.
Help us tell more of the stories that matter from voices that too often remain unheard.