The amphibious Navy assault ship has been fully loaded with supplies since last Friday, can operate off-shore, and was not encumbered by the Jones Act.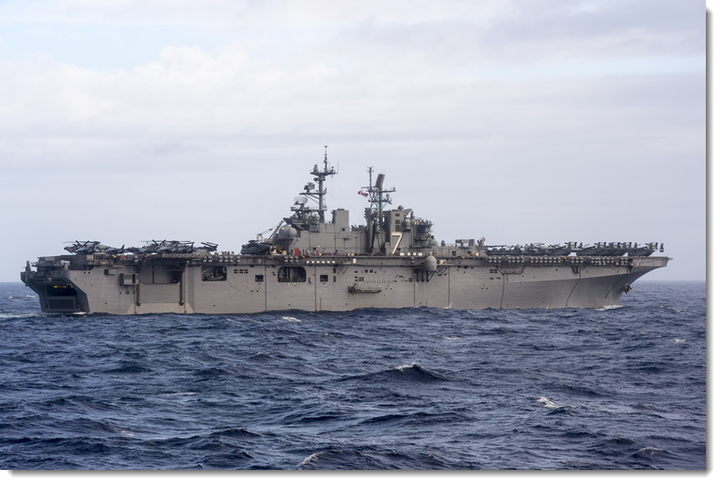 Public outrage over the Trump Administration's sluggish handling of disaster relief efforts in Puerto Rico continued to grow Thursday, one week after Hurricane Maria first made landfall in the unincorporated U.S. territory and wreaked "apocalyptic" devastation on the region. However, at least one Navy assault ship, the USS Iwo Jima, has been fully loaded with supplies and awaiting the green light to deploy to Puerto Rico for nearly a week.
A tether, Lantron explained, means that crew have been put on notice that they should be ready to go within the timeframe prescribed. Once the crew is given a 48-hour tether, in two days time they could be en route to a disaster site, but not necessarily.
"The ship itself is ready," Lantron said on Thursday afternoon. "We would need to fly down certain elements from the Norfolk region, but that's an easy bus ride or plane ride down here."
The Iwo Jima, an amphibious wasp-class NAVY assault ship (meaning it has the unique capability of operating off-shore and carrying aircrafts), returned home to Mayport last Friday after supporting recent Hurricane Irma relief efforts in Florida, according to Navy Spokesman Commander Mike Kafka. It has been at port dormant and fully loaded since then.
When asked why the Iwo Jima had not yet been deployed to Puerto Rico to offer up assistance, Kafka stated that "there's a robust maritime capability in the area right now, making good progress supporting the FEMA efforts. Things are moving towards a more robust ground presence."
"An immediate response is what we provide from the maritime perspective," Kafka continued, explaining that they primarily provide search and rescue and other emergency operations. Whether the ship is deployed comes after a "determination of capability— that comes from FEMA, the Navy, and Puerto Rico."
Kafka pointed to the USS Kearsage and USS Oak Hill as two amphibious ships supporting Puerto Rico since the day after the storm cleared. "There are additional assets coming through a variety of means. Great progress has been made over the last couple days."
Kafka did not comment on rumors that the crew on-board the USS Iwo Jima have grown restless over the past few days.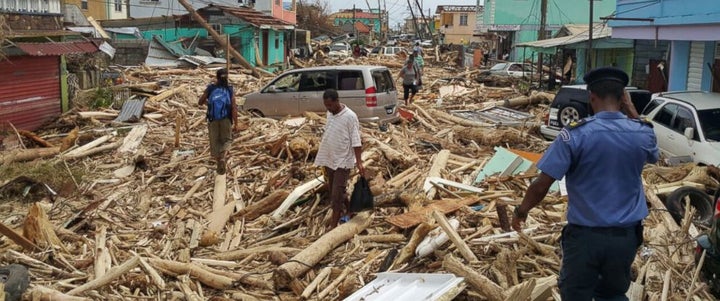 In the first six days after Maria made landfall, the Navy had deployed only three ships. On Tuesday, FEMA director Brock Long announced that the Navy would deploy the USNS Comfort, which appears to be based at least in part on the recommendation of former presidential candidate Hillary Clinton, and in response to an outcry that the Trump Administration had not dedicated enough resources to the emerging crisis in Puerto Rico.
On Thursday, the president waived the Jones Act, an arcane law that prohibits the transfer of goods between American ports not on American-built ships. The USS Iwo Jima was built at the Ingalls Shipyard in the United States and was not encumbered by the Jones Act.
Disaster relief officials are doing a "really good job," Trump said on Tuesday, directly contradicting Long who has openly voiced his dissatisfaction with relief efforts. General Russel Honoré, a retiree who served during the Hurricane Katrina disaster in 2005, expressed outrage at response efforts during his own live CNN interview.
"I don't know what the hell is going on!" Honoré said angrily, before calling for the military to deploy "air traffic controllers onto the island to open airports, transportation specialists to clear roads and the deployment of many more troops, ships and helicopters."
"This is an island sitting in the middle of an ocean," Mr Trump explained. "And it's a big ocean; it's a very big ocean."