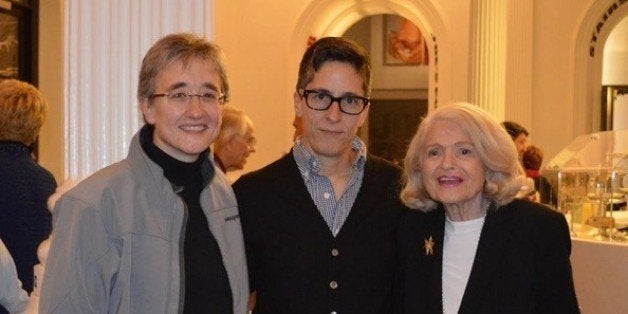 As a kid growing up in Queens, I was fortunate enough to see some amazing live theater that I could only really appreciate later in life: Patty Lupone in Evita, Stockard Channing in Grease and many others. As an adult, I saw the truly transformative power of theater when The Laramie Project told the story of Matthew Shepard's murder and the impact it had on Laramie, Wyoming, growing into a cultural phenomena with untold impact on the hearts and minds of the now millions of people it has touched.
But I have never, ever has a moment in the theater reach into my heart and pull on my soul the way Fun Home has from the first time I saw it. And every time since, given that from the moment the curtain went up the first time I saw it at the Public Theater, I was taken into a new world, immediately realizing I was watching something historical and culture changing, not just for me but for anyone who experiences Fun Home.
Of course, for decades I have been an avid fan of Alison Bechdel's work. What lesbian wasn't? In a world where our stories were so rarely told in an authentic manner, Alison's world and the characters she brought to life gave us a way to see ourselves, laugh at ourselves and feel validated in a way that media representations never did. This was well before Ellen, The L Word and the now much more ubiquitous, nuanced and diverse characters we see in film and television. And of course there are so many more out lesbian and bisexual woman from all walks of life, but this incredible work has carved out a very special place in the landscape of lesbian visibility. When the headline screamed "Is Broadway ready for a butch lesbian?" all I could think was "yes, it better be!." And clearly it is, with the on-going success and accolade and a dozen Tony nods.
I am thrilled it will now go on a national tour and I hope that everyone sees the beauty in one of the most moving ascenes in the show, Alison with her Dad in the diner, stopped in her tracks by a butch deliver woman rolling in with a swagger and a handcart. We don't see that delivery woman on stage but she is vividly conjured in our minds by a mesmerized young Alison. And I hope they all feel the thrill and energy of the grin on a young Alison's face when she sings "Why am I the only one who see you're beautiful?.....No, I mean.....Handsome!" Validation. Seeing yourself for the first time. Knowing that you are not alone. It is all captured in that moment, one that can change a person's life. The feeling for me is the same as when I experienced it in real life myself, blessed with strong women who defied convention in my own family and allowed me to grow up in an atmosphere of acceptance, still far too rare for so many LGBT youth. There has never been a scene like that on Broadway. That moment will live forever as a marker for so many of us who have waited our entire lives to see it.
Welcome to FUN HOME, the groundbreaking new musical now on Broadway after a sold-out, critically acclaimed run at the Public Theater. Based on Alison Bechdel's best-selling graphic memoir, FUN HOME features music by 4-time Tony Award® nominee Jeanine Tesori (Violet; Caroline, or Change), book and lyrics by Tony Award nominee Lisa Kron (Well) and direction by Sam Gold (Seminar), and stars Tony winner Michael Cerveris (Sweeney Todd) and three-time Tony nominee Judy Kuhn (Les Misérables).
FUN HOME introduces us to Alison at three different ages, revealing memories of her uniquely dysfunctional family - her mother, brothers and volatile, brilliant, enigmatic father - that connect with her in surprising new ways. This intimate and emotional theatrical experience is performed entirely in the round, bringing audiences closer to Alison's story than ever before.
A finalist for the Pulitzer Prize and already the winner of five awards for Best Musical, FUN HOME is a refreshingly honest, wholly original musical about seeing your parents through grown-up eyes.
Support HuffPost
Every Voice Matters
Popular in the Community