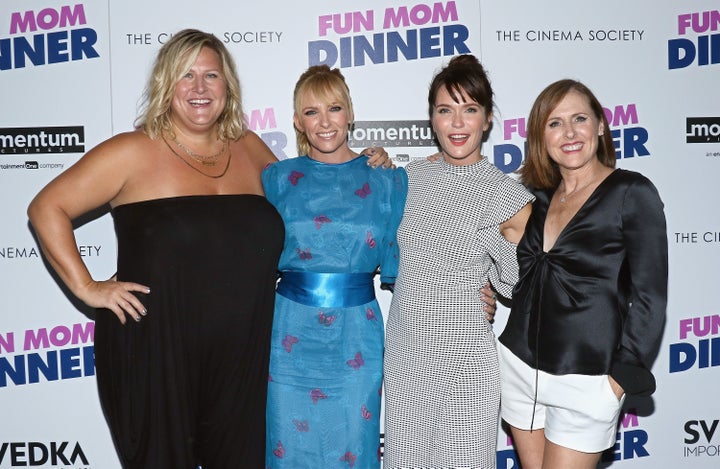 "Fun Mom Dinner" is the third movie of its kind this summer ― its "kind" being comedies about rowdy female friends letting loose. Their titles function as two- or three-word synopses: First came the bawdy bachelorette weekend in June's "Rough Night," followed by last month's hit "Girls Trip." This weekend, "Fun Mom Dinner" casts Toni Collette, Molly Shannon, Bridget Everett and Katie Aselton as overworked preschool mamas whose evening out results in weed- and booze-hazed antics. None are as unruly as a dead stripper or a urine-soaked zip-line through the French Quarter, but one character does go swimming in a unicorn onesie. 
Off-screen, Collette, Shannon, Everett and Aselton are mounds of fun. I met them in New York this week, where they were saddled with nonstop interviews. Seated around a conference table at a luxe Manhattan hotel, the women swapped stories about appearing with various Real Housewives on "Watch What Happens Live," railed against T.J. Miller's recent HuffPost interview, wondered how Josef Fritzl's wife didn't know what he was doing in their basement, compared "Fun Mom Dinner" to "Wonder Woman" and emphasized how tired they are of the typical "women in Hollywood" questions. 
When I switched to something more lively, they lit up. Below are Collette, Shannon, Everett and Aselton's takes on the shenanigans from "Fun Mom Dinner," which opens in select theaters and premieres on VOD on Friday.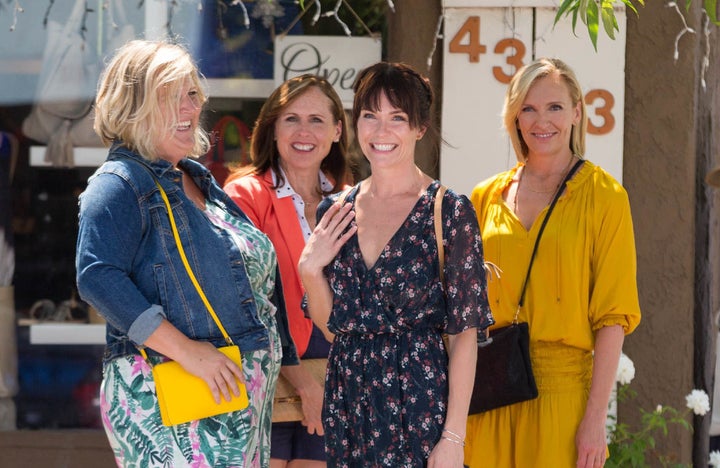 The movie's characters have longstanding crushes on Jake Ryan from "Sixteen Candles." Who was your Jake Ryan?
Collette: Duckie Dale. I also loved Ralph Macchio in "The Karate Kid."
Shannon: I love Timothy Hutton in "Ordinary People."
Everett: Oh, how could I forget that one? That's one of my favorite movies!
Shannon: And Judd Hirsch as the therapist.
Everett: Oh, you know who else is really cute? That little Judd Hirsch. What ever happened to him? He was so cute. I mean, not Judd Hirsch! Judge Reinhold!
Shannon: Judge Reinhold! Such a good actor, too.
Everett: I remember watching "The Tonight Show" — I could be totally wrong — and someone didn't show up ― like Charro or someone ― and he just showed up. That was the last time I saw him on TV.
Thoughts on vajazzling?
Aselton: Unnecessary. Dumb.
Collette: I don't need to do it.
Everett: I get so scritchy-scratchy down there anyway without all the diamonds.
Aselton: Mine's a natural beauty.
Shannon: I think it's trashy, but sometimes trashy can be sexy. It's like, "Ugh."
Collette: Ew. "It's so filthy I have to touch it."
Shannon: It's like dirty trashy.
Collette: That was very revealing, Molly.
Shannon: I need to shut my mouth up. I'm going down dark holes. But you know what I mean.
Collette: Moving on, though.
Aselton: I love Molly after 22 interviews.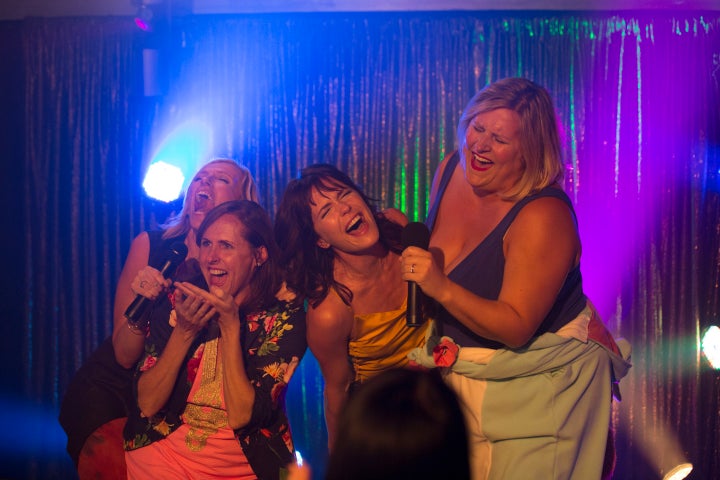 In the movie, you karaoke to "99 Luftballons." If you were going out tonight, what song would you perform together?
Collette: [Starts singing] "These boots are made for walking…"
Everett: That's good. [Picks up the line] "…and that's just what they'll do."
Aselton: I mean, probably "99 Luftballons," because we're here together for the movie.
Collette: Oh, hello. Yes.
Everett: Wasn't it originally going to be "Hot Child in the City"?
Collette: What's "Hot Child in the City"?
Everett: [Starts singing] "Hot child in the city / Running wild, looking pretty."
Collette: [Looks confused]
Everett: Oh, it's a good jam.
Collette: I can't believe I don't know that.
Shannon: Um, I like Eddie Money. [Starts singing] "Hold the line! / Love isn't always on time." [Editor's note: She means Toto.] But I'm not a karaoke person.
Aselton: I also love singing some Bon Jovi.
Everett: It's weird — in "Patti Cake$," I sing Heart; in this I sing Heart; and I just did a pilot and there's another Heart moment in that. I can't get enough of karaoke.
Aselton: I went to shoot "Legion" and my first scene is me singing "Happy Birthday." I freaking hate singing. I get anxiety and want to vomit and have diarrhea.
Everett: You're very cute when you sing.
Aselton: I did a lot of shots of tequila.
Collette:  At least it's a song you know.
Adam Levine plays a bartender in "Fun Mom Dinner." Which rock star would you most want to flirt with at a bar?
Everett: Oh! Good question.
Aselton: I married a rock star. [Mark Duplass] was a musician when I met him.
Everett: Is there anything that guy can't do?
Aselton: He can't fix a fucking thing around my house.
Everett: Oh, you know who I like? That drummer from the Red Hot Chili Peppers. I'm not really into the Chili Peppers, but I think that guy is so sexy. Chad.
Asleton: Guys named Chad are tough.
Collette: It's better than Tad.
Everett: I'm speaking from my loins, not from my brain.
Shannon: I like Kurt Cobain. I always found him so sexy.
Everett: Oh, and also Josh Homme from Queens of the Stone Age. He's a tall ginger with lots of tats. "Oh, talk to me. What have I done wrong? I know it, I know it, you're right — I shouldn't have done that. Sorry. Bad Bridget."
Asleton: Greg What's-His-Face from Swell Season. [Editor's note: She means Glen Hansard.]
Aselton: He has to take those glasses off. I can't.
Everett: He has glaucoma or something.
Aselton: But they're blue. They're blue.
Shannon: I remember he came to "Saturday Night Live" when we were there, and he was the sweetest. He was so nice to everybody, asking everybody questions.
Aselton, who just noticed a push notification on her phone: Whoa, Scaramucci is out.
Aselton: He had the job for 10 days, you guys. Holy mother of God.
Collette: [Shakes her head] 
Toni's character's "me time" involves a tub, underwear and a joint. What is your "me time"?
Everett: If I could do anything in the world, it would be floating in the pool on a little rafty with a bottle of Rombauer chardonnay and an ice-cold glass to pour it in. Sponsorship? And then my dog Poppy in a chair just looking at me.
Collette: Mine involves swimming as well. I like to swim naked in the ocean.
Shannon: I like getting massages and swimming in pools.
Aselton: OK, I'm going to combine all this: getting a massage, going home and getting in the infrared sauna, and then getting in the pool.
Collette: You have a sauna at home?
Aselton: Oh yeah, it's so magic. And then jumping in the pool and having a cold glass of rosé.
Collette: Have you heard of a watsu? It's a shiatsu in the water. It's pretty great. They just totally support you and move you around the pool.
If you were to go swimming in an animal onesie, what would your animal be?
Everett: Mine would be a Persian kitten or something very fluffy.
Collette: I don't know why I'm thinking of Yoda. He's not really an animal. He's so wise and cute.
Shannon: I'll say a lion.
Aselton: I was going to say a lion!
Everett: Do you follow the Lion Whisperer on Instagram? It's good work. It's just like NatGeo except for lions.
Asleton: I would say lion because as I age I'm like, "Oh, I am fiercely loyal and protective. I will fucking kill anyone that messes with my family, my friends, my loved ones." And I get really fired up.
Was it hard to swim in a unicorn onesie?
Everett: Only because they put us in these wetsuits underneath.
Collette: Thick, thick wetsuits.
Everett: It was hard. It made you very buoyant, and I couldn't really lift up my arms.
Aselton: They were in there all night, and then Molly and I slept in our trailers all night. We came back out like, "Hey!"
Everett: I flew to London right after that, but on the way home, we had a car crash. Did I tell you that? It wasn't that bad, but the PA was so tired that he [Everett makes a motion like she's swerving off the road]. It was 7:30 in the morning.
These quotes have been edited slightly to clarify everyone's crosstalk.
Calling all HuffPost superfans!
Sign up for membership to become a founding member and help shape HuffPost's next chapter
BEFORE YOU GO