When Yahoo CEO Marissa Mayer issued her ban last month on employees working remotely, she cast herself as both enemy and savior of the modern working class. Critics bemoaned Mayer's brave new world with no place for the single working mother, while supporters noted Yahoo's dismal finances, and the value of collaborating face-to-face.
But the riddle at the heart of the debate was seemingly solved more than a decade ago, at Mayer's old stomping grounds, Google. How might a boss compel us to trek in when the world is wired so we don't have to? Simple: bring the world into the office.
Of course, the solution isn't nearly as easy to put in place as it is to outline, especially without money and vision, two assets it often seems the brainchild of Larry Page and Sergey Brin holds in excess of its peers. But the Google office model is still replicating in a fundamental way. Today, cafes, lounges and pubs exist inside companies large and small. The design industry knows these outposts as "third spaces," a term that once stood for settings where work could be done outside a person's office or home -- such as a coffee shop or a public library. The concept has since inversed to mean in-office refuges, an effect of what Bob Fox, publisher of the industry magazine Workspace Design, calls the Google philosophy to "give its employees a city."
Fox, an architect who runs the Washington, D.C., firm Fox Architects, remembers the vastly different jobs of the early nineties. "We would basically design 10x15 boxes as offices and 6x8 workspaces for individuals," he told The Huffington Post. "Now the cafe-type third space has become commonplace."
He links this rise to those of wireless networking and the digital cloud, breakthroughs that threaten the existence of traditional office buildings. Architects with MKDA, a New York-based corporate architecture firm, pitch a version of a third space in every consultation they have. "It doesn't always get approved, but we're finding that even traditional firms ask us to do more than we expected," MKDA president Michael Kleinberg told The Huffington Post, adding that his clients tend to excuse the cost as a basic investment in productivity.
Then there are the outliers sprung straight from Google's lavish Mountainview, California, headquarters. These are the onsite massage centers, bowling alleys, and movie theaters where no work can be done, but that ambitious companies view as the price to pay for a happy workforce, in Kleinberg's experience. Happy employees, goes the reasoning, are more than simply present -- they're innovative.
Indeed, our own publication -- an online invention, and therefore a prime target for third space architects -- represents this shift. "At HuffPost, we have two nap rooms," Arianna Huffington pointed out, when we asked for her thoughts on the modern workplace. "It's a trend permeating every aspect of our culture, from the classrooms of the Harvard Business School, where students learn to better understand their emotions, to corporations around the world."
Ahead, we've rounded up images of some of today's most evolved third spaces, from the hammock-hung "Treehouse Room" in the Chicago digs of Braintree, a credit card processing company, to the communal kitchen disguised as an Irish pub in Google Dublin. Step into the office, baby.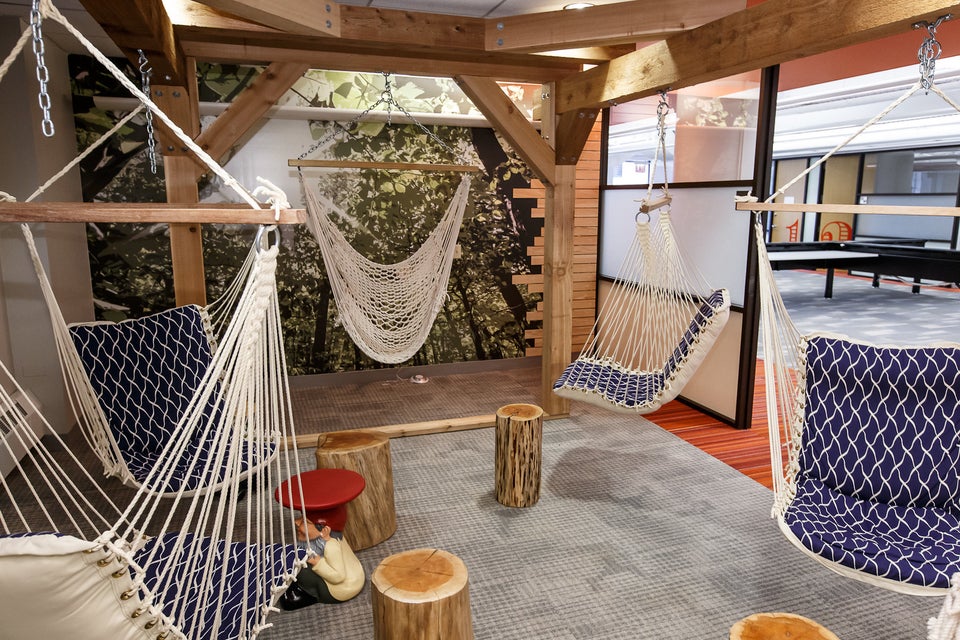 Office Oasis
This story appears in Issue 40 of our weekly iPad magazine, Huffington, in the iTunes App store, available Friday, March 15.
Related